When I found out I would get to write about Karen Peck & New River, I turned cartwheels and threw confetti in the air. I already adored Karen and her sister Susan (two of the three members of the group) having giggled with them privately over earrings, eye shadow and nail polish color. Not to mention shoes! Some would call it surface stuff...not us! And I loved, loved, loved their music! Contagious music that grabs you by your half-hearted attitude, flips you over and turns your smile upside down, just like in the cartoons! Suddenly you're sorta, kinda, unintentionally humming along and then...surprise, surprise...you are singing at the top of your lungs, thinking yourself the fourth member of...Karen Peck, New River...and Meeee!
My instincts told me that behind the compelling performances, and the play-over-and-over CDs, there was a rich story. I wasn't disappointed.
Karen calls her childhood "average." Her dad was a foreman in a factory that made motors and generators. Her mom worked in the grammar school cafeteria in their hometown of Gainesville, Georgia. And do I have to tell you? There was a piano in the house!
"My folks were hard workers, they always found a way to give us what we needed," remembers Karen, "and they loved the Lord!"
"I began singing at around 3 — and about that same time Mom and Dad took us (Karen and her sisters Susan and Sandra) to an all night singin' in Atlanta. I was so little I could stand up in the chair and prop my elbows on the back of the seat.
"When I heard Vestal sing 'God Walks the Dark Hills,' my thoughts weren't anything like those of a 3 year old," Karen recalls reverently. "It made me cry. Just the beauty of it! I know now there was an anointment on Vestal and that I was witnessing the very presence of God.
"When I was 15, the Hoppers came to my school. I rededicated my life and I told the Lord, 'If you give me a chance to sing, I'll never stop.'"
Karen's voice becomes a whisper.
"It was then I felt God's anointment on me — on me!"
Anointment is a word that's scattered like stardust throughout any conversation you might have with Karen. She continually credits "God's anointment" for every step of her journey, whether it's career related or personal.
"We're not just anointed to sing," Karen assures me more than once in our interview, "but God has called us to love people!"
The "us" of Karen & New River is a threesome: Karen, her sister Susan, and the newest member, Jeff Hawes.
While Susan Peck-Jackson came from the exact same family as Karen, her path took a different direction. Her hopes and dreams weren't to sing and travel, but to own a dump truck.
Wait!
A dump truck?
"Susan was eager to make money, to have stuff," as Karen puts it, "so she bought a truck and hired it out."
"Opportunity knocks!" agrees Susan. "It makes perfect sense."
She had a friend in construction and he kept her busy. Their uncle drove for her, and she eventually owned three trucks. Success followed, as did a Mercedes, a Corvette and a house with a pool.
"Now, I don't even have one car in my name," giggles Susan, and she doesn't seem to mind at all.
Meanwhile Karen was going to school and making her way through college teaching piano. She kept a cassette tape of the Rex Nelon Singers close by and learned to sing all the parts—just in case. And she prayed—oh how she prayed—that God would put her in a group "just like them."
She happily sang wherever she was asked. "Regionally," she calls it. And she thought she'd always be singing "regionally;" never dreaming of anything bigger. Except way in the back of her mind, she thought...perhaps someday — way off in the future — maybe she would sing in a group like the Nelons.
Then another anointment. Karen met the love of her life! Rickey, whom she calls "just a good ol' boy."
While finding and marrying Rickey is certainly, undoubtedly, one of those God things, Karen had to do the leg work!
Rickey and his brother owned, and still own, a beauty salon in Gainesville. Their mother works with them, having done hair for 60 years! When Karen went to Rickey for a hairdo she was smitten, even before her beautiful head ever left the shampoo bowl!
"He's so cute!" she thought, looking up at him through clouds of suds. "Wonder what it would take to get him to ask me out?"
"Rickey, you did a great job on my hair," she said. (Visualize this scene if you will and picture a little bit of southern flouncing going on. Some of you will get that; others won't. It's OK.)
"Well, thank you very much," replied Rickey. And that, friends, is all she got!
Flouncing or no flouncing, Karen walked away with no hope of a date with the handsome hairdresser.
The next week, she and her mom had lunch out, and Karen announced she needed to stop for hairspray. She headed for the salon. This time with more firmness and less flounce, she handed Rickey a check ($4.80 if you are curious) making sure her phone number was right there in black and white where he could see it.
He called that night, and they dated three and a half years before marrying.
And...Karen's dream came true! She first found herself singing with the LeFevres and then an invitation came to sing with the Nelons! The next God-ordained moment was something Karen could never have imagined. A group of her own. ("God's own" is what she prefers.)
Rickey became the business-savvy person God used— yes, anointed—to form the group Karen Peck & New River. (He still works in his salon three days a week; otherwise he is on the road, often driving the bus.)
As to the tag, "New River," I'd like to point to a scripture or a wise quote as reference, but—it came from a sweater! Their piano player at the time received a sweater with those words on it, and someone said, "That would be a good name for a gospel group." It stuck. Karen was slightly embarrassed when a producer added her name, but that too stuck.
Susan didn't want to sing. Initially, she would "fuss and she'd quit, fuss and quit," says Karen.
"As kids we fought like cats and dogs, but then our relationship got mature!" A giggle erupts.
Soon both knew they were "destined to do this!" They are close. (Their houses are in sight of one another.) They even had their babies 12 days apart. Those babies are now teenagers—Karen's daughter Kari, and Susan's son Joseph. Karen has an older son, Matthew, who is graduating from high school this year.
Together the two sisters are contagious, meaning that whatever it is they "have" is catching: the personality, the laughter, the joy and the music!
Add Jeff Hawes to the mix, and it's the kind of harmony that makes your heart happy. Jeff, I'm told, is a favorite of Gloria. He was an English teacher before being called to sing. He loves people and he loves being in the group. (And he's drop-dead good looking! And single!)
Behind the scenes there is Sandra, the sister who efficiently runs the office from home. Although she sang with her sisters as a child and young teen, she has loved her life as a full-time mother, and now fulltime grandmother.
David Jackson, Susan's husband, is an entrepreneur. He took over her trucking company, sold it, bought and sold another business, and now builds steel guitars. Their son Joseph helps his dad, and he too is musical; he sings and plays drums.
There have been ruts in the journey of life for the group. On September 11, 2011 they were 20 miles from home when a car pulled out in front of the bus on the interstate and hit them head on. As the bus hit the ditch, even before they thought of their own personal needs, they all began to pray for the person who hit them. Little did they know then that the elderly man who caused the accident, who suffered from the early stages of Alzheimer's, was a retired pastor and a chaplain to juveniles. He was airlifted, but passed away en route to the hospital.
Forty-eight hours later they were back out, emotionally drained and consumed by deep grief, which they shared with the family of the deceased man of God.
Eight weeks later, while traveling through Chattanooga at three in the morning, they were hit again. This time by a semi that had run into a stalled car. They were in bed, awakened from a sound sleep, shaken and in total darkness. The semi had barely grazed the bus, and no one was hurt, but once more they ended up in a ditch. When they looked back to see the vehicles scattered across the highway behind them, they realized how incredible it was that they were alive. Other than an insurance nightmare, they came through two life-threatening accidents physically unscathed. Emotionally it was a different story, but three days later they were on another leased bus and Karen admits to being scared within an inch of her life.
"I would have gladly taken a bicycle," she says with voice shaking. "Fear will grab hold after scares like that, and it's easier to stay in your comfort zone than to live by His Word. She quotes 2 Timothy 1:7. "God has not given us a spirit of fear, but of power, and of love, and of a sound mind."
Karen is eager to give credit to those who encouraged her and pushed her to excel. Although her mother gave all three girls piano lessons, she saw a shred of talent in Karen that begged to be nourished. Somehow she found the money and tenacity to locate the best possible teacher—a retired lady who had performed all over the world.
"Miss Fellman was tough," Karen remembers, "and she was strict."
"I just wanted to keep on being a cheerleader and singin' on weekends. She gets a lot of credit for who I've become. I wish I could go back and thank her and hug her neck!"
Another giggle from Karen tells me there's more to the story!
"The straw that broke the camel's back was when I bought a car instead of a piano. Miss Fellman saw talent in me and wanted me to realize my potential. I was always nervous, hated the competitions, never felt confident, and certainly didn't have the joy of performing. Stage fright consumed me — except when I sang.
And sing she did! The list of those she thanks for encouraging her is endless, and of course, includes Bill and Gloria. At the National Quartet Convention, right after their first bus accident, Gloria spoke words that sustained her — words that reminded her to take her burdens to the Lord and leave them there.
"Something snapped inside my heart," reports Karen. "I just needed to be reminded of something I'd known for years, but for a minute had forgotten."
A very sacred thing I learned from interviewing Karen and Susan is that every year in January, they fast and pray and seek God's will for themselves, their families and the group. It's given them a desire to reach out more and a heart for those who hurt. They've put legs and finances behind their prayers, partnering with Ebenezer Children's Home.
The fast is something they felt was so personal, they weren't sure it should be included in the story. They don't want to "sound pious." Yet it has become more a part of who they are than the many accolades and awards, (including the three Grammy nominations!) they've received.
"Each time we go into the studio for a new project, we're at a different place in our Christian walk," says Susan. "Circumstances change hearts."
The accidents so close together, the death of the pastor, the insurance nightmare and the gut-wrenching fear of going out again brought the group to what Karen calls a sobering time — a listening-for-God's-voice-time.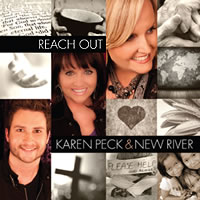 Out of that fasting and praying, a new recording project was born, called
Reach Out
. It includes "Now More Than Ever," by Bill and Gloria and "On the Banks of the Promised Land," a song that is already getting radio airplay.
Yes,
Reach Out
is a recording that continues to chart the journey, but more than ever it is an imprint of the hearts and souls of its messengers. I think you'll agree that it doesn't sound pious at all. Knowing their hearts and understanding their story makes me think it sounds very much like another fresh anointing for Karen Peck & New River.
For more articles featuring Karen Peck, click here.