In our very first issue of
Homecoming Magazine
, we also premiered the "Homecoming Kitchen" — a page where we hoped to collect wonderful favorite recipes from the Homecoming Friends and to hear the stories behind them. For that first "Kitchen," we featured
Mim Blackwood's Karo Pecan Pie
recipe and shared the story as James had always told it — how an invitation for pie introduced him to the love of his life. For this 10th Anniversary, we revisit the recipe — and this time, Mim recalls the now-legendary tale from her side!
It's no secret that good old gospel music and good old home cooking go hand in hand — and this famous recipe has been a part of Southern Gospel music lore for three-quarters of a century or perhaps even longer!
The story of this exquisite delectable began when Mim Grantham Blackwood's mother suggested to her daughter that she invite the Blackwood Brothers to the Grantham home in Weathersby, Mississippi, after an all-day Sunday singing.
Mim found it very easy to comply, and later that evening, James Blackwood had his first taste of Mrs. Grantham's Karo Pecan Pie! He also had a first quite magnificent social evening with Mrs. Grantham's beautiful daughter.
HOW magnificent?
Seven months later, James and Mim were married, and thereafter, the scrumptious dessert became the celebratory symbol of many family gatherings.
"Sometimes," says Mim, "I have wondered if it was the bride or the pie that kept James so vitally interested for all those years."
James and Mim celebrated 63 years together before he went to be with the Lord on February 3, 2002.
All these years later, Mim still smiles as she thinks back on her romance with James, and especially when she remembers that the pie was a memorable part of the evening when she first caught his eye and his heart. She giggles as she says, "Perhaps the pie had a little something to do with it!!"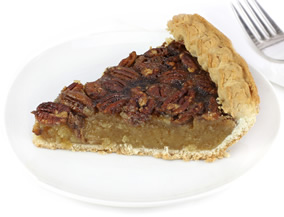 Mim Blackwood's KARO PECAN PIE
Ingredients
• 1 cup sugar
• 2 tablespoons flour
• 2 eggs, slightly beaten
• ¾ cup light Karo syrup
• ¼ cup milk or cream
• 1 teaspoon vanilla
• 1 cup broken pecans
• 2 tablespoons butter
• pie shell, unbaked

Directions
Mix the sugar and flour together and add eggs and butter. Beat.
Add Karo syrup and milk. Mix well.
Add vanilla and stir in pecans.
Pour into unbaked pie shell and bake in moderate oven until set.
Reduce heat for approximately last 20 minutes of baking time to prevent over-browning of crust or pecans.