Another new year arrives, ripe with possibility and promise. It whispers into our ears, reminding us that no matter what struggles we may encounter, hope is ever present. The Isaacs' latest album,
Why Can't We
, speaks of the journey through suffering, of looking for God's purpose in the midst of pain.
As always, the lush harmonies are flawless — from Sonya's pure, sweet soprano to Rebecca's velvet alto, blending beautifully with Ben's smooth tenor. But it's the lyrics that will grip your heart. "We realized we had five songs that asked the question 'Why?'" recalls Rebecca. "With the economy the way it is, with sickness as rampant as it is, with homes so affected by so much tragedy...the first question we have is 'Why does this have to happen?'"
Sonya began writing the aptly titled "Why" a few years ago, after hearing that Charlotte Ritchie's mother had passed away. The song addresses some tough, open-ended questions, according to Ben. "It deals with questions like 'Why do the old outlive their minds? Why is innocence sometimes taken from a child?' The song is called 'Why' but the hook is 'God, I know you have a reason why.'"
"Waiting in the Water" speaks of suffering as well, but also of the healing that Rebecca experienced after a long struggle with Crohn's disease. "God led me to a clinic, and it was a step of faith. I did not know that through this process, Jesus would meet me there and I would be well. So the song is very personal to me."
Mother Lily has walked through her own trials, and "I'm Gonna Love You Through It" touches on the emotional journey she and so many others have experienced with breast cancer. Martina McBride has also recorded the song, and it's nearly impossible to listen to the bittersweet words and stay dry-eyed. "One in eight women battles breast cancer," Sonya says, "and that's just so sad. When you hear someone's had it, you're happy she's a survivor, but you don't really think about the emotional struggle—how she just wants to feel like a woman again. I'm excited that the song is touching lives—that's the most important thing to me."
The heartfelt, reflective mood is balanced by some seriously upbeat tunes, such as "Hallelujah Turnpike," a tribute to the Lewis Family. Then there's the rip-roaring "Get on Board," with a "fiddle on fire" pace — try to sit still while listening to that one!
You'll hear a fresh voice adding to the harmony — that would be the Isaacs' newest member, famed songwriter Jimmy Yeary. Everyone knows that he and Sonya tied the knot a few years back, but what you might not know was that he first laid eyes on Sonya when she was a mere 11 years old! "I sang with them in a little ol' dinky TV station in Kentucky," he remembers. The future lovebirds lost touch until about three years ago. "It's neat how it's all come to fruition," Jimmy reflects. He definitely makes his mark, cowriting six of the album's songs.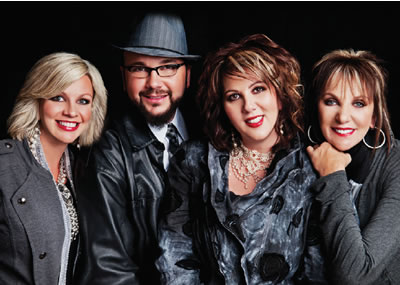 Although Jimmy is the newest "official" member, baby Ayden began touring with the family at the tender age of two and a half weeks...how's that for an overachiever, in a family full of them? When asked how motherhood is treating her, Sonya shares, "the hards are harder than I thought, and the goods are better than I thought. Out on the road, Jimmy and I get a lot of help, and they all fight over the baby." On the home front, it can be more challenging. "If we walk out of the room, it doesn't take him more than 60 seconds to realize that you're not there, and he starts fussing." But she's quick to explain that the joys outweigh the frustration and that she does not take this time for granted. "He'll grow out of that, and then he won't want anything to do with us, and we'll be like 'Oh, I wish he was little again,'" she says, laughing. "He really is a great baby."
With a new year, a new band member, a new baby to love and a new album, the Isaacs have many reasons to smile. They have overcome adversity in many forms, and it has only strengthened their bond. Their songs tell their stories, reminding those who are struggling that they are not alone and that hope is sure to appear just around the bend.
For more articles featuring the Isaacs, click here.