Modern hymn writers and Homecoming friends
Keith and Kristyn Getty
("In Christ Alone") welcomed their third child, Grace Alexandra Getty, on the morning of June 30th, 2015. Grace weighed in at 7 lbs., 9 oz., and arrived with a full head of beautiful dark hair, just like her mama! Little Grace joins older sisters Eliza Joy and Charlotte.
Inspired by their new little one, the couple introduces a beautiful new hymn/lullaby titled
"Jesus, Tender Shepherd, Hear Me."
Kristyn posted this statement on the
Gettys' website
, sharing more about the song's inspiration:
"My great grandmother, Nanny Burns, used to pray this old children's hymn text with my sister and I at bedtime when we were little. Keith remembers his family singing it with him when he was little, too. It is a beautiful text by Mary Lundie Duncan that speaks so directly and meaningfully to a child's heart. As Keith and I have been working on hymns and lullabies for our girls, this came to our minds again recently. Our four year old, Eliza, is at the stage where she is really starting to ask about and make sense of the big life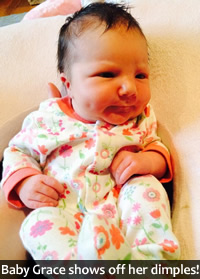 questions, particularly at bedtime, and she and her sister are still happy for me to sing to them as they go to sleep at night! I wanted to sing some prayer songs for them especially, as it seems most of their little fears and insecurities become bigger as night time approaches and they are by themselves in their beds. So as well as writing a new melody for this lyric we added another lyrical section inspired by the verse in Psalm 56, 'What time I am afraid, I will trust in thee.' (V3) I hear it in the King James Version as it fits the poetic feel of the hymn!
"As we welcome another little baby girl into our family we thought it would be a sweet opportunity to invite you to listen in! Perhaps you can add it to your song list for your kids. The songs we hear as children can leave a deep impression that lasts a lifetime. Maybe you remember these words from your childhood and it brings to mind the Lord's faithfulness to speak to and comfort us when we are young and through all the years He gives."
Enjoy hearing Kristyn sing this lovely children's prayer: