Sometimes it takes time to gain perspective and truly realize how much impact something has had on the world. The same is true whether it's a beloved magazine celebrating a 10th anniversary or a worship song that has been sung around the world for a decade.
For modern hymn writers Keith and Kristyn Getty, it's been a decade since "In Christ Alone" first surfaced, and it has since become the husband and wife duo's signature song. Written by Keith and Stuart Townend, the song was first recorded on the Kingsway album
New Irish Hymns
, and has since been recorded by more than 100 artists, among them Owl City, Natalie Grant and Newsboys.
"In Christ Alone" has become one of the world's most popular hymns, sung in countries all over the globe, and remains the creative benchmark for Keith and Kristyn. "'In Christ Alone' captures the main goals behind what we're doing in writing modern hymns that we hope can be easily sung and also have lyrics with some depth and theological basis to them," Kristyn says as she smiles across the table at a popular Nashville eatery. "We really wanted to write songs like that ever since, and some got closer than others."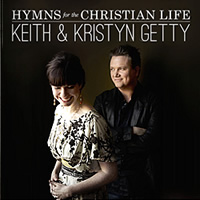 Anyone familiar with their music knows Kristyn is being far too modest. The Gettys have become known as the top hymn writers of their generation and have shared their music everywhere from the Franklin Graham crusades to the Grand Ole Opry to the Third Lausanne Conference on World Evangelization. Keith and Kristyn's latest collection,
Hymns for the Christian Life
, showcases the duo's Irish roots as well as the American bluegrass and country in uences they've picked up since moving to Nashville.
"The music that has gotten us excited for the last two years has been basically where Irish and American folk and bluegrass intersect," says Keith. "We were able to invite some of our friends to play on the record and then some guest artists, so the project really is a snapshot of where we are."
After moving to the U.S., the couple originally settled in Ohio for a few years, then felt God leading them to Nashville. "We found a church and friends, both musically and personally, and we can't imagine leaving," Kristyn says of their enthusiasm for their adopted city. "We want to learn more about our craft and learn more about music and even more of the business side of what we do and how to manage that better. Nashville is just wonderful in all those things."
Produced by Ed Cash and Charlie Peacock,
Hymns for the Christian Life
features some of the new friends the Gettys have made in Music City, including Alison Krauss, who joins Keith and Kristyn on a special 10th anniversary recording of "In Christ Alone," and Ricky Skaggs, who duets with Kristyn on "Simple Living (A Rich Young Man)."
"We asked Alison and Ron Block from Union Station, and they were just so wonderful. Their generosity is so incredible," says Keith. "And then Ricky Skaggs was probably the single biggest encourager in our moving to Nashville. His enthusiasm for life, music, fun, food and everything is just infectious. We continue to do stuff with him, whether it's making music or eating food or talking about Ireland and bluegrass. We do it all."
The album also features a taste of their homeland as acclaimed Irish chanteuse Moya Brennan lends her voice to "A Mother's Prayer." "She actually sang on the very first album, so we've known her for a long time," says Kristyn. "On 'A Mother's Prayer,' there's a little section in which there's an Irish lullaby, and she came on board to sing it. We're really thrilled."
The song is also special to the couple because it's the rst song written for their daughter, Eliza Joy. "We wrote a Christmas carol for children last year, for her, but this was very specifically for her," Kristyn explains. She admits it took some time to get back into songwriting after motherhood. "It's taken me a while to get my brain back together," she says with a laugh. "People told me when I was pregnant that parenthood would make one more creative and open up new vessels with poetic thoughts. When is this going to kick in? I'm so exhausted!"
Juggling life as independent recording artists and the parents of an energetic toddler definitely keeps the Gettys busy, and their music reflects what God is teaching them every step of the way. "Each project we've written has really been a snapshot of where we are at that time," says Keith. "These are hymns that express what faith and worship mean in our daily life. So there is a hymn about the working day, a hymn about money, a hymn about community, a hymn about caring for the needs of others and a hymn about wisdom and trials. They each capture a special moment in time."