Gaither Homecoming fans know
Kevin Williams
as the whip-smart, wise-cracking guitarist and bandleader from the Homecoming tour, as well as the author of the hilarious "Now That's Funny!" column in each issue of
Homecoming Magazine.
But behind the scenes, Kevin is also a husband and father with a heart for helping children. He is excitedly preparing for his second annual hometown celebration in Kentucky, to take place at Russell Springs First Baptist Church on the evening of May 9, 2015.
"Last year, our goal was to raise $10,000 for the needy kids in the area," he says. "We held it in the First Baptist Church, which holds about 650 people. We ended up having 750 people there, and they were running out the windows!" When all donations were counted, the total was around $21,000. "It was huge for our first year, and the kids have benefitted from it in wonderful ways." The much-needed funds went toward van loads of school supplies, as well as personal items such as beds for children who had gone without.
"I'm so proud of this community for coming together like this," Kevin shares. "I was the kid who grew up in the trailer park, hoping I would be able to do something for all the people who helped me. So now, we are working to help the next generation … to give these kids a real fighting chance. We're doing what Christ told us to do, and hopefully glorifying God in the process."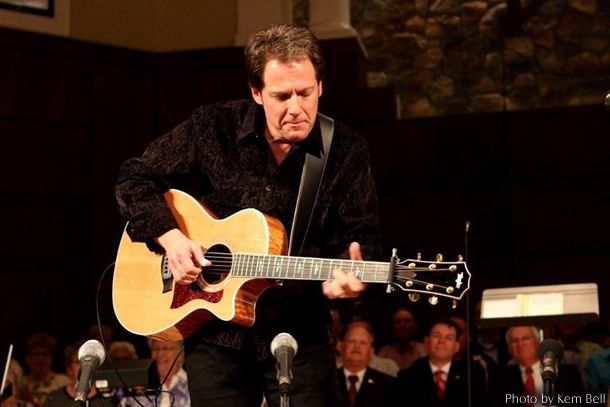 For this year's celebration, he will be joined by the rich, wonderful talent in his hometown area. By popular request, he will perform again with his guitar teacher, as well as well-known local quartet singers whom Kevin has played and sung with for years.
When asked if any surprise guests may be performing, Kevin would only divulge, "I've always got a trick up my sleeve!" Whatever happens, it will surely be a night to remember!
Visit
Kevin's Facebook page
or email him at kevin@kevinwilliamsmusic.com for event information or to make a donation.