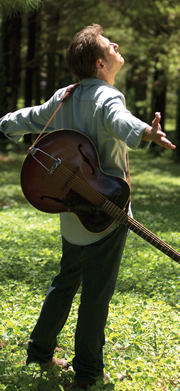 "I didn't realize I said that all the time..." says the git-tar pickin', Gaither-goadin', preternaturally young-lookin' Homecoming fixture, "… until my wife suggested it as the name for my column in the magazine." That'd be Kathy — 20-year bride of Kevin, 17-year mother of Carolina, and 15 to Olivia. "So I've been writing 'Now That's Funny' for seven or eight years." Yep, a lot can happen over 23 years playing in the house band on the Gaither Homecoming tours. Thankfully love, marriage and a baby carriage are a magnet luring the minstrel to come home.
But when Kevin Williams gets home to Nashville there's still demand for his hot licks and clever tricks. "I co-host the Homecoming Radio Show with Bill, which is on … I think 2,900 stations around the world now." Alright, recording worldwide gospel radio outreach while home, check. "I moved to Nashville in the '80s to play on recordings and produce, and I've been doing both since about '89. It's always been a part of what I do." OK, so you just move to Nashville and start playing and producing professionally. You do know, Kevin, that 90 percent of the people who moved to Nashville to make music are now selling cars or insurance. "Yeah, down through the years I've been fortunate to produce many wonderful artists — like Gene McDonald, who I'm working with right now. And I'm getting ready to start a record on Wes Hampton. I did Mark Lowry's last two projects."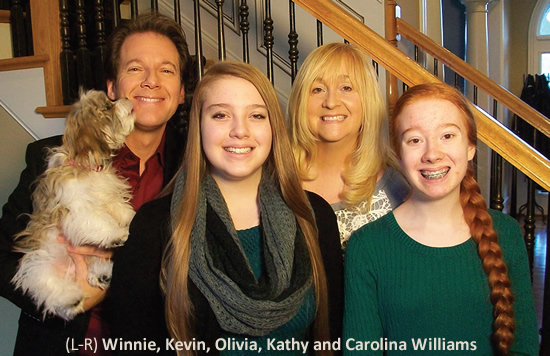 Talk of bucking the odds reminds Williams of his roots. "I'm this little Kentucky boy who just wanted to meet these people one day …" Kevin grew up in a trailer park in Russell Springs, Kentucky, near the Daniel Boone National Forest. "To get from point A to point B, you had to have a lotta help. And if I needed something, somebody was always there with it. We didn't have hardly any money, but all my needs were met." The musician recently went back home to check in on today's kids. "Nobody's looking in on anybody else. The kids don't have a coat, they don't have shoes, they don't have glasses. Eighty percent of them are on free or reduced lunch. I didn't know what to do. So I prayed." The answer came in a call from his elementary school music teacher, inviting him to play a concert. The result was Kevin starting a kids' charity in Russell Springs with an annual benefit concert. "Now I spend a lot of time up there meeting with people to … light that fire."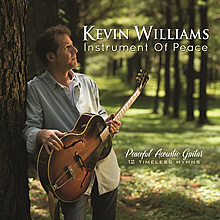 And last year a precious flame finally flickered out. "My mom passed in March of last year. I sat at her bedside when she was in a coma, and just played hymns on my guitar. You know, 'Softly And Tenderly,' 'Just As I Am,' 'Sweet Hour Of Prayer.' At her memorial service I did that as well: just sat, closed my eyes and played. Afterwards a guy came up and said 'The peace I felt when you played — I wish I could bottle that.'" And thus was born the simplest project Williams has ever done, his newest
Instrument of Peace
. "It's only me and a guitar. All hymns, all peace and quiet."
So whether he's sitting in with the Gaither Homecoming band, sitting at his mother's bedside, in a radio studio, at a mixing console, onstage at a Kentucky school gym, or at the dinner table with Kathy, Carolina and Olivia, Kevin Williams always has the best seat in the house.