Gaither Homecoming band leader Kevin Williams is gearing up to do his third annual hometown benefit concert to help at-risk kids in Russell Springs, Kentucky. It will take place Saturday, May 14, at 6 p.m. CST at the First Baptist Church in Russell Springs.

Kevin has shared (most recently in our March/April issue) that he was once one of those children. "I was the kid who grew up in the trailer park, hoping I would be able to do something for all the people who helped me. So now, we are working to help the next generation … to give these kids a real fighting chance. We're doing what Christ told us to do, and hopefully glorifying God in the process."
When he visited Russell Springs a few years back, Kevin saw that the need was great for many kids there. "The kids don't have a coat, they don't have shoes, they don't have glasses. Eighty percent of them are on free or reduced lunch. I didn't know what to do. So I prayed."

Kevin set a goal to raise $10,000 when he performed his first benefit concert in 2014, but God honored his prayer, the community came together, and the results exceeded expectations. When all donations were counted, the total was around $21,000, which went toward van loads of school supplies, as well as personal items such as beds for children who had gone without.

This year, Kevin is excited once again to connect with his hometown community, and some talented friends will be joining him onstage. "It's gonna be an action-packed night featuring a community choir and my special guests, Gaither Homecoming artists Charlotte Ritchie and Gene McDonald. I can't believe we will have BOTH of them in Russell Springs on the same night! Also, my good friend, multi-instrumentalist Kevin Moore, and the amazing award-winning pianist Matthew Holt will be there. And that's not all ... bluegrass legend (and my former guitar teacher) Larry Beasley will be there, the sensational Crossroads Quartet, and, oh yes, ME!"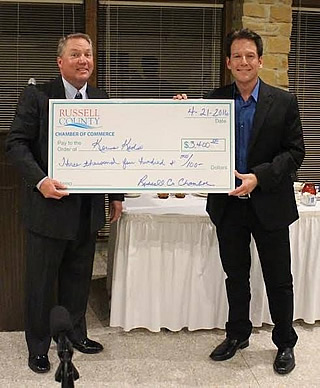 The concert will be free, and an offering will be taken to benefit the children of Russell County, Kentucky. Business sponsorships are also encouraged, and the Russell County Chamber of Commerce has already gotten the ball rolling, presenting Kevin with a sizeable check.
Kevin posted on Facebook, "So privileged to accept this check for 'Kevin's Kids' in the amount of $3,400 from the Russell County Chamber of Commerce! Our goal is $30,000 dollars this year, and this is over 10% of it in one check. Thank you, Russell County Chamber of Commerce, for giving us an excellent start!"
Others have been finding creative ways to pitch in as well, says Kevin. "I had a lady in Texas who paints in her spare time, and she told me that she is selling one of her paintings and giving the money to the kids. That kind of thing is happening all over. And what we are able to do with the money has just been astounding. Lives are being changed."
For information about the concert, call Russell Springs First Baptist Church at (270) 866-6495. For those unable to attend who wish to donate, checks may be made payable to "Kevin's Kids" and mailed to Kevin Williams Productions, 625 Bakers Bridge Ave., Suite 105-60, Franklin, TN, 37067. Kevin reports that 100 percent of the funds will go to the children via the school youth resource centers. No expenses will be taken out, and donations are tax deductible.