At our house, there's always a great aroma in the air. Sometimes, it's dinner on the stove. Sometimes it's a scented candle. Sometimes, it's my foot powder.
On cold winter days, our Tuscan Chicken and Beans goes great with a movie. My wife and daughters always dress up the dish by adding little bread bows, fresh from the oven. Girls will put bows on anything. In my house, if it's not moving, it gets a bow.
Anyway, here's the secret of how we do it.
Tuscan Chicken with Beans
Ingredients
• 1 sprig fresh rosemary, rinsed (or 3/4 teaspoon dried rosemary)
• 1 lb boneless chicken tenders
• Cooking spray
• 1/4 teaspoon salt
• 1/4 teaspoon pepper
• 1 (19 oz) can cannelloni beans (undrained)
• 1 cup reduced-sodium chicken broth
• 2 tablespoons cornstarch
• 2 tablespoons of julienne-cut sun-dried tomatoes
• 1/4 cup water


Directions
1. Finely snip rosemary (leaves only) using kitchen shears (2 teaspoons).
2. Cut chicken into bite-size pieces; wash hands.
3. Preheat large sauté pan on medium-high two to three minutes.
4. Coat pan with cooking spray.
5. Add chicken; sprinkle with rosemary, salt and pepper.
6. Cook two minutes, stirring occasionally.
7. Stir in beans, broth and tomatoes.
8. Stir cornstarch and water together in small bowl and slowly add to pan, stirring continuously.
9. Heat to boiling; reduce to medium and cook five minutes.

Enjoy!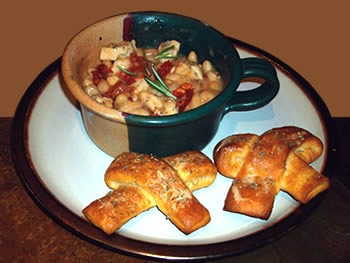 And don't forget the bows...
Bread Bows
Ingredients
• 2 tablespoons grated Parmesan cheese
• 1/2 teaspoon Italian seasoning
• 1 (11 oz) can breadstick dough


Directions
1. Preheat oven to 400° F.
2. Combine cheese and seasoning on plate.
3. Roll each breadstick in cheese.
4. Twist and fold to form a bow or knot shape and place on baking sheet.
5. Bake 15 minutes or until golden.
6. Serve.