Janet Paschal Lanier swears that her Key Lime Pie recipe is the uncontested, all-time favorite of husband John. And he should know Key Lime Pie: John grew up in Florida, where his dad pastored churches on the mainland and in the Keys. He has taste-tested dozens — no, make that hundreds — of pieces of Key Lime Pie and has pronounced Janet's the premier specimen. Janet says that the test of the best in the Key Lime variety is the color; superior flavor is found only in those pies that are whitish-yellow. She warns that "If it's green, it's a dead giveaway the recipe has been altered [corrupted] by the addition of green food coloring or Jell-o!"
The pie she serves to her discriminating gourmand husband is creamy and tart and decorated with a few "cosmetic sprinkles of graham cracker crumbs" or "delicate traces of grated lime peel." Lucky John!
Janet Paschal's KEY LIME PIE
Ingredients
• 4 eggs, separated (reserve 3 whites for meringue)
• 1 can (14oz.) sweetened, condensed milk
• ½ cup lime juice
• 2-3 teaspoons grated lime peel
• 1 baked 9-inch pastry shell
• ½ teaspoon cream of tartar
• ½ cup sugar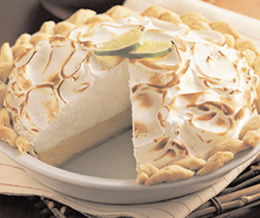 Directions
Beat egg yolks; stir in milk, lime juice and peel.
Beat one egg white until stiff; fold into milk mixture.
Turn into pastry shell.
Beat reserved egg whites with cream of tartar until foamy; gradually add sugar, beating until stiff but not dry.
Spread meringue on top of pie, sealing carefully to edge of shell.
Bake at 350 degrees for 15 minutes or until meringue is golden brown. Cool.
Chill before serving.