Hello Homecoming Readers! For this issue I was asked to take on something a bit different from my past book reviews, and instead bring you all inside the mind of one of our younger Homecoming Kids: Landon Ritchie.
Landon is the precious 8-year-old son of Greg and Charlotte Ritchie, whom you all know and love, and he has been traveling with the Homecoming crew since his birth. Landon has been one of my favorite little Homecoming Kids for as long as I can remember. I loved playing with him as a baby and watching him grow up. Landon is so adorable that I have even contemplated stealing him for my own. I didn't, of course; I'm too young to have a child — even one I steal. We always play games, color and have the greatest talks when we see each other; he even asked me to be his girlfriend once. (Precious. I said yes, of course.) So, since I'm his girlfriend and all, I called Landon up and asked him to give me his take on being a Homecoming Kid, which he happily shared with me. We talked about favorite memories, the possibility of a music career when he grows up, and he may even mention some special friends who gave him love advice . . . but you'll have to keep reading to see who!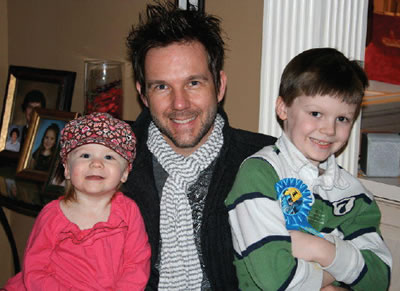 [Jadyn, Greg and Landon]
CALLIE:
What has been your favorite part, so far, of growing up as a Homecoming Kid?
LANDON:
Um, I think my favorite parts would be the cruises and Family Fest. Those would be my favorites.
CALLIE:
Do you have a favorite memory from being out on the road?
LANDON:
I think my favorite memory would be going out on the Gaither concerts, playing with friends and going on tour with my mom.
CALLIE:
What kinds of things do you and the other Homecoming Kids do to entertain yourselves while you're out on the road?
LANDON:
Sometimes I go on their buses. Like going on Jeff and Sheri's bus, or the Isaacs' bus, or to catering. We go to catering a lot.
CALLIE:
Has anyone on tour given you any memorable advice?
LANDON:
Well, I was on the Isaacs' bus and I asked Jakobi (daughter of Becky Isaacs) and Cameron (daughter of Ben Isaacs) for girl advice, and about what I should do about it. That's the only time I can remember asking for some advice like that.
CALLIE:
What Homecoming shows and events are you looking forward to doing as you grow up?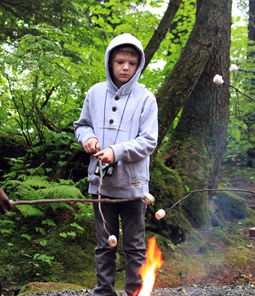 LANDON:
Probably, if there are any more cruises or any more Family Fests that I get to do with my mom, and when I get to go on stage.
CALLIE:
Has being on tour with your mom made you want to pursue a career in music when you grow up?
LANDON:
Well, actually, I have to say yes. I love music. I love to sing. I love to dance; so yes, I might.
CALLIE:
What do you like to do when you aren't on the road?
LANDON:
I like to wrestle with my dad and go over to my friend's house to play.