Carrying on the Mason musical legacy, Babbie's son Chaz is now an accomplished recording artist living in California who plays multiple instruments and writes soulful music with a funky edge. His latest album is Soul Evolution, available at ChazMusic.com. Here he shares how memories of his days as a Homecoming Kid prompted him to reconnect with some old friends.
I've been experiencing bouts of Homecoming Kids nostalgia over the last year. I received a message from HK alumnus Madison Easter stating that he would be in L.A. for the Grammys and was coming to my show that weekend. I was truly excited, since aside from my cousin John, I hadn't seen anyone face to face from the HK crew for over a decade. So I was at the venue and in walks Madison with his gang of friends — I was elated to see his face! I remember him as the kid you see in the videos: baby-faced, frog-voiced, too-much-swag-for-his-own-good, lady charmer. Not much has changed aside from the ring on his finger and the new addition attached to his arm — his wife! Wow, now I know I'm getting old! It was good to play catch-up, but it left me with an insatiable thirst for more HK nostalgia. So, the adventure began.
After the gig, I headed home to do a little reconnaissance. I began to search for all the alumni, beginning with Megan English. Her father and my mother both sang and recorded together many times when we were kids, and I've known her the longest of all the HKs. I found out that she had also "tied the knot" and was residing in Nashville.
Next, I found Libby Hodges on Facebook and saw her mom's profile there too. Mrs. Hodges was very involved behind the scenes and I remember her being everywhere we went — giving us direction and putting up with our large personalities (mainly mine). Thank God for giving her patience!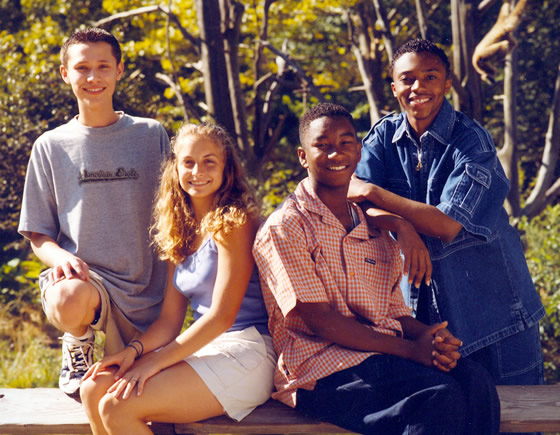 [Young Chaz (seated) is joined by Homecoming friends:
Ricky Free, Megan English and Chaz's cousin John Wade]
After reconnecting with the Hodges, I decided to create an HC Kids fan page on Facebook (facebook.com/GaitherHomecomingKids). It's funny how things work out; when I was younger, I was embarrassed to be a part of the HKs. I didn't want my friends or family to see these videos for fear of the ensuing defamation to my reputation — I was the cool kid. It took a lot for me to realize that being a role model for kids WAS cool, and that I was not only being a role model for viewers, but for the HKs too, since I was the oldest one. I needed to set the example of being Christlike for the kids on set. When you're young, it's easy to miss the mark sometimes. I was oblivious that these videos would help shape the lives of many young ones and lead them to Christ. I had my "Aha!" moment during the song "I Just Gotta Tell Ya." As the words say:
I just gotta tell ya what's happening to me
I've changed my view, my attitude, my possibilities…
Today, I am proud to be a former Homecoming Kid. I am very grateful to Gloria Gaither for thinking of me and giving me the opportunity to leave a mark so early on in my Christian life. I cherish all the memories, and I look forward to seeing my HK family again. My name is Chaz Mason, and I'm a Homecoming Kid! I still have the letterman jacket to prove it….