Buddy Greene's youngest, Georganne, shares memories of growing up with her harmonica-playing dad — and the love of art he passed down to her…
While Buddy Greene has many talents, being a father, I would say, is one of his greatest accomplishments. It's been a treasure to grow up in my home, and his influence has generated a deep love of art and music in me. I am currently 19 years old and a student at University of Tennessee Knoxville, where I am pursuing a master's degree in Studio Art and Art Education.
My older sister, Erin Greene Loofbourrow, was probably more of a "Homecoming Kid" than I was. She was that small, adorable brunette with the deep voice and big, bright eyes you might have seen running around on the set of Homecoming Kids Go West. We love to pull those videos out and reminisce on the joys and simplicity of childhood. Erin is now married and living in Northern California and boy, do we miss her. My sister and I grew up in a musical home and have both developed a true love for music and the arts. We both took piano lessons for years and always pursued opportunities to sing and dance at our school. Even though we both took dance very seriously, once I was in high school and Erin had moved ahead to college, another passion of mine began to set in: the visual arts.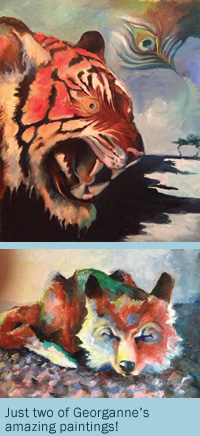 I always enjoyed drawing as a kid, and that joy never really died. My dad and I used to take our sketchpads, when I was maybe 6 or 7, and draw outdoor scenes together. He's a fantastic drawer! Even to this day, we have a daddy/daughter drawing date every now and then. Eventually, I developed a serious interest in the arts, and after taking a few years of general 2-D and 3-D art in high school, I realized I wanted to use my gift in the future as a possible career choice.
Now, growing up with my dad had its ups and downs. Not only is he a singer/songwriter who travels to make a living, but the harmonica is the moneymaker around here (second only to the whole "Mary Did You Know" thing he co-wrote with Mark Lowry). So at any given minute, I'll walk in the house to find Dad wailing away at his harmonica, practicing for an upcoming concert—or just playing for fun. It didn't really matter what time of night it was either, and I have vivid memories of staring at the ceiling as a little gal trying to sleep, but instead singing along in my head to "Cluck Ol' Hen." While it's been a bit of a rollercoaster for us all, it's been an adventure and I wouldn't change a thing. I'm grateful for the way he has consistently encouraged my love for the arts and reminded me daily that he's proud of me.
Now, as a college student, I am diving headfirst into my artistic abilities and pushing them to further exploration. The reason I decided to tack on the double major of Art Education has to do with my love for working with people, especially younger students. Experiences such as working a summer with elementary kids at Mount Hermon Family Camp in Northern California and working with inner city kids in SOAR Youth Ministries here in Knoxville have really steered my heart toward youth and using my gifts in ways that can help grow and inspire younger minds. I am forever grateful for those who have contributed, and continue to contribute to my learning and growing in the arts and in life, and I hope to do the same for other aspiring artists like me in the future.