Levi and Jakobi Bowman, children of the Isaacs' Rebecca Bowman, have been on the road since they were each just days old. Here the siblings offer an inside look at life as a current-day Homecoming Kid!
LEVI:
I have been on a bus since I was 12 days old. The road life is the only life I know. I have so many Homecoming memories! One of the greatest memories I hold dear to my heart is getting to be on stage with Jessy Dixon. I was about 4 years old and my parents started touring with the Gaithers. I loved to dress up just like Jessy. I had the fancy shoes and the coolest suit a 4 year old could find. Every night Mr. Jessy would come over to me and show me all his slick moves and let me sing with him. What a time that was! I have been privileged to build great friendships with so many of the artists' kids. (Parker Mote, Christian Booth, Mathew and Kari Gooch, Joseph Jackson, Morgan Easter, Autumn Nelon Clark, Carlye Hopper...to name a few). While the concerts are going on, you will usually find me backstage with my friends, playing music, ball and even some video games. Many of the Homecoming kids have talents, and we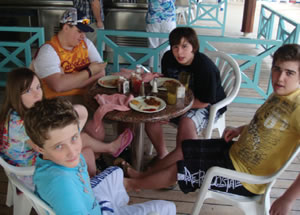 love to share them with each other. My favorite thing to do is play guitar! Being on the Homecoming tour all year really makes you a tight family. We get to share birthdays and holidays, and even vacations together—while our parents work! I always look forward to the Christmas tour. Some of the artists have mini Christmas trees on their buses and lights to decorate the bus halls. My favorite part of the day is when David Phelps sings "O Holy Night!" I am blessed to have a great road life, but when I am not traveling, you will find me on a baseball field or practicing my guitar, working on fulfilling all my dreams.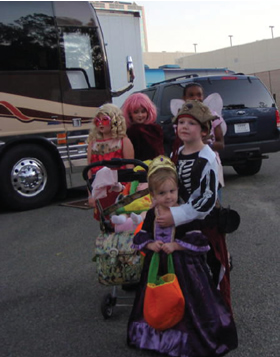 JAKOBI:
I started traveling on a bus when I was 12 days old as well. One of my greatest memories of being a Homecoming kid is waking up every weekend and playing with Joy Randle. We would turn our backstage dressing rooms into a castle, a soccer field or whatever room we needed it to be that day. Many times, the dressing room became our own private school so we could do our homework. I love to play with many other Homecoming kids as well (Landon and Jayna Ritchie, Maggie Phelps, Grant and Colby Phelps, Ashley and Emma Crabb, Bret Smith). We all feel like we are just cousins who see each other in different cities. We have to be creative with our fun because we are on a bus, in an arena or on a cruise ship most of the time. However, we always find something to do like watching movies or playing ball! One year we were on tour in Myrtle Beach and it was Halloween. So we all dressed up and went from bus to bus trick or treating. I will never forget that. Sometimes if the caravan of buses is going to follow close together, we even have a bus sleepover. That's really cool! When I am not on the road, I love to play basketball and dance and sing. Like my brother Levi, I hope one day to have a music career as well.