(Pictured right: Amy and Simon Hayes with Gloria)
As Homecoming Magazine celebrates its 10th anniversary, Bill and Gloria's grandson Simon, who has also graced our planet for 10 years, gives us a glimpse into his life as a Homecoming Kid. Here's what Simon Says!
I am Simon Hayes, son of Amy and Andrew Hayes and grandson of the Gaithers. I live far from my grandparents with my two siblings, Madeleine and Lee.
Being a Homecoming kid and a grandson of Bill and Gloria Gaither, I have a lot of experiences with them and the Homecoming group in general. We do a lot of stuff, mainly in school breaks or over the summer. One recent example of this was the cruise to Alaska—the coldest and biggest state of the bunch! That was amazingly fun.
Going places is rather fun. Well, sometimes.
Sometimes it's monotonous having to run everywhere, but doing the running is most of the monotony. So, half the time I like going to all these awesome places and events.
I guess a good side of all this flying, driving and other things, are the friends. I have many friends who are sons and daughters (or grandsons and granddaughters) of artists. In fact, these are some of my new best friends I met at the latest Family Fest: Grant and James and Andy Andrews' sons and lots of other people.
Family Fest is probably one of the most fun parts of my year, mainly because of my friends. One time backstage, during the concert, two of the little kids were playing with a deflated ball. More Homecoming kids came, and I filled the ball with air, and we began to play a sort of soccer game. We had the goal, we had the ball, but we used our hands to throw the ball at the goal, trying to get past a goalie. The night was long and fun, and I think the little kids had as much fun as the older kids, throwing, punting and all out battering that poor ball.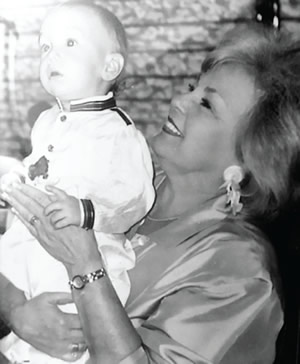 (Pictured left: Proud grandma Gloria with baby Simon)
I have a lot of memories of going to my grandparents' house and hanging out. Like this last Christmas, all of the grand-kids were sitting around the fireplace and talking with each other. Then all of us went outside and started to make this huge snowman, but the base was way too big and we rolled it down the hill. Much like a cartoon, the ball was smaller than my head when it reached the bottom. After that, we went inside to talk, laugh, light the fire up and get ourselves warmed up with a nice cup of hot chocolate.
I absolutely love being everywhere, having a nice day at my grandparents' house, or hanging out with friends.