All grown up now, Will is a student at George Washington University and is involved with the Youth Delegation Initiative, which strives for a permanent youth delegation to the United Nations, representing national and global youth issues. He is interested in public policy and sociology, though he has not yet declared a major. It comes as no surprise that he is also an accomplished guitarist and loves making music. Will offers a "then and now" perspective on growing up in the Homecoming family.
I never know how to explain adequately to people what my grandparents do when they ask. I guess I could give an easier explanation if they were the typical recording artists, but although the Homecoming concerts have always seemed so normal to me, I find myself unable to describe the experience to other people. This was the case when I tried to explain to my girlfriend, who had never heard of the Homecoming series, how the concerts operated. After several failed attempts to explain it, I finally just made her come with me to experience it herself. She was pleasantly surprised.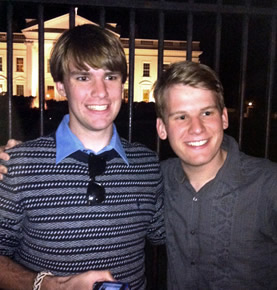 The concerts have always had a certain effect on me that I could only banally describe as magical. To tell the truth, being as social and energetic as I am around the Homecoming artists and their families, I usually spent more time backstage during concerts. Here was my favorite combination: my cousin Lee, my brother Jesse, Morgan Easter, Levi Isaac-Bowman and the Penrod boys. However, I think it would be safe to assume that it was the venue staffs' least favorite combination. It seems we were in a perpetual state of sugar-induced mania, coupled strategically with rubber-band guns or the latest toy or gadget we brought with which to wreak havoc. Nevertheless, we never got bored when we were together, and somehow we managed not to break everything in sight. (Pictured here is a current photo of Will with his brother Jesse in front of the White House)
Lately, I've spent much more time watching the concerts. Given the fact that I rarely have the time now to go out on the weekends with my grandparents, nor do I live in Indiana anymore, I like to see them in concert as much as possible. I've only recently started to notice how well they connect with an audience and how well everyone on stage performs and gets along. My grandpa may not be the best musician or songwriter in the world, but he is one of the best readers of people and crowds I have ever seen. He can walk into an arena and know exactly what to say, who to put on stage and in what order, and how to get everyone singing the song that may not have been on the schedule, but was sorely needed. My grandma is one of the best communicators out there. She can command the attention of an audience using her keen, extroverted feeling and bring them to an emotional, intellectual or theological epiphany they had likely never before considered. She sees every interaction she has as interesting and symbolic of the bigger picture, and it shows in her writing and speaking style. They have both been major influences for me, and I've thankfully inherited my grandpa's love of people and my grandma's taste for philosophical thought and a good debate.
As you can see, I enjoy the concerts immensely. My grandpa never seems to come up short for talent. The artists in the most recent tour all perform impeccably, and I love to see them in action, as well as backstage. They're all fascinating and good people. I've always enjoyed the concerts, and I cannot overstate how glad I am to have grown up around the Homecoming events and people.