Hello,
Homecoming
readers! I'm so excited to be writing my very own column! This is a dream I have had for a long time and I can't believe it has come true so fast. I will be here in
Homecoming Magazine
bringing you the latest from the kids — I'll tell you what kids are loving, what I'm loving and bring you a little behind- the-scenes look at all the Gaither Homecoming Kids! So lets get started!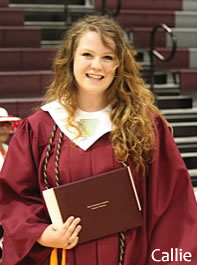 Summer is upon us! This is the season when we spend our time lounging by the pool, soaking up the hot sun, and enjoying the blessings of a break. I started my summer off splendidly by doing something surprisingly thrilling. I graduated! Graduating is such a fun experience, I must say; it felt like my birthday or a big holiday. My family gathered together, I got some very nice gifts, and there was a ceremony just for me (well, me and the 25 other seniors in my class, but you get the point). The time is filled with the wonderful feelings of freedom, expectancy and excitement. I can't wait to begin college life at Samford University and to begin moving towards my career as a writer by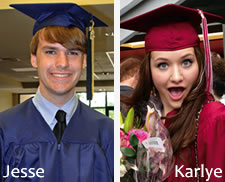 studying English. Two other Gaither Kids have joined me in graduating this year, Bill and Gloria Gaither's grandson Jesse Jennings and Dean and Kim Hopper's daughter Karlye Hopper. Each of these graduates has fantastic plans so far! Karlye is headed to the University of North Carolina in Greensboro and Jesse is headed to Imperial College in London, England! We are all so excited to be a part of the class of 2013 and to see where God will lead us!
However, we still have a whole summer to enjoy before these new adventures begin and the best part of summer, for me at least, is all the time you have off. And you can fill it up doing whatever you want! I know one thing my family loves to do — during any season!— is sit down and watch the newest episode of "Duck Dynasty"—that Si is a funny guy! It's definitely a favorite around here. But I also love the possibilities that summer brings. It allows me to finally do the projects I've wanted to do, see movies I've wanted to see, and read books I've wanted to read.
I'm always reading books for school, but I really enjoy when I have time on my hands to read anything I want. Plus, reading is a great activity for younger kids too, so the bookstore is a place I can take my 9-year-old brother and keep him entertained without giving up the fun parts of my summer! One book I'm getting really excited about is actually for the younger ones. It's Jason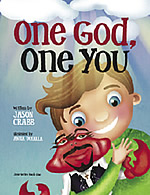 Crabb's new children's book,
One God, One You
. This darling book is about a young boy, Evan, who sings and plays the ukulele. When Evan goes to a Jason Crabb concert he gets a "Jase the Crabb" doll. During his dreams, Jase takes Evan on an adventure that shows Evan how God has given him a wonderful gift through his music and that God's gifts are truly blessings to help us fulfill God's purpose for our lives. This is a fantastic read and a truly great way to show children how God has blessed them with special talents. What's even better is that there are more to come! This book is just the first in a whole series of books about the adventures of Jase the Crabb and how he shows Evan the importance of God's love and how special he truly is. The book is available now at all Jason Crabb's concerts and online at
JaseCrabb.com
. You can also go to this website to download cool activities, coloring pages, certificates and more! I'm definitely excited about this new series and I know it will be one children are just going to love.
I love it when a child can fall in love with reading. The best way to do that is to let kids pick their own books and pair their reading with a fun activity. Scholastic has come up with a fantastic summer reading program. They are trying to get kids to log in their reading minutes to beat the world record of 95,859,491 minutes read in 2012! When a child signs up for the program they receive a reading log, pledge and a certificate (which the parent gives out at the end of the summer), as well as awesome prizes and incentives for reading a certain amount. I know that I'm definitely going to try and read with Coby some this summer. I love finding a fun book to read like Dr. Seuss'
Green Eggs and Ham
and then doing an activity with him, like making green eggs and ham! We always try to make it fun, and the story usually sticks with him. I'm so excited for what this summer will bring, and I hope you are too!
So much is happening and there is still so much room for adventure. I definitely love a good adventure! Whatever this summer brings you, I hope it includes fun memories and joyous blessings. Enjoy!