We had a very special nanny who brought us this recipe. She's the nanny who shared her world with my kids and opened all our eyes to things about which we may have been blind. This recipe has been reformulated and fitted to my family's own personal taste. Bringing in more or less spice, more broccoli, less chicken (yeah right!) and so forth. This is now a staple in our household; being such a quick, easy and delicious dish, it's considered a comfort food upon our return from a long trip. Maybe add a spinach or mixed green salad as a starter! Choose a sweet and sour dressing to complement this wonderful Asian entrée.
Kim Hopper's Favorite Stir Fry
Ingredients
• 8 oz. angel-hair or linguini whole wheat pasta
• 2 cups broccoli florets
• Olive oil
• ½ tsp freshly ground black pepper
• ½ cup natural chunky peanut butter (Smuckers Natural preferred)
• 1 lb. boneless skinless chicken, sliced into thin strips or chunky pieces
• 1/3 cup crushed or whole peanuts

Sauce:
• 1 cup Kraft Asian Toasted Sesame dressing
• 2 tablespoons soy sauce
• 1/4 teaspoon ground ginger
• 1/4 teaspoon cayenne
• 1/4 teaspoon garlic powder

Directions
1. Mix sauce ingredients in small bowl: set aside.
2. Cook chicken on medium heat in a greased or canola oil-coated skillet or wok. Pour sauce over chicken after thoroughly cooked and allow to soak.
3. Bring pasta to a boil. After the desired cooking time (7 to 8 minutes) pour broccoli florets in with pasta. Boil for 2 to 3 minutes.
4. Drain pasta and broccoli, then pour into skillet/wok with chicken and sauce. Once thoroughly mixed, add peanuts and serve.
Yields: 3 to 4 servings, but if you have boys go ahead and double everything!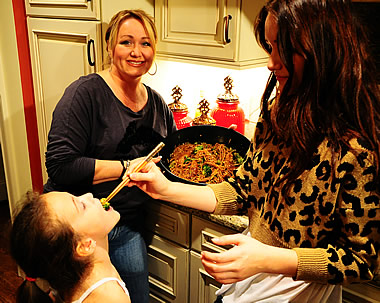 [Fun in the kitchen with Lexy, Kim and Karlye Hopper]