Watch Kim Hopper in concert and it's hard to imagine that this young, energetic and gifted performer would know very much about suffering. Spend a little more time listening to her story and you'll soon discover that Kim Hopper knows plenty.
She also has a good understanding of that big question so many of us ask — Why me?
"I used to ask myself that question, too," Kim says. "But then I started asking, 'Why not me?' Suffering comes to all families through death, illness, heartbreak and other challenges. I'm no better than anyone else, so why should I expect to have an easier journey than anyone else?"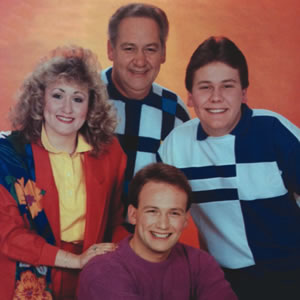 Kim Hopper (formerly Kim Greene) grew up in a musical family. She performed in her first concert when she was only 5 years old, and was on the road touring by the time she was 10. The Greenes, which consisted of Kim, her older brother, Tim, her younger brother, Tony, and their father, Everette, who played the piano, were well known in gospel music circles for their Rambo-style harmonies. Their mother, Carolyn, traveled with the group, but didn't sing, and Kim's half-brother, Ronnie, didn't travel or sing with the group, but helped behind the scenes with their recordings. It was a true family affair.
Kim met Dean Hopper when she was 12 years old. Dean was 17. They both grew up in North Carolina, but their paths didn't cross until one night when the Greenes opened for the Hoppers in a concert. Dean hardly noticed the pre-teen, but by the time she turned 19, it was a different story. Kim and Dean had their first date when she was 20, and got engaged three months later, in March of 1988. By November 20th of that same year, they were married.
Kim was now a Hopper by marriage, and she was soon to become one musically, too.
"It was a very difficult decision," Kim says. "The Greenes are a close-knit family. We even go on vacations together. But as a man, Dean felt he needed to be where he could support his new wife on his own." So Kim left the Greenes and began singing full time with the Hoppers. "I still felt guilty. I had done all the arranging and the choosing of the songs we'd sing. And even though before I left, I helped find a lead singer to replace me, I still felt bad."
But God has a way of working everything out.
"The third singer that the Greenes hired, TaRanda Kiser, was a charm. My baby brother, Tony, fell in love with TaRanda and they ended up getting married. Had I not left the group, Taranda and Tony might never have met.
The significance of suffering? The bigger picture.
The Hoppers began their musical journey in 1957 when Claude Hopper, one of 11 children, came together with four of his brothers and a talented, pretty pianist named Connie. At that time the group was called the Hopper Brothers and Connie. Claude and Connie fell in love and got married, and their sons Dean and Michael would eventually join the group too. (Dean began singing with the family when he was about 8 years old.) Then, when the last of Claude's brothers retired, and with the addition of Kim Hopper, the group shortened its name to the Hoppers, and continued its stellar rise to become one of the most honored and beloved gospel singing groups of our time.
The musical heritage of Kim Greene Hopper and Dean Hopper passes down through the generations on both sides. The Greenes came from their musical parents the Townsend Family, and the Hoppers came from a long line of musicians and singers.
A fork in the road, like what Kim faced with her decision to leave one talented gospel group to sing with another, even for a good and noble reason, can be diffi cult to navigate through. Sometimes, though, the journey presents other perils that offer no choice.
Some years ago, Connie Hopper, Kim's mother-in-law, was given a diagnosis that no one wants to hear—cancer. But we're happy to report that today, Connie is a breast cancer survivor.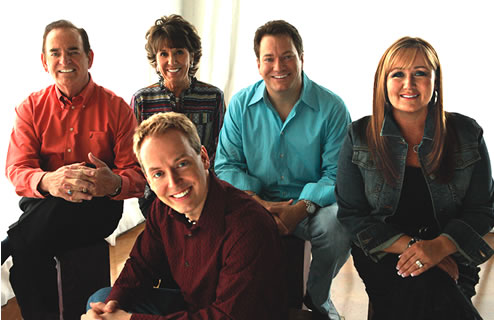 (The Hoppers: Claude, Connie, Michael, Dean and Kim)
Then, in 2000, Kim's older brother Tim, developed what is known as black mold poisoning. Apparently, it came from the carpet in his car, which would often get wet due to a malfunction in design. During his cross-country travels, Tim had spent a lot of time in his vehicle. Doctors found black mold poisoning in the sinus cavities of his brain, as well as in his blood and bones. He has since had to move to an area where the air is salt purified, and is doing better but no longer travels with the group.
Four years later, Kim's father passed away suddenly at the age of 66. Kim was carrying her daughter Lexy at that time. Due to the stress of that loss, Kim delivered the baby two and a half months early. Lexy was put on a respirator for six hours, and then remained in the hospital on a feeding tube for two months. It was another perfect opportunity for the "Why me?"question.
But one day, a nurse came in to Kim's room and said, "I don't know if you've been questioning God, but I want you to know that everyone's been watching you and your family and how you're handling this. The parents of other sick children need to see this peace that you have. This is exactly where you're supposed to be right now."
The significance of suffering? God-ordained appointments.
Lexy, born Lexus Jazz, is doing wonderfully today. She is a healthy and happy 6-year-old. Her sister, Karlye Jade, is 16, and both girls are already showing signs of their family's talent.
And life goes on . . . with its joys and its pains.
In 2008, Kim's younger brother, Tony, who had known since the age of 16 that one of his kidneys had ceased functioning and the other one was diseased, now learned that the diseased kidney was shutting down too. Tony was put on dialysis, and began the wait for a kidney transplant. TaRanda, Tony's wife, was tested and found to be a perfect donor match! It's hard not to see that this miracle might never have happened had Kim not joined the Hoppers, leaving the vacancy that enabled Tony to meet TaRanda. The transplant was performed successfully in 2009, and for a while Tony was doing great.
But in the middle of Tony's crisis, at a time when he was stable and ministering on the road, Kim had to undergo a hysterectomy. The surgery went according to plan, but during the recovery period Kim's intestines began to shut down. She remained in the hospital for an additional eight days with a tube down her throat. She couldn't eat or talk, and she recalls asking God plenty of whys.
"Today, I can see that this was a preordained place for me to be. Every time someone walked into that hospital room, a life was touched — either theirs or mine."
Kim recovered from the complications of that surgery, but more bad news was just around the corner for the Greenes. Tony contracted a serious virus and it began to shut down his kidney function.
During all this time, Tony's positive outlook and his wonderful sense of humor remained strong. He never missed a performance date. "Tony would get out of the hospital, and we would drive to the concert," Kim said. "He was in the hospital in August of 2010, but was discharged and even attended the National Quartet Convention that September. But he never fully recovered from the infection, and Tony passed away on September 28, 2010."
"We are wanting to do a tribute album to Tony in the near future," Kim says, "to keep his music alive."
The significance of suffering? To bring us even closer to each other.

Bill Gaither often tells the story about Mother Teresa who was once asked what was the first thing she'd say to God when she finally got to heaven. Mother Teresa said, "I think I would say, 'You have a lot of explaining to do.'"
Whys. We all have them. As author Harold Kushner once wrote, "Why do bad things happen to good people?" We don't always know. But most people who have gone through some of life's toughest journeys will usually say that they learned so much through the process of suffering.
"When suffering comes into our lives, when we're at a place where we can't do anything but look up, it's in those moments that we learn more about Christ."
The significance of suffering? To grow and to learn.
In the end, good does come from suffering. We encourage others who may be watching us go through the difficulties. We get to learn more about Christ, and the experience, if we allow it to, can help us grow. Suffering will also give us empathy and understanding for others who walk similar paths.
Yes, there is a hidden blessing in our burdens, a testimony waiting to happen once we make it through our trials. Kim Hopper knows this; it's how she's been able to sing through every storm.

For other articles featuring Kim Hopper, click here.