Laura Bush is, of course, most widely known as First Lady of the United States from 2001 to 2009 during the presidency of her husband, George W. Bush, the nation's 43rd commander-in-chief. Laura Bush also has made a tremendous positive impact as an advocate for women across the globe, championing basic rights and educational opportunities in such far-flung locales as Afghanistan, Ethiopia and Zambia. Born Laura Lane Welch in 1946 in Midland, Texas, this only child quickly developed a lifelong love for reading. A degree in early education from Southern Methodist University in Dallas led her to become a second-grade teacher, and her love for books spurred her to transition into a public school librarian. After her marriage into the Bush family in 1977, she devoted herself primarily to volunteer work and homemaking while her husband pursued the oil business. In 1981, twin daughters Jenna and Barbara arrived. (Both were named after their grandmothers.) As was her way, Laura quietly, steadily raised the girls and served as a loving, positive influence in her husband's life. As his political endeavors eventually led him to the governorship of Texas and then to the presidency, Laura Bush cultivated a passion for spreading literacy far and wide. For this special issue devoted to women, Gloria Gaither engaged Mrs. Bush in a conversation about her upbringing, the women who have influenced her most, life as a first lady, her tireless efforts to extend hope around the world, and her thoughts on how each of us can make a lasting difference in the lives of others.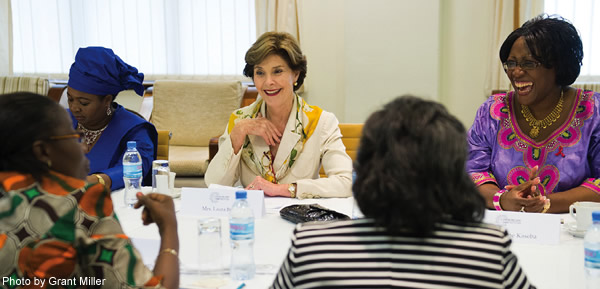 GLORIA:
It is such a pleasure and honor to be able to speak with you today. I'm not sure if you are familiar with our music…
LAURA:
Of course! Absolutely I know about your music. Didn't you all sing at the White House once?
GLORIA:
Yes, we did! I don't know if you know the story of the Homecoming phenomenon. It just happened when Bill got a bunch of people who had influenced him as a young kid in Indiana. In those early influential years, there were some groups that really got his attention on the radio. Anyway, all these years later, he said, "I would like to gather some of those people who influenced me and have them sing on one song and have them go back and do a Southern Gospel-flavored album."
So that's how it started — it was just an accident. But when they all got together in one room this magic happened and Bill said, "Wow … what if we actually had cameras to catch this? Could we sing some more songs and let them just do what they do?" So that's kind of how it happened, and that was 200 or so videos ago.
For this latest one, we gathered just the Homecoming women. Now, the old pioneers are pretty much all gone. These women are mainly in their 40s and 50s, they have teenagers, they have college students; some have young children. So it's another generation of the Homecoming phenomenon. And the theme of this issue is the Homecoming women and the women they come from — what made them these strong women that they are, who are capable of traveling, doing "home on the road," homeschooling, traveling in community, running marriages, keeping houses going someplace else. As we are celebrating this idea in this issue, think about some of the women you come from. What qualities of character did they instill in you, obviously one of the strongest women in our history?
LAURA:
Well, certainly my mother. She grew up in El Paso, Texas, on the Rio Grande. My grandparents' house was almost right across the street from the Rio Grande. And her mother, my grandmother who had moved from Arkansas in 1927 to El Paso, is also an inspiration to me. Both my mother and my grandmother loved nature — they loved the garden, they loved to be outside, and my mother became a very serious naturalist. She was our Girl Scout leader when I got my bird badge. She had become a very knowledgeable bird watcher and could name every single wildflower that we had in west Texas. I've been very encouraged by that, and by my grandmother, who was the same way, to the point that our new garden that's around the Bush Library is all native plants. It's native trees from the tree farm on our ranch, and native flowers, a mixture of native grasses that don't use as much water and don't need to be mowed very often — all the benefits you have if you use plants from your own environment.
They influenced me in many ways, but mostly, just with their own strength and their own joy of life, joy in living. My mother was a Sunday school teacher from when I was little, and everything I know about music, I learned from singing in the First Methodist choir from when I was in the second grade till I graduated from high school. So, of course, I grew up with the great Methodist hymns and I know them all.
GLORIA:
That sounds very much like my grandmother, who was a pioneer, and I would guess your grandmother at that point was still in the pioneer years, going to Texas.
LAURA:
El Paso, Texas — she certainly was. They built a little tourist court in 1927, and the people who stayed in the tourist court, of course, were all those people who were moving to California because of the Dust Bowl.
GLORIA:
My parents were in Missouri when the Dust Bowl hit; their farms all blew away to Kansas, and they moved, instead of west, north, to Michigan. So, I was the only one born in Michigan.
It has been our experience that things we learn to music last longer — that life principles and spiritual principles learned to music make a deeper and more enduring impact on daily decision making.
LAURA:
Learning hymns, like I did, growing up and going to church every Sunday and singing in the church choir … still, now, those words mean so much to me. Then George and I go to our church, here in Highland Park Methodist in Dallas, and we're singing those same hymns. So I do believe that, but I also had some experience with Barbara and Jenna, when they were little, when we lived in Dallas, before George was elected Governor. What we got from music together was joy, and the chance to dance together, which we did. When they were little girls in elementary school, we'd put on dance records like Tina Turner or the Pointer Sisters, and the three of us would dance on this very shiny and slick tile floor that was in our entry hall. And the girls remember that to this day!
GLORIA:
Do you remember instances or times when a line from a song rescued you in a crisis time in your life? Is there a time when something floated to the top that you learned to music that sustained you?
LAURA:
I wrote a poem in either high school or college — I think high school — with the title "Love is a Many Splendored Thing." That song!
GLORIA:
Do you still have it?
LAURA:
I think I might still have it folded in a box that was at my mother's house. My mother, now, is moved into the retirement home in Midland, Texas, where George and I both grew up. Our family moved there when my dad came home from overseas in 1946. So, my mother's lived there for all these years. But George was president when she did move to the retirement home, so every time I had a couple of days free, I would fly to Midland and help her close her house to move. It was actually a very wonderful time with each other. We looked at things that we threw out or sent out to the consignment store or wherever, or that I kept and moved back to our ranch. We were reminded of some of the happenings in our lives. I'm an only child, so if she had died and I had closed her house, I would have done it by myself. But the chance to do it with her when she moved was really a wonderful thing.
GLORIA:
It's like going through the layers of your life together … I've been reading through some of your materials from the center, and I think we both believe that women shape the culture, and women of character and strong faith really rescue the culture and change the world. I'm interested in hearing about some of the experiences you've had with the Women's Initiative Program.
LAURA:
Well, one of the things we're working on is a fellowship program for Egyptian women, and this is really based on research that found that your network is a large indicator of your success, even beyond your education level. And women who've lived in societies where they are isolated and don't have as much of a chance to have the network that we all have through our church groups — you can think of the many ways we have to network with other women in the United States. And there, in Egypt, they didn't even have freedom of assembly — they couldn't have the clubs or the groups that we so take for granted. So our idea was to bring "fellows," or women all from the same country, so when they came here to the United States, for the month that they spend here,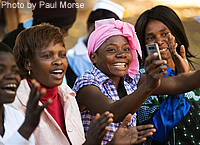 they'd be taught leadership skills by professors at SMU and how to negotiate without authority, which of course is what many women worldwide have to do, but then when they went back home to Egypt, they'd have each other.
That proved true … they came to the United States, they took these leadership classes, they visited many parts of the United States. They went to Washington, New York … went to Silicon Valley … went to Google and Facebook and Twitter and learned ways that they can use social media to network with each other and then went back home and had each other. They were mentored by American women who were in the same professions. The fellowship lasts for a year; they continued to stay in touch with their mentors via email and Skype, and then the mentors went to Egypt at the midpoint to meet with these women. It really has given them a broad network, to have each other and then introduce each other to their families and their colleagues. And now we've had our second group of Egyptian grads, and it really has been terrific. But the idea behind it is to help them build the sort of society that's necessary to support a democracy.
GLORIA:
That's really interesting. You know, we criticize social media sometimes, but this could not happen without that. They can still be in fellowship, they can see each other's faces far away. And when they can't get out and come into community, they can still have community.
LAURA:
It's been very important in the democracy movement around the world, really. The Internet has allowed people to get above their tyrannical governments and to reach out to each other. And people were called to the square in Egypt — by email, by Twitter — they tweet and Facebook it and everything.
GLORIA:
There was an interesting phrase I heard go by in your comments — "negotiating without authority."
LAURA:
That is what, of course, women in many, many countries — well, including the United States, have to do and it's for daily life too. It doesn't necessarily mean with a government or something broader than just your own daily life. But that's what women really learn how to do from when they're girls.
GLORIA:
It's interesting, we take that so for granted in America … that women can call somebody, you can have coffee, you can decide what you're going to do with the community…
LAURA:
Right, anything. I learned this stat when George was governor of Texas — that 85 percent of Texas libraries were founded by women or women's clubs. So I was talking to an Egyptian woman, and I said, "Do you have women's clubs, so that you could start trying to build these civil society institutions that you would want?" And she said, "We didn't have the right for freedom of assembly." You know, that's one of our rights that we take so for granted, we never even think about what it means, that we have the right to be in groups of any kind — political groups, which is what they were trying to avoid — or any kind of group that we want.
GLORIA:
Can we jump over a little bit to what practical things you think can be done to help in Afghanistan? We feel so helpless as American laymen, women, regular people to affect anything there…
LAURA:
Yes, I am worried that if we draw our troops down, that women will once again be isolated. After September 11th, when the spotlight turned on Afghanistan, women and men in the United States — but women especially — were horrified with the contrast between their lives and our lives in the U.S., and people everywhere spoke to me about it. When I did the presidential radio address talking about the way women and children were treated by the Taliban … right after that, I went to a department store with Jenna, and the women who sold cosmetics there said, "Thank you so much for speaking out for women in Afghanistan." And it was the first time that I realized that people do listen to what the First Lady of the United States says. I knew it, intellectually, but I hadn't really realized it until she thanked me. And I do think we need to pay attention. I get letters, now, from women who are very worried in Afghanistan. One of the projects we have at the Bush Institute is a research project, to document the strides women have made in Afghanistan with real documentation — like how many women own businesses, how many girls are in school now compared with 2001, how many girls' schools have opened across Afghanistan. And we want to have documentation to be sure that things don't change in a bad way for them, but instead they continue to prosper and even succeed.
GLORIA:
I think one of the things that speaks really loudly globally, in a time when we have so much polarization, is that you and Michelle Obama both work together to tackle this issue, and I think that is confirming to foreign countries, especially the Middle Eastern countries, that there is that kind of concern that will cross political lines — it's about human beings.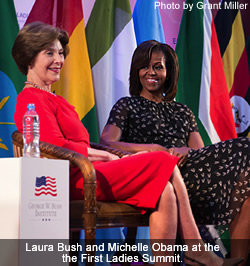 LAURA:
Michelle Obama, as you probably know from the press coverage, came to the African First Ladies Conference. It ended up their trip coincided with ours, which was really great, because I do think it's an example for the world to see our presidents together and see our first ladies together. Of course, the African first ladies were thrilled to have the chance to meet Michelle Obama. She had visited a couple of countries, but there were first ladies there from other countries that the Obamas didn't have a chance to visit.
Last year, George and I were meeting with the Ethiopian health minister — he's now actually their foreign minister — in Washington, on the same day that we were going to a big celebration for President Bush's Points of Light, his dad's Points of Light, and all the presidents were going to be there. President Obama sent a video, but President Carter and President Clinton and George and I were there. So I told the Ethiopian foreign minister that we were going that night, and all the presidents were honoring George's dad, and he said, "You don't know — you just don't know what that means to the rest of the world, to see all of your presidents together." Because that doesn't happen in other countries.
GLORIA:
We take that for granted, but it doesn't happen … and changing power peacefully, and people who agree on these world human issues coming together — it's very powerful.
I think here in America, that women feel — especially Christian women who really care — it's like, what can I do? It's so huge, I'm so far away, I can't affect it. I can affect maybe my neighborhood, which is a good place to start…
LAURA:
Yes, it is a very good place to start, in your neighborhood, but there are many, many Americans who are working, all around the world, really. When we were just in Africa, we refurbished a clinic so that they could begin testing for cervical cancer. The people who worked on the clinic before we got there, so we could finish up the refurbishment, were missionary families — American missionary families who lived in Zambia. There was a group of students from Southern Methodist University, where our library is. There were other friends of ours, who went over there before. So everyone, through their churches and other groups, can be aware of mission groups that are either going, or they can just support them financially with gifts to missions that are everywhere worldwide.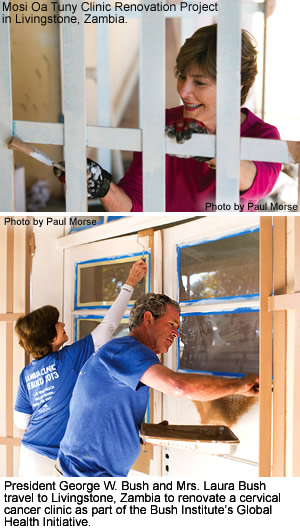 There are things that women can do for the women of Afghanistan. One of the first things that happened after September 11th was that George and President Karzai established the U.S.-Afghan Women's Council, which is a way for American women to be able to start their own projects in Afghanistan or contribute to projects that have already started. I went back to the United States State Department with Hillary Clinton for the 10th anniversary of the U.S.-Afghan Women's Council, and it goes on to this day. We moved it from the State Department, where it was when George was president, to Georgetown University. And there are a lot of separate programs. One woman, who's wealthy, just funds the women who ran the underground school, who risked their lives during the time of the Taliban to educate girls. Many of those have started schools now in Afghanistan. Another woman is working to re-forest Afghanistan. Afghanistan was covered with forest, but it's cold and they have no electricity and no way to heat themselves except with fire. So over the years, Afghanistan's been deforested. Another woman has started a rug company; she works with women who are weavers, to save their craft of weaving. Arzu is the name of her company, which is a word for "hope." She not only employs women, she always makes sure these women have their children in school — both boys and girls — while they are employed as weavers. And we can buy these rugs — I ordered some for the Bush Library, for one of the entertaining rooms upstairs. So there are lots of different ways that American women could do specific things, either by just writing a check, or by knowing something specific and supporting it.
GLORIA:
I'm glad to hear you talk about individuals sponsoring things directly, because sometimes when our money goes through the government, that does some good, but when we can go directly … I would encourage our readers to volunteer for mission trips, to volunteer for specific situations that are meeting needs directly.
LAURA:
That's right, and that's what the U.S.-Afghan Women's Council is made of — it's made of individuals who are forming their own projects of various types, and each of them could use help in specific ways, like with gifts or some sort of income gifts.
And as we are talking about inspiring women, I want, of course, to mention my mother-in-law, Barbara Bush, who's a very strong woman and a wonderful example for me. I had a huge advantage that I guess no one else but Louisa Adams had when I moved to the White House. I'd already seen somebody I loved in the job of First Lady. I knew a lot of things … I mean I knew mundane things, like how to get the White House Christmas cards out, and how early you had to start on the planning for the Christmas decorations. But also I just knew how important, I think, being a natural person, and being as loving and as warm and embracing as Barbara Bush is … she's been a great example for me as well.
GLORIA:
Well, you've been very successful at that. I think you're one of the most approachable personas out there, and I want to personally say how grateful I am that you are such a good model, as a strong woman, in the White House and since!
LAURA:
Thank you so much, Gloria, and great to talk to you.