Grammy-winning tenor Larry Ford's career in gospel music has spanned more than 50 years, taking him to 49 U.S. states and more than 30 countries. He has performed "How Great Thou Art" in six languages and has often been a featured soloist in Homecoming videos and concerts. His recent touring schedule included a trip to Alaska with wife Sherryl in mid-June, to perform at Revive!, a 10-day conference sponsored by Voice of Prophecy. Ford's newest album, Praise Him Anyway, features several songs penned by AGM's 2011 Songwriter of the Year, Kenna West. A "listening party" featuring songs from Praise Him Anyway is currently available at gospelupdate.com.

When he's not touring, Larry loves spending time with family. Sherryl Ford invites readers to experience a typical Monday night meal with her husband and a delightful, animated mix of children and grandchildren.
I love Monday nights. On Monday, Larry comes home from wherever he's been for the weekend. If he's out of the country, he might be gone for a week or 10 days, but usually, he leaves on Friday and returns on Monday evening.
On those evenings, our children and grandchildren — and usually some close friends — gather for dinner. We have six children: our five sons — Jonathan, Seth, Matthew, Mark and Luke — and our daughter, Amanda. Adding to this number are our son-in-law Darius, daughter-in-law Jennifer and eight grandchildren. Three of our children and five grandchildren live nearby. Sometime during the evening, we Skype with the boys in Florida, Colorado and Texas. I love being able to see our kids and grandkids, even if I can't hug them. Being able to talk on Skype with Luke, our youngest, while he was deployed to the Middle East was such a gift.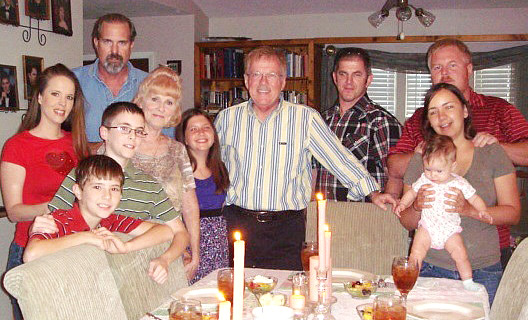 While we finish fixing dinner, the boys play catch in the backyard or basketball down the street at the neighbor's hoop. It's a lot of effort preparing dinner for 12 — or 14, or 16 — however many decide to show up. Monday night dinners require creative planning for a menu that is interesting — and cheap! Sometimes it's taco salad, sometimes spaghetti, sometimes chicken divan, sometimes salmon croquettes. I take great pleasure in choosing the linens, setting the table, putting fresh flowers on the table. I pretend that we are actually civilized — kind of a "Downton Abbey" table. It never works out.
I usually have the PBS station on (classical) or easy listening — trying to set the tone for the evening. My son-in- law comes in, turns off the radio and turns on ESPN. He picks up his salad bowl, finds the appropriate dressing and heads for the TV in the family room. Seth and Jen come with their 5-month-old, Ameliz. "Hi, Mom! I thought you said dinner at 6:00!" (It's 6:15.) I hear Dylan ask, "Nan, can I use your iPhone?" Nathan interrupts, "Nan, he's had your iPhone for 20 minutes. Is it my turn?"
I ask Larry, "Honey, can you get everybody together so we can say the blessing?" Nathan interrupts: "Dylan, you're supposed to hold hands when we pray." Dylan answers, "I'm not holding your hand. You cheated when we were playing 'horse'!"
I ask Darius to turn down the TV so we can pray. "Eeew," whines a small voice . . . "Beets! I hate beets!" I explain, "I know, but your dad likes them." "Can we please pray? I'm starving," begs Seth, to which Amy scolds, "Seth, you are so rude!"
Larry begins,"Lord, thank you for our home. Thank you for health, for our children and grandchildren. Thank you for the food. Bless it to our bodies. In Your name we pray. Amen."
Everyone recounts recent events from their lives during dinner, and if we finish early enough, we sometimes play Encore, Trivial Pursuit or Uno. There's usually a lot of yelling. When the evening comes to a close, we begin the scavenger hunt to collect shoes, clothes, homework, iPads, baseball cards, hats and mechanical pencils. We walk them all to their cars, and Larry tries to make sure no one backs into another as they leave.
After everyone's gone, Larry and I finish cleaning the kitchen and put the house back in order. It's about 11 p.m. I'm thinking of a quote from Gloria: "Home is where our true selves speak loudest of all. It is where the interaction between differing personalities is more intense and goes on for the longest time..." Somehow, reading it again comforts me. We are not the only ones! We have not utterly failed. Larry and I talk about how funny, rude, generous, argumentative, wise, loud and compassionate our kids are. Like us, they are works in progress. We laugh as we head for bed. I love Monday nights!