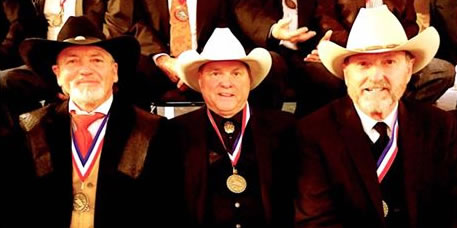 Country music legends and native Texans
Larry Gatlin
and the
Gatlin Brothers
were inducted into the Texas Cowboy Hall of Fame on January 14, 2016. This is the highest honor bestowed to those who have demonstrated excellence in competition, business, and the support of rodeo and the western lifestyle in Texas.
Larry, Steve and Rudy Gatlin were inducted alongside cattlemen Jack Brainard and C.W. Cascio, horseman Dr. Charles Graham and PBR world champion bull rider Justin McBride. Formerly inducted Hall of Famers include Clay Walker, Lyle Lovett, Willie Nelson, George Strait and others.
"One of my favorite memories is round about 30 years ago when I got to be a Waggoner cowboy for a day. I'll never forget it," said Larry. "I'm sure that I will never forget this night and the great honor that you REAL cowboys have bestowed on us SORTA cowboys. Keep your powder dry."
The Gatlin Brothers also received the 2016 Rick Smith Spirit of Texas Award, which celebrates the Texas spirit and is awarded annually in memory of Rick Smith. Smith was a record producer, concert promoter and music visionary who made significant contributions in the field of western music and brought exposure to many up-and-coming artists from Texas and Oklahoma, helping to spread the "sound of Texas" all over the world.
About Larry Gatlin & the Gatlin Brothers
The close family harmonies of Larry Gatlin & the Gatlin Brothers have given the trio a signature sound that led to country classics like "All The Gold In California" and "Houston (Means I'm One Day Closer To You)." The brothers won a GRAMMY® for their 1976 breakthrough hit, "Broken Lady," and reached #1 with "I Just Wish You Were Someone I Love" soon after. Along with five career nominations for the ACM Vocal Group, the Gatlin Brothers picked up three 1979 trophies – Single of the Year ("All The Gold In California"), Album of the Year (Straight Ahead) and Male Vocalist of the Year for Larry Gatlin.
Larry Gatlin has written songs that were later recorded by Elvis Presley, Glen Campbell, Barbra Streisand, Johnny Cash, Kris Kristofferson, Charlie Rich, Dottie West and more. In 2016, the Gatlin Brothers are celebrating 61 years as a singing trio. Their latest album,
The Gospel According to Gatlin
, is available now from Curb Records.