"America's Noticer", Andy Andrews notices that GUY PENROD is so much more than just another handsome face.
ANDY:
You and I have been playing phone tag for a while!
GUY:
Brother Andy, we have connected now! I'm sorry, it has been crazy around here lately. All good, but just think for a minute about how busy you are with two kids…
ANDY:
Yeah…?
GUY:
Well, I have eight!
ANDY:
Ha! I can't even imagine, but let's talk fast! When did you realize that you could sing? Like … really sing. You know what I'm talking about, right? I mean, I can sing. But you can SING!
GUY:
(Laughs)
My dad was a preacher and would put me up on a folding chair to sing in front of the church. But the moment that I really thought it could be something was the Sunday we had a visiting preacher … and the preacher was Jerry Falwell.
ANDY:
Seriously?
GUY:
Yep, I was a senior in high school and my dad had me sing right before Brother Falwell preached. When I got through, Falwell took the pulpit and looked right at me. He said, "Son, I don't know what your plans are, but I'm gonna make this offer one time and you have 15 seconds to decide because I have a sermon to preach. If you want it, I am offering you a vocal scholarship to Liberty University. Four years … full ride." I looked at my dad. He nodded. And I accepted my scholarship in front of everyone.
ANDY:
Wow! I'm glad I asked that question! What a great story! Try this one: If you could make a 60-second phone call to your 18-year-old self, what would you say?
GUY:
Hmm … I know! I met Angie when I was 19, so I would call my 18-year-old self and say, "Hey! Be on the lookout for a tall blond!"
ANDY:
(Laughs)
Very nice! Angie is tall. Is she as tall as you are?
GUY:
Yes. She and I are actually the same height. We are both 6'3".
ANDY: And the kids are passing you, aren't they? How tall is Tyler now?
GUY:
Tyler is 6'7".
ANDY:
Good grief! I'm thinking Uncle Andy will be sitting in Tyler's lap!
GUY:
(Laughs)
Joe is only 17 and he's already 6'6". We think he'll pass Tyler. Hey, you know Tyler is in college now…
ANDY: I do. Gee, that's just amazing. I remember when he was so … young. I was going to say "little," but Tyler's never been "little."
GUY:
True. So we have two in college now. Angie and I figured up the other night that we will have at least two kids in college for the next 14 years!
ANDY:
Yeow! By the way, I'll be glad to help when we have that bake sale for the Penrod College Fund! Hey, Guy … what is the weirdest job you ever had?

GUY: Easy question. Right out of college, I was hired by a high school to teach their Music Appreciation course. The problem was … they didn't have a Music Appreciation course. When they offered it, one girl signed up. But I had already been hired so they turned two study hall periods into Music Appreciation. That was a confused bunch of kids!

ANDY: What is on your iPod right now that would surprise me?

GUY: Bruce Hornsby and the Range.

ANDY: Favorite movie?

GUY: Tombstone.

ANDY: Favorite television show?

GUY: That would be a tie between "Gilligan's Island" and "The Munsters." I am, however, watching a lot of "Duck Dynasty" now!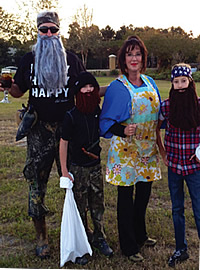 ANDY: Oh! We are too. In fact, our family was the Robertsons last Halloween!

GUY: No way! Please send me a picture. I have to see that. Polly was Miss Kay?

ANDY: Yes sir. It was a hoot. Grow a beard, Guy! You've already got the hair. You could be their long lost singing brother! I'll talk to you soon … the photo is on its way!