Quick-wit Taylor Mason chats with Andy about his unusual Homecoming beginnings … and the origin of Bill Gaither's "mini-me"! ...
ANDY:
Taylor! Thanks for doing this. You know, I was a bit surprised to see you with the Homecoming bunch a few years back. We knew each other as comedians on the college circuit.
TAYLOR:
Yes, we did. When was that? About a hundred years ago, wasn't it?
ANDY:
Well, it has been a while!
TAYLOR:
Actually, the way the whole Homecoming thing happened in the first place was amazing.
ANDY:
Tell me!
TAYLOR:
First, you have to know that my dad was a deacon in the Presbyterian church. We grew up talking about Jesus. I was with him on a business trip one time when his car broke down. We were driving through Peoria, Illinois — it was nighttime, and the closest thing to where we were stranded was a black church having a revival. They were doing the black gospel music when we walked in.
ANDY:
Was that the first you'd ever heard it?
TAYLOR:
Oh yeah. Our organist at First Presbyterian didn't know any of those songs! Anyway, they helped us that night with the car, but for years, that's how I thought all gospel music sounded.
ANDY:
Wasn't your father also an entertainer?
TAYLOR:
Yes, he had a show on WGN for years.
ANDY:
So you followed in his footsteps…
TAYLOR:
I did. As you know, I was the emcee for three years at "Catch A Rising Star" in New York, then became the music director for Second City before touring colleges and universities all over the country, doing my own show.
ANDY:
When did you and Bill connect?
TAYLOR:
We had a mutual friend, and he had encouraged Bill to call me. When he did, I was invited to perform at what was then Praise Gathering in Indianapolis.
ANDY:
Were you thrilled?
TAYLOR:
Ahh…Actually, I had heard of the Gaithers...
ANDY:
And?
TAYLOR:
I thought they were faith healers.
ANDY:
(laughing)
Seriously?
TAYLOR:
Well, yeah. And I figured
I'm only doing this once
, so I thought I might as well have some fun with it…
ANDY:
What did you do?.
TAYLOR:
I got a picture of Bill…and the hair, I thought, was really interesting.
ANDY:
(laughing)
Keep going…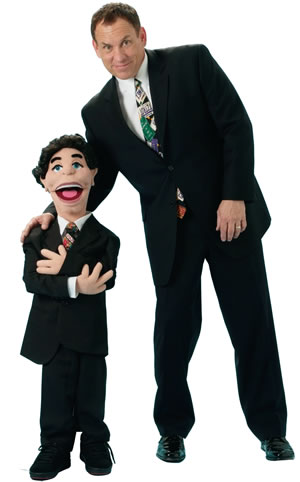 TAYLOR:
I made a Bill Gaither puppet and brought it to Praise Gathering! Let me tell you, that weekend, that fuzzy-headed puppet was a star!
ANDY:
I'll bet! What did the real Bill say?
TAYLOR:
It was all great. And Bill was great, too. The rest, as they say, is history. After that one weekend, I toured with Gaither Homecoming concerts for several years.
ANDY:
You and the Bill puppet…
TAYLOR:
Yes. I think the invitation to travel with the group was probably for the Bill puppet. Fortunately, we are a package deal. The puppet-Bill doesn't talk a lot without me around!
ANDY:
Ha! I can see how that might make a difference. Taylor, you are still the best! Thanks for the time!
TAYLOR:
Absolutely! I enjoyed it!