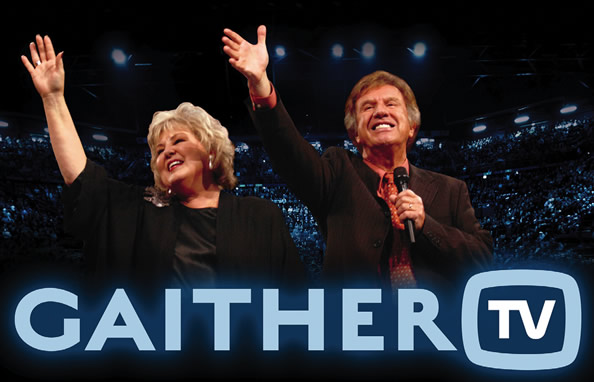 Years ago, the Homecoming series experienced a proverbial explosion in popularity when Homecoming programs began airing on television stations like TNN (The Nashville Network) and a variety of others. In recent years, due to many stations' format changes and economic challenges, there has been a huge shift in the availability of television exposure. Many households who once enjoyed watching weekly Homecoming programs found themselves unable to access the programs they looked forward to each week. If you find yourself in this same situation, there is good news!
Gaither Television Productions has officially launched GaitherTV, an Internet television channel! GaitherTV allows anyone with Internet access to view a huge inventory of Homecoming TV programs at any time using a computer, smart phone, tablet or Internet TV through devices such as Roku or Google TV.
In addition to Homecoming television programs, GaitherTV also provides five full-length Homecoming videos each month, chosen by Bill Gaither, as well as exclusive concert footage, interviews, video singles and special presentations available only on GaitherTV. (Currently there is a video from Stephen Hill's memorial service and some never-before-seen footage of the Gaither Vocal Band available in those GaitherTV exclusives.)
For those who occasionally just want to play Homecoming music without watching the video, GaitherTV also has a radio option which features nonstop streaming music from the Homecoming family and Gaither Music Group artists. That music will be refreshed throughout the year and seasonal music will be available during the Christmas season.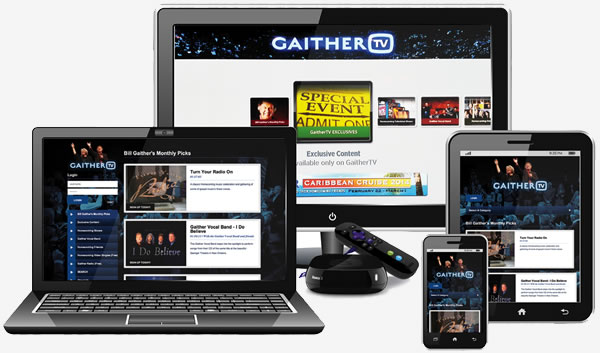 Here is how GaitherTV works...
From your laptop, smart phone or tablet, access GaitherTV by simply typing gaither.tv into the browser and following a few simple steps to subscribe. You will be able to watch any of GaitherTV's Homecoming specials within minutes.
If you have Internet TV through Google TV or Roku, find GaitherTV by searching your menu for GaitherTV and clicking on the GaitherTV icon. GaitherTV will walk you through the sign-up steps so you can start watching Homecoming programs right away. The hardest part might be deciding what to watch first!
If you do not yet have Internet TV, it is a wonderful thing. Bill and Gloria received an Internet TV subscription a couple Christmases ago and they have never enjoyed watching television more, because they can decide what to watch and when to watch it! Set up is quite simple, and you are able to pause, rewind or fast forward whenever you desire.
If you have Internet access in your home, you will only need a simple device such as a Roku box (available online or at a local electronics store), which plugs directly into your TV. Internet TV is an extremely cost-effective alternative to monthly cable or satellite subscriptions. The device connects directly to your television and displays content from video streaming websites like GaitherTV and countless others.
Similarly, you can access GaitherTV through Google TV if you have a buddy box (similar to a Roku device). The box comes with simple set-up instructions for getting started and subscribing to the programs you want.
The best way to understand GaitherTV is to check it out by visiting gaither.tv! You will find details, answers to frequently asked questions, and the opportunity to begin watching your very own GaitherTV network.
GaitherTV subscriptions are extremely affordable — $4.99 a month gives you unlimited viewing of Homecoming programs.
It is always exciting when modern technology, used for all kinds of purposes, provides a way for us to spread the Good News to audiences all over the world! We hope you will check it out and enjoy 24/7 encouragement through music!