Juggling the roles of speaker, author, vocal coach and award-winning gospel artist, Lauren Talley is a busy lady, yet she took time recently to organize and host a fundraiser for the Veranda, a ministry in her home state of Tennessee. Here, Lauren shares about the meaningful work done by the ministry's dedicated volunteers who sow into the lives of families affected by Alzheimer's and dementia.
Most of us think of ministry in terms of public platforms and visible efforts: preaching, singing, teaching or mission work. All of those things certainly qualify, but I've seen firsthand the ministry that happens when ordinary people give their time and resources to love on people that others sometimes forget.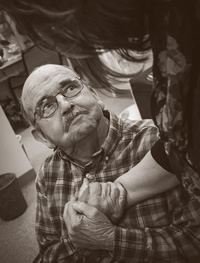 The Veranda is a nonprofit respite care ministry in Gallatin, Tennessee, which meets the needs of patients and families affected by Alzheimer's, dementia and other medical issues. Three days a week, the Veranda welcomes in clients to participate in activities and enjoy the company of friends who extend Christ to them, while their caregivers enjoy much-needed time to rest and recharge. The Veranda serves delicious meals, organizes fun outings, and holds church services for the sweet folks who have been robbed of memories, freedom and dignity. They also provide support for the families of their clients. It is not uncommon to find one of the Veranda staff members (all of whom are volunteers) visiting their clients in the hospital or their homes. Sometimes they are the only ones who are there. No one is turned away from the Veranda — families who cannot afford professional care for their loved ones are not charged. The Veranda has found ways to put a smile on their clients' faces and laugh in the face of otherwise painful circumstances.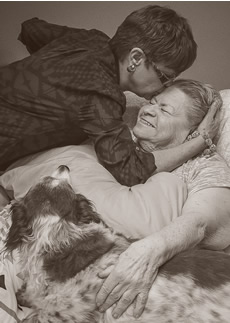 The Veranda has a lot of friends in the gospel music world, and in September 2016 at the National Quartet Convention, many of those friends came together for the first-ever Celebrity Dunk Tank Challenge, with all proceeds benefiting the Veranda. I recruited my friends Michael Booth, Tim Lovelace, Josh Singletary, Scotty Inman and my uncle Kirk Talley to ask their fans to donate online, and fans were all too eager to help send those guys underwater. I also challenged my social media followers to raise $1000 to get me in the dunk tank. We were all drenched by the end, but enjoyed a lot of laughs. The event raised over six thousand dollars, and a lot of folks fell in love with this amazing ministry. The outpouring of love from people who didn't previously know of the Veranda's work, but blessed them wholeheartedly, touched all of us deeply.
My grandmother (I called her "Mamaw") suffered the last 10 years of her life with Alzheimer's disease, and it was a very challenging time for our entire family, especially my Papaw. He stood by her side and cared for her faithfully every day, but I wish so much that we could have benefited from the Veranda's ministry at that time. My hope and prayer is that other families will find help, peace and joy in their struggle. The folks at the Veranda will tell you it's possible. Because of Christ, the Veranda is a happy place.
For more information, visit Verandaministries.org.