I used to think you had to be special
for God to use you, but now I know
you simply need to say yes.
Bob Goff was introduced to the literary world waving his arms at some passing kayakers from his dock in Princess Louisa Inlet, a remote finger-fjord on the Pacific Coast of British Columbia. As recounted by author Donald Miller in his book
A Million Miles in a Thousand Years
, after Bob's family fed and entertained Don and his fellow kayakers, they treated the mariners to an unusual farewell: joining hands to jump fully clothed into the water while their new friends paddled away. When asked if he feeds every kayaker who paddles by, Bob laughs: "I'll make you a deal: if you come up there, I'll feed you!"
I used to think the best teachers wore tweed jackets a
nd smoked pipes, but now I know they flip over and leak.
Bob's first-ever book,
Love Does: Discover a Secretly Incredible Life in an Ordinary World
(Thomas Nelson), begins each chapter with one of those pithy couplets, reminiscent of Jesus' frequent "You have heard it said...but I tell you..."
Love Does
is autobiographical, but is mostly about other people. Like Randy, the Young Life leader who gave up his honeymoon to spend time with Bob in a moment of crisis. Like Ryan, the young passerby who asked Bob and his wife Maria if he could propose to his girlfriend in their backyard. Or like 87-year-old Lynn, who smashed her car into Bob's leaky Jeep (the genesis of his notion that we should "leak Jesus"). Or Doug, Bob's boyhood friend who shot Bob in the stomach with a pellet gun. Or "Two Bunk" John, a former student from Bob's business law class, who built a boarding school in Uganda. Or Don, the cell biologist friend of Bob's who invented Starbucks' VIA ready-brew coffee. Or Bob's friend Charlie, the ex-FBI agent, who took Bob to pick up U.S. Attorney General John Ashcroft en route to Africa. There are 31 such chapters in
Love Does
.
I used to think I could learn about Jesus by studying Him,
but now I know Jesus doesn't want stalkers.
After you've read the first few chapters, you'll start to feel like maybe you should pace yourself, stretch the book out to last a whole month — like a daily devotional. But you won't. You can't. Bob's stories are too funny, too outrageous, too full of faith and miracles and Jesus and the unexpected. You'll race through the whole book — and then decide to re-read it a-chapter-a-day as a devotional.
I used to think there were some prisons you couldn't escape, but now I know
there's no place we can go where God can't rescue us.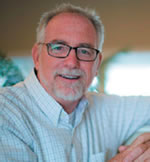 Here's what you need to know about Bob: he isn't your garden-variety lawyer, professor, husband, father, author, speaker and dedicated Christian. He's also Honorary Consul for the Republic of Uganda to the United States (funny story, actually). And, perhaps most signi cantly, he is the CEO/founder of a nonpro t working around the world with national judiciaries to free children from wrongful imprisonment. Restore International has gone to trial and freed over 200 children from prison since its inception in 2004.
I used to think I had to be somebody important to accomplish things,
but now I know Jesus uses ordinary people more.
Not having cable or satellite, or even an antenna for their TV when their kids were young, the Goffs personally informed their children about the attacks of 9/11, allowing them to process the enormity of the day as a family. The three Goff children, ranging in age from 7 through 12 at the time, decided they'd write every government leader in the world and invite them for a sleepover. Or if they were too busy, the kids offered to come visit them. Bob gured it was a nice expression that would only cost him postage to mail 191 letters. In the end, 29 heads of state wrote back to invite the Goff kids to visit — so Bob and wife Maria took their youngsters on a private peace mission, sharing God's love around the world. A perfect picture of what
Love Does
.
Visit BobGoff.com