I had so many musical heroes growing up it was like living inside a song.
Pick a field. Johnny Cash dominated country music for me. He was bigger than life and had a voice that could fill a four-room cellar. "Luther Played the Boogie" and "Get Rhythm."
My favorite pop music guys were Eddie Fisher and Dean Martin. I know that really dates me, but there were none bigger in that fabulous '50s decade where I served my boyhood years. "Oh, My Papa" and "Memories Are Made of This."
I went to see all the great singing cowboys every Saturday morning at the old Strand Theater — Roy Rogers, Gene Autry and Tex Ritter. (My brother Harold and I even saw Tex one time in person there with his horse White Flash. Tex was standing outside in the alley with this giant white horse right there in the middle of our little town. He was so white he glowed, and Tex beamed at us and said, "Hello there, boys." Years later when we toured with him and got to be good friends with him, we told him this story and he got a chuckle out of it. Of course, we were just a couple of so many little wannabe cowboys he had entertained all his life.)
And don't even get me started on Southern Gospel. Those giants of the industry loomed over all the others as special musical heroes. My family used to drive 30 miles to the Harrisonburg National Guard Armory to see the Statesmen and the Blackwood Brothers and the Speer Family. We would make this trek three or four times a year—just whenever they were there, so were we. We got all their autographs and all their 8 x10 pictures and all their 45-rpm records and all the 33¹⁄³ albums; and we took them home and didn't just play them. We lived with them. We studied them, dissected their arrangements and identified their parts. They didn't just entertain and inspire us; they became our goals. We learned harmony and structure and finesse from these fellows. And at a very early age, I knew what I wanted to be. I wanted to be one of those guys. One who would sing in a group and have harmonious notes all around me that would just lift me off the ground when everything jelled and came together.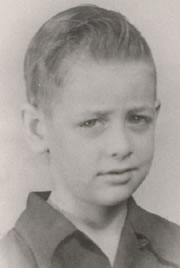 My first venture on a stage came in the first grade at the age of 6. There was a spring concert planned for the entire elementary school, and each grade joined with the other like grades for a song or two to be performed for the parents and the public on a designated night. We rehearsed, as I remember, every day in class until we learned the melodies properly and memorized the words. As it got down to just a few days before the exciting night and every student was nervous with expectant energy, my teacher, such a sweet old lady, walked the aisle of the school room as we practiced and stopped by some to listen a little closer. After a couple of songs, she took me, along with three others, by the arms and led us to the back of the room. She quietly said to us, "Friday night during the concert, I'd like for you to just mouth the words as you don't really sing all that well."
Such irony fills the memory and yet never scarred the dream.
God bless you, Miss Carrier, wherever you are. This next song is for you.
For more articles featuring Don Reid or the Statler Brothers, click here.