The week before Mr. Shea passed away, the Homecoming Magazine staff was meeting to plan the issue you are holding in your hands. While discussing to whom we might reach out for the "I Remember When" column, Gloria decided to call Bev and have him share his childhood memories. Now, looking back, we're sure there is no more wonderful way to sum up this article honoring the legacy of this dear man than to pass along these memories he shared with us during his last few days on earth.
Someone called me on my last birthday and asked, "How does it feel to be 104?" I said, "I don't know — I have only been that way half a day!"
I remember when I was 5 years old and two men came up from the United States and asked my mother — since she played the piano so beautifully — to play a "new" song. It was "The Old Rugged Cross." I stood by the piano and was mesmerized by it, never imagining that I would one day get to sing this song to millions of people. And I eventually wrote "I'd Rather Have Jesus" on that very piano.
In my father's church I recall playing the trombone during one service and a man got up and left because he didn't believe in instruments in church — only singing. My father said, "He will be back." They called the organ the "wooden brother."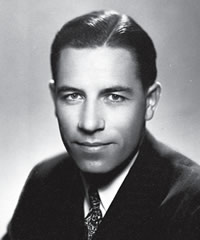 I learned to play the organ while singing duets with my mother in church and I would often play the offertories. There was a man in the church who would weep when I would play. I can still remember him sniffling.
When I was 15 years of age I was playing the organ in my father's church on a Saturday. My friend, Asa McIntosh, was cleaning the church. And I was there just playing the organ. Asa suddenly died and Asa's mother asked, "You play so beautifully, would you play for the funeral?"
Organs are an engineering feat. I love that my father let me play the organ in his church. The motor to the organ was in the basement to give the organ wind. The three-inch pipe that connected the motor to the organ would move up and down. I cut a square hole with a spring on top which I controlled with my foot to make the sound softer.
Throughout my life I have had — on and off — six organs. Every time I give one away another one appears! I recorded "The Hour of Decision" on an organ in Minneapolis. I bought it and eventually brought it to my house. I also played the organ in Scotland on which Ira Sankey wrote "The Ninety and Nine." The organ was later given to Mr. Graham and it now currently resides at the Billy Graham Evangelistic Association headquarters in Charlotte, North Carolina.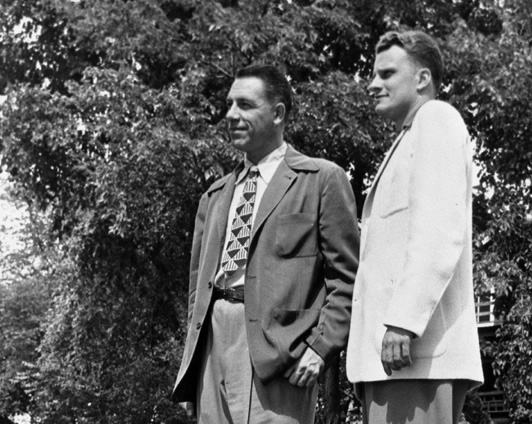 As a teenager, I was a rod man (holding the rod) for a surveying party in Buckingham, Quebec. I wore snowshoes and had to stay in the local hotel. In the hotel there was a Victrola and I heard Jesse Crawford playing the organ. A little while later I got to see Jesse in person.
The Wesleyan Church held summer tent meetings (camp meetings) and even had a summer kitchen in their church. (Patterned after the tent meetings in the Old Testament.) I attended many, many of these with my family. In my teens my assignment was often peeling potatoes!
I have met many people and traveled many places in my life and I always remember the way my father would greet people. He would come into the room and put out his hand and say, "Are we friends? Shake until we are." He would ask it again, and if you said, "yes," he'd reply, "shake all the longer."
Click here to see more articles featuring Homecoming legend, George Beverly Shea