We, the Martins, first started traveling as children to attend "singings" in the tri-state area of Arkansas, Louisiana and Mississippi.
Mom and Dad loaded us into our chocolate-colored Ford Maverick, and off we would go. Sometimes we were scheduled to sing. Other times, we just attended to hear our favorite local groups. We stayed prepared and practiced up just in case "the Martin kids" were asked to share a number in song.
Every three months, when there were five Sundays in a month, we would attend morning services at our home congregation, then go back home where Mom would prepare a covered dish for the afternoon's potluck. Mom would hold her culinary creation in her lap.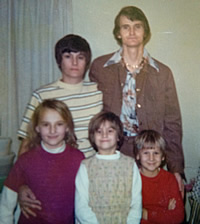 The aroma would fill the car. My imagination ran wild trying to predict what the other attendees might bring to share. I always hoped someone would bring chicken-n-dumplins. They seemed to go well with everything!
(Pictured left: The Martin clan)
You see, quarterly fifth Sunday singings were special. People from all over the area gathered at a predetermined place and time, at old country churches, most of which weren't holding services any more. They unchained the door and set up tables, chairs and sound systems. And then the singing started. Someone led congregational selections while the ladies arranged the food on the tables and the groups decided who was going to sing first, second and so forth. For the rest of the afternoon, the air was permeated with smells of homemade breads, casseroles, fried chicken, ham, beef stews, cornbread and yes, chicken-n-dumplins—and music.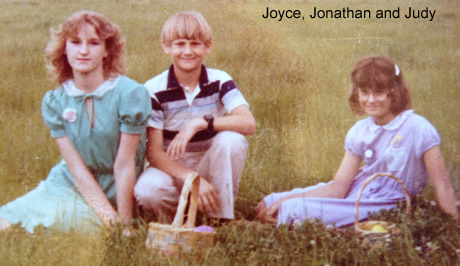 Oh, the music. Sacred melodies rang out all afternoon, filling the little church, spilling out the open windows, across the freshly mowed lawn, all the way out to the cotton fields that marked the border of the property. After all stomachs and song requests were filled, the men put away the tables and chairs while the women discussed and decided which picturesque house of worship past would be the setting of next quarter's fifth Sunday singing.
It has been such an honor to be a part of the Homecoming videos and concerts. Singing those old songs again, not because they're old but because they're good, as Bill would say, has awakened these memories and restored them to a place of sacred honor in my life. And in my opinion, thanks to Cracker Barrel, chicken-n-dumplins still go with everything!