When I was about 9 years old, I was hyper (as you know), but I wasn't athletic. I went out for Pee-Wee baseball, and they made me the water boy, with a double zero on my back. Well, I wasn't gonna have that.
During those years, we had church choir parties, where everybody got a chance to sing. I loved to do my Louis Armstrong imitation; I'd gravel up my voice, squench up my face and sing, "Hello Dolly, well, hello Dolly, it's so nice to have you back where you belong." I'd walk around the room, sitting on different little old ladies' laps while they placed nickels in my pockets. I knew who to go to. And I was a hit.
Mama read in the Houston Chronicle that they were looking for boys to audition for musicals at the Houston Music Theater, so she took me there. As people came out, the directors would let them sing about two notes, then kick 'em off the stage. Mama told me, "Mark, get up there and start singing like Louis, right away." Well, they didn't stop me — they let me do the whole thing! I got the part of Winthrop in
The Music Man
, and I had to speak with a lisp. That was my first real taste of the stage.
There was one stipulation, though — I couldn't dance. Our church wouldn't allow it. So the director staged it so all I had to do was stand on this wooden cannon and sing, "O ho the Wellth Fargo wagon itha coming down the thtreet, oh pleath let it be for me," while the cast sang and danced around me. Tommy Tune did the choreography, and he told my mother "If you'll let me teach him to dance, I'll take him to audition in New York." Mama said no, of course. We were Baptists.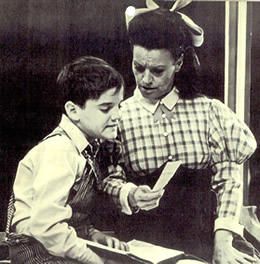 Next I was in
Annie Get Your Gun
, with Kay Starr, and I went on to play other parts, including
Pinocchio
and
Oliver
. I got great reviews in the Houston Chronicle, and Mama was scared. She saw how much fun I was having, but she didn't want me to make a career out of it. She had thought performing might be a good outlet for some of my energy, but she certainly wasn't going to let her 9-year-old boy move to New York City and learn to dance. (Pictured left: Mark with Kay Starr)
So Mama started praying that God would open up something else, especially in Christian or gospel music. Well, I don't know if it was Mama's prayers or low ticket sales, but the theater went bankrupt!
Duke Westover, from our church, knew J.G. Whitfield, the owner of the International Song Festival (which became the National Quartet Convention), which took place in Nashville. Duke asked J.G. if this kid at his church could come sing at the festival. J.G., thinking we wouldn't do it because of the long drive from Houston to Nashville, said yes. Well, of course we loaded up the family and drove to Nashville.
That night, late in the program, I was called to the stage. Mama had arranged a medley of patriotic songs for me to perform and had me dressed up like a flag. I had a blue sport coat, a red shirt and a white tie.
About halfway through my medley the crowd started applauding, and by the end of "America the Beautiful," all 10,000 people were on their feet.
Bob Benson, the president of HeartWarming Records, met me at the bottom of the stairs, but since I didn't know who he was and had my eye on Reba Rambo, I didn't give him the time of day. A few weeks earlier, I had heard the Singing Rambos, and I had become their biggest fan. I'd never heard singing like that. They blended like flour in a cake… they were ear candy.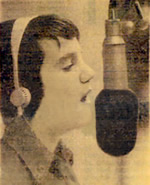 (Pictured right: Mark makes the local newspaper - Tuesday June 1, 1971)
I didn't know Bob Benson and Bob MacKenzie would sign me to a recording contract the next day. In the end, Mama's prayers were answered. I was immediately out of the theater and into gospel music. And I never did learn to dance…
Click for more about Gaither Vocal Band member and Homecoming tour favorite Mark Lowry!