There are 50 states in this great land of ours. Twenty-four of them are without a professional sports team—that includes soccer. I grew up in Kentucky — Kentucky is one of those 24. When you hail from the "24," you say things like, "I prefer college football," or "the college game is just a purer version of the sport." You talk about bowl eligibility, March Madness, Cinderella stories and spend the waning hours of sunlight in the backyard counting backwards from three — releasing the ball — and hoping.
It's a glorious existence really. Especially when you realize that The 24 have something that The 26 have not — free choice. When you have no pro team in your state (or commonwealth), you have no sworn allegiances. You can pick your favorite! Oh sure, you can talk about the two, three and even four-team states, but honestly, is it freedom to have to choose between the A's, Giants, Angels and Dodgers? I submit that it is not.
In my free state of being, my choices were: for football, the Dallas Cowboys, for basketball, the Philadelphia '76ers and — drum roll please — for baseball, the Cincinnati Reds.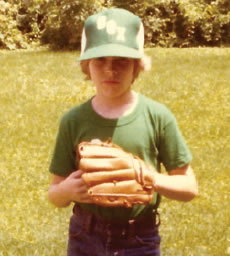 I was born in 1970. The Reds owned the '70s. The Reds are my favorite forever.
They call baseball players the "Boys of Summer." I love that — it helps set my memory. July 4th, 1980 — my dad awaited my brother Matt and me in the living room. As we settled in front of the television for "Sesame Street" and "Mister Roger's Neighborhood," Dad said, "Boys, what do you say we go watch the Reds play today? Ryan's pitching for the Astros."
It's only an hour and 15 minutes to Cincinnati from our house in Lexington, but when your heart is beating through your 9-year-old chest, it's an unending wait. But waiting turned to exhilaration as we came over a crest in the hills, and all of a sudden I saw it — the skyline of the Queen City. And perched right there at the edge of the Ohio was Riverfront Stadium — home of the Cincinnati Reds — glistening in all of its multipurpose glory.
My favorite player was Dave Concepcion. He played shortstop. He was one of the few players left over from the Big Red Machine — the great team that won the '75 and '76 World Series and dominated much of that decade. I pretended to be many things in my childhood. Number two was starting at point guard for the Kentucky Wildcats, but number one was always Dave Concepcion—diving to snare what seemed a sure hit, and turning in mid-air with some kind of very cool half ballet/half Kung Fu move to throw out the guy at first base.
Nolan Ryan was pitching for the Astros that day — the fastest pitcher in baseball — 100.4 miles per hour — Guinness Book of World Records. The Reds handled him pretty well that Friday — he wasn't incredibly dominating, but I witnessed two things that stick with me. First, he struck out Cesar Geronimo in the bottom of the second after Ray Knight got to first on a walk. I was disappointed that Geronimo couldn't advance the runner, until the public address announcer said, "That was Nolan Ryan's 3000th career strikeout." Three thousand strikeouts — that's history — and I saw it. I was 9, but I knew the big numbers in baseball, and that's one of them. I stood and cheered with the rest of the folks at the stadium that day. It was a great moment. I looked up at my dad. He looked down at me and said, "How about that! Ryan's 3000th strikeout AND fireworks on the river."
Second thing: Greatest. Dad. Ever.
For more articles featuring Marshall Hall, click here.