God's goodness doesn't always show up in a blaze of glory. Instead, it sneaks up on you. It wraps itself in the ordinary and turns you toward your destiny when you're not looking. At least, that's how it happened to me.
Long before I heard the fanfare of fame or jammed in castles with millionaire musicians, God's grace set my course on my Aunt Maude's farm. Every Thanksgiving, all the LeFevres gathered there for our family reunion. It was a beautiful homestead about ve miles down a dirt road in the rolling hills outside of McMinnville, Tennessee.
I'll be forever grateful for that farm. For me, playing hide-and-seek in the hay barn, shooting my BB gun at everything in sight, swimming in the creek and catching crawdaddies with my cousins was the best kind of fun.
Every night, when the grownups were nished playing Rook, I'd head for Aunt Maude's attic. That's where I always slept — with three or four of my ornery cousins — under piles of homemade quilts in a big old feather bed. As I awakened in the mornings, the first breath of that brisk air would jerk me into consciousness just in time to see the sunrise. The only heat in the house radiated from the replaces in the downstairs living room and dining room, or from the kitchen where Aunt Maude was cooking on her old, wood-burning stove.
Making my way to the kitchen fire, I was greeted by the delicious aroma of sizzling country ham and eggs, and giant biscuits rising in the oven. Everything in the meal came straight from Aunt Maude's farm. We devoured fresh eggs from their chickens, country ham from their hogs and butter they had churned the night before. With ice-cold milk from their cows, we washed down homemade biscuits topped with red-eye gravy or sorghum syrup made from their sugar cane crop.
Then all the men went hunting for the day. After those famous hunting trips, we returned to another homemade feast, fresh from the farm. We'd gorge again until we were all in pain and Aunt Maude brought out her famous banana pudding. When we were too stuffed to swallow another bite, we'd meander out to the front porch just to breathe and rest while the women cleaned up the kitchen.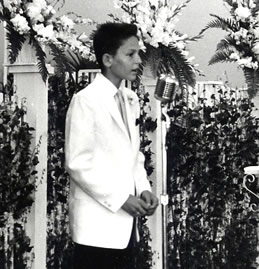 That's when the moments that would have such an extraordinary effect on the rest of my life would begin. Somebody would pull out a harmonica, a banjo or a mandolin, and the magic would start. Almost every family member played some instrument. One distant cousin brought his big bull bass all the way from California, strapped to the top of his old woody station wagon. As everybody began tapping their feet to the hillbilly rhythms on that hollow wooden porch, it sounded like the best drummer in Dixie to me. (Pictured left: Mylon singing at age 12)
The less experienced musicians would start these "picking and grinning" sessions. Once they played for a while, my father, his brother and the other really gifted players would pull out their axes: fiddles, guitars, 12-strings, mandolins and an accordion. The result was some of the best gospel bluegrass music you ever heard.
There, on Aunt Maude's porch, without any blaze of glory, I heard sounds so good they captured my heart. And in the Tennessee twilight as the stars began to shine, I made a decis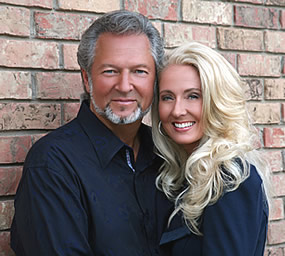 ion that would end up taking me places beyond my wildest dreams: I'd spend the rest of my life making music.
(Pictured right: Mylon today, with his wife Christi)
Excerpt taken from Mylon's Le Fevre's new autobiography, How to Live Forever — for information visit mylon.org.