"Solveig, you should know, Mom and I dedicated you in prayer to the Lord before you were conceived. You've always been His."

Dad made this statement to me this past December, in the hospital where he was recovering from hip surgery. It was just weeks after my wonderful mother passed away; she was 82 and they had recently celebrated 60 years of marriage.
My mother birthed four children — Lyder, Paul, Inger and Bjarte — in five short years and after number four, they decided they were done. But as the only girl, my sister Inger had another idea. When she was 10, she decided she wanted a sister, and asked my parents to consider having another baby. And so, on a Tuesday morning in May of 1966, I took my first breath in a white wooden house that served as the local birthing clinic of Øystese, Norway.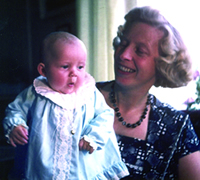 Two months later, our family moved to Frekhaug, on the island of Holsnøy, north of Bergen. There my dad became the music teacher at a Christian boarding school. This island holds my childhood memories and is where I return as often as possible to visit my family and have a cup of coffee with Berit, my dear girlfriend since we were toddlers.
If there are two smells that immediately transport me home, they would be the aromas of fresh baked bread and…well, turpentine! Mom baked the best bread ever. When I came home from school she would take the bread, fresh out of the oven, cut off the heels and butter them for a treat. In addition to being a musician and composer, my dad was an artist. At first, oil painting was his hobby, but eventually he made a full-time profession out of capturing the intricate beauty of the Norwegian coast on canvas. Sometimes he'd prepare a small canvas for me in his art studio at home, and we'd sit silently and paint while listening to the music of Grieg, Vivaldi, Liszt and Debussy. My work was not much to show off, but we cherish having his art on the walls of our Tennessee home.
As I have grown older, among my fondest memories are fishing trips with Dad. We'd climb in the boat, Dad would man the oars, and pulling with his strong arms and back, he would guide us to the perfect spot where cod and mackerel would bite. Our next day's dinner was always fresh fish with new potatoes and vegetables from the yard.
I still marvel at the thought of Mom's divine creations from our homegrown rhubarb, berries and fruits. She taught me to knit, mend and bake, but she also cultivated in me a love for reading, which led to frequent trips to the library.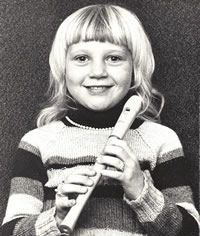 But Mom wasn't just a reader; she took her love for words and knowledge and wrote and performed poetry, became active in politics, and served on several local and national boards.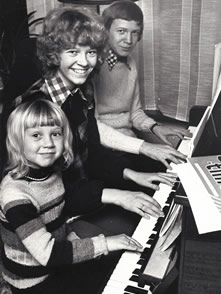 I remember beginning to play the guitar at 9 years old, inspired by my brother Bjarte who, to this day is a wonderful singer/songwriter. I was also inspired to play the piano by my sister Inger and brother Paul, who would amaze me as they practiced classical piano pieces far more advanced than anything I could hope to play. In addition to this, I enjoyed playing the recorder in school, and I also picked up cornet and joined the local brass band for a few years. All this time, I anxiously anticipated the day when I could join the church youth choir.
Dad, a classically trained tenor, taught Mom how to sing harmony and they were duet partners their whole married life at conventions and churches throughout Norway. Just last night, Dad, now 86, was singing at a service on the island. He misses Mom intensely, as do we all. She was my greatest encourager and role model. Above and beyond everything else, I remember my parents living out a sincere love for God, their family and music.
For more articles featuring Solveig Leithaug, click here.