The '70s was a memorable decade, a time when, despite the turmoil in the world, Sundays were real days of worship and rest. When families dressed to the nines, often catching the church bus for the ride to Sunday school. A time when, after preachin', families would go to Grandma's house for the best blueberry cobbler in the world, and the grown-ups would sit around the table for hours while the kids played outside.
Back then, if you turned on the TV, especially on Sunday morning before church, you were likely to see smiling children joyously singing, "Jesus, I Heard You Had a Big House!" or "I Am A Promise." In fact, what current 30-something who grew up in a church-going home during the '70s DIDN'T sing "I Am A Promise" in the junior choir or in junior church? You can still hear the echo of 'I am a possibility, I am a promise, with a capital P,' in your head. 'I am a great big bundle of...' C'mon, you finished it, didn't you?
Back then, church kids weren't distracted by Xbox or obsessed with "iCarly." Sure, the "Waltons" and "Gunsmoke" captured our attention, but cable was a term, not a TV.
If your mama and daddy weren't church music teetotalers, you might've played a little George or Dolly on the turntable or heard the Carpenters or Crystal Gayle on the radio. But mostly, the songs we sang were church songs. We sang in the kids' choir, in Sunday school or in children's church, and whether we knew it or not, the songs taught us unforgettable truths about who God is and how Jesus loves us — songs that brought the stories of the Bible to life.
And where was Mr. Bill Gaither back then? Right where he is today—in the studio working on those very songs for another generation!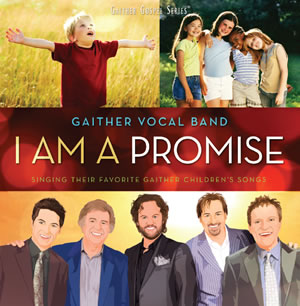 But now it's 2011, so when compiling the all-new
I Am A Promise
kids' album through Gaither Music Group, one of Bill's first phone calls was to singer / musician / producer, Homecoming favorite and "big kid" himself, Ben Isaacs. Adding his own twist to things, Ben produced the new CD which features many of the classic tunes written by Bill and Gloria and re-recorded today by the Gaither Vocal Band and an enthusiastic group of children.
When the
I Am A Promise
CD becomes available on August 9th, adult listeners will recognize songs like "You're Something Special", "God Loves to Talk to Little Boys When They're Fishin,'" "Only A Boy Named David," "God Can," "Think on the Good Things" and "Jesus Loves Me." Packed with memorable melodies for kids from 1 to 101,
I Am A Promise
also includes brand new songs sure to resonate with today's 'church kid,' including "Jesus Hold My Hand."
Time-Tested and Timeless
"These songs have stood the test of time because they are great songs," says producer Ben Isaacs. "They were originally released during the big revival movement, and it's now time to reintroduce them to people's grandkids. The type of music my children listen to today is a lot different than what I grew up on. My goal was to make this recording something my kids would listen to now, but I also wanted to be conscious of the parents and grandparents who buy it, to make it fun for them, too. These are classic songs re-recorded in a way that is a little more modern and with high energy. It was time to take the originals and make them accessible to the youth of this generation."
To do that, Ben says, was pretty easy because there was a lot of personality in the studio. "We geared the songs around each of the Gaither Vocal Band members' personalities," he explains. "When you have people like Mark, who can make anything either funny or exciting; Michael, who can have the best personality; David, who is artistic and so musically genius; Wes, who can do anything and Bill with his songs... they all became a huge part of the way this turned out."
Speaking of kids, Mark Lowry, who recorded some of the spoken parts that were originally recorded by Gloria Gaither, is always ready for some childhood fun. This time was no different. "I'm very excited to be a part of this new children's project," Mark says. "I've always loved kids and know that their minds are 'clean slates' and, hopefully, through this project we'll be able to make an impression on them that is positive and encourages them to know how much they are loved."
Ben agrees. "Personally, I was raised in church; but it was a church where I thought that God was always 'watchin' me' or 'out to get me,' waiting for me to mess up. These songs introduce the love of God and the promise of life and happiness that I think are important today. To me, the themes of this release are 'hope,' 'Jesus loves,' 'Jesus cares' and 'He can be your best friend'… He can help you through no matter what.' I think that's pretty important for a kid to know."