Homecoming Friends share how they find inspiration through helping others.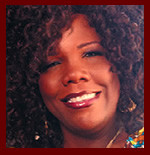 Lynda Randle
Someone To Look Up To
Singing had always been something that I never dreamed of doing, but God blessed me far beyond my wildest dreams and allowed me the privilege of singing and touring all over the world! That being said, I've always enjoyed the behind-the-scenes kind of ministry and outreach more than I've actually enjoyed being up front on stage! I love the aftermath of our concerts and special events—talking at the table, meeting new people, making new friends, praying for people and so on. And I'm not surprised that I really enjoy that, because my dad had a street ministry for so many years in Washington, DC! As a family we would go out on the sometimes cold and hardened streets and share the love of God or as my dad would say, "share the good news — the gospel of Jesus Christ." (I can still hear him saying that phrase in his deep, groggy kind of voice!) We got to share Christ's love with all kinds of people from so many different walks of life. We, as a family, were taught early on how to reach outside of ourselves in an effort to help others. Thank God for these invaluable teachings and lessons that I learned as a child! Getting to live out loud, as it relates to my walk in Christ is so great! There are so many ways that I have gotten to live out loud and I'd like to share just a few with you.
In March of this year, my husband Michael and I planted our first church, Mosaic Bible Fellowship, here in Kansas City, Missouri. After two years of Tuesday night Bible studies in our home, on March 23 this year we launched our first Sunday service! It was an amazing celebration of Thanksgiving! Since then, we've had the privilege of doing outreach in the neighborhoods that surround our church — in particular, special landscaping projects surrounding the school building where we meet for service on Sunday. I also got to mentor a few teenage girls this summer, which is something that I totally love to do and plan to do more of in the very near future. So you see how I "live out loud" and how I plan to continue living out loud. Sometimes I feel as though anybody can be out in front of a crowd where the applause of men is great, but I've always loved doing what I do for an audience of one. Whatever it may be, big or small, I know that my Heavenly Father is watching and He knows better than we do when it comes to living out loud because that truly is the good news, the gospel of Jesus Christ! Heaven came down to earth!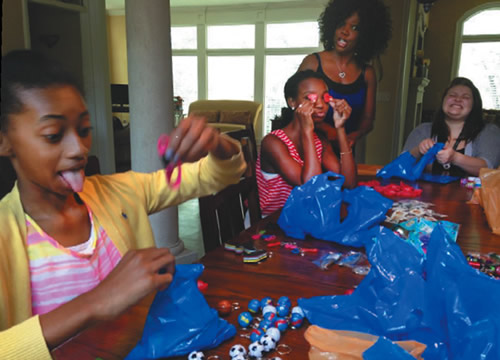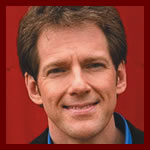 Kevin Williams
You Can Go Home Again
I wanted to do something for the kids in my hometown of Russell Springs, Kentucky. You see, I was the kid who grew up in a trailer park and barely had any money, but at the same time, we always had everything we needed. There was always someone looking out after me, it seemed. It's just not that way these days. We live in a more polarized society. We go through our daily routine and don't really see the needs that are around us ... maybe next door to us.
The economy has taken a hard hit in my hometown. A major employer there has now moved out of the United States resulting in tremendous unemployment. I am told that the free and reduced lunch program is at about 70 percent.
I happen to believe that there are some amazing scholars, doctors, law makers, politicians, preachers and business developers sitting in those classrooms, but without a backpack or a coat, or even shoes or a toothbrush, they're never gonna make it to their greatness. They need a helping hand.
So I met with some of my friends in my hometown, including my elementary-school music teacher, my high-school band director, the school superintendent, the resource center directors, the news media, and some real good church folks. Over lunch, we planned a concert/fundraiser and set our goals. Thanks to the hard work of everyone involved, it was a tremendous success.
My friends Matthew Holt and Allison Speer heard about what we were doing and jumped on board immediately. They volunteered to perform for the evening. I even got to do a duet with my childhood guitar teacher.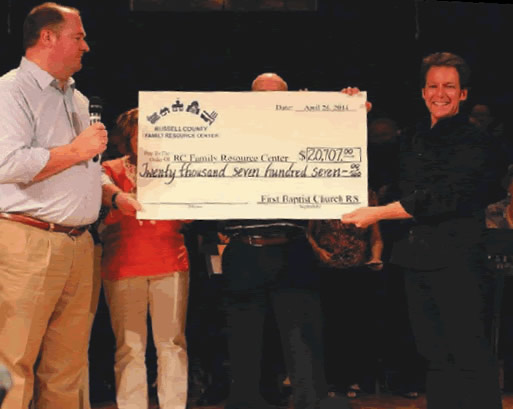 The church seated 650 people; we had about 750. Our goal was $10,000. The folks gave over $20,000! Now the kids are beginning to get what they need. And the best part is, everyone wants to do it again next year! We hope it will become an annual event in Southern Kentucky. Some day, those kids will change the world because of the money that was donated that night.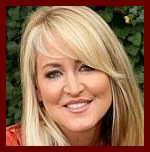 Lisa Daggs
Time For A Reality Check
How do I live out loud? I have an ongoing ministry that is an extension of my music ministry called, "Reality Check Recovery Talk on the Radio." I've been hosting this show now for over two years and my guests have included Steve Arterburn, Chris Herren (Boston Celtics and author of
Basketball Junkie
), many different counselors, clinicians, intervention specialists and also heartwarming, life-changing stories from brave souls who are willing to share their personal and intimate stories of recovery.
By being willing to show up and risk being vulnerable, I've been blessed to facilitate many, many people who are struggling with their various addictions into treatment, as well as help the family members as they walk this out with their loved one. I have a network of professionals I can draw from and I point listeners who call out for help to them. We also have adolescent counselors whose quality of expertise lands them on the news quite frequently as a "go-to" for help in the California area for our teens.
It's still an amazing miracle to me to hear some of the stories of my guests who were supposed to be lifers in prison, some there serving time and spending up to six months in "the hole." Then upon the gift of release, because of God's grace, they have become productive members of society. I have people who specialize in re-entry into life on the outside. These walking miracles — some ex-cons, people who have lost their way in alcoholism, drug addiction, eating disorders, co-dependency, gambling and Internet integrity — become honest, eager, grateful, humbled, forgiven and of service to the brothers and sisters who cross their paths or those who employ them. I love a comeback story! God is gracious and kind and He is the Redeemer.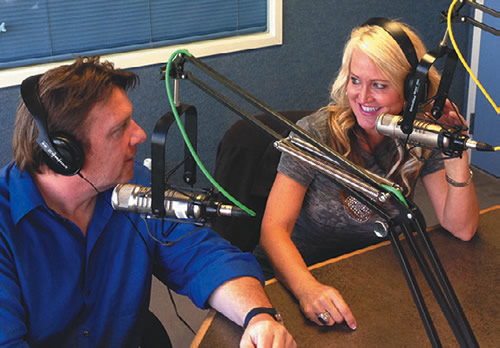 So I'm living out loud on the road to recovery! That's how I give back. We like to say in the rooms of recovery, " You can only keep what you have by giving it away." You can catch the show every Sunday night from 7-8 p.m. PST from wherever you are at
1039thefish.com
or go to my site,
lisadaggs.net
and click on the Reality Check link. If you'd like to contribute, we would love to have you help sponsor the show. Just contact me: lisa@lisadaggs.net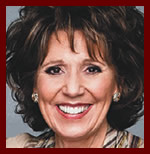 Connie Hopper
A Little History, Repeated

Karyle Hopper tells her grandmother's journey of peace through the trials of cancer
Just within the last decade has our culture been able to consciously separate the word
death
from
cancer
. With medical advances and the disease plaguing a home on every corner, sometimes the passiveness with which it is spoken leads one to think it has "lost its sting." But then, there's
malignant
. Those consonants fall hard on the tongue of doctors everywhere, every day. The syllables ring in patients' and loved ones' ears for days, months. For those of us — currently — untouched by the disease, we wave off Susan G. Komen letters and nervously reassure strangers that everything is going to be all right. Worse, sometimes we even claim to understand. A gentleman very close to myself, afflicted with three types of the most progressive cancers, once admitted to giggling whenever his fresh-out-of-residency oncologist would recite from that doctor-to-patient script that seemed to be taped inside of his medical chart.
The most interesting thing in malignancy's manifesto is how there is no real prevention and, in fact, is just the body's cells mutating and overpopulating an area. Have you ever thought about that? Cancer, that once-taboo word and still ominous entity, is created by the very thing it attacks — the body. Try to imagine soldiers and captains, muskets and cannons alive and booming in your gut — a body at war with itself.
Not unlike this barbaric battle between a diagnosee and his own white and red blood cells, is the bloodiest of all battles — the inner battle of fear and peace.
Flashback to the fall of 1978: Connie Hopper is still in her 30s, raising two sons (not to mention a husband and his brothers), all the while carrying the weight of a full-time traveling gospel music group. She's just returned from one of her many trips to the Holy Land and, while slipping into a dress for that evening's concert, her hand sweeps across what feels like a small lump. In her book,
The Peace That Passeth Understanding
, Connie says "[That moment] hit me with total impact — as if my body had hit a brick wall at great speed." In further excerpts from the same work, she admits to the sleepless nights of feeling sorry for herself, unable to pray for herself and, simply, scared to death — of death.
"That was at a time when I thought I had faith, but I found it wavering. People say they have faith in you. You see people you think are just filled with faith, people to whom faith seems to be no problem — but it is. Deep down, their faith is not as strong as you think it is, or as strong as they think it is. That's the way I found myself — wavering."
Fast forward to spring of '79, and we find Connie groggy but prepped for her first biopsy. She recounts being in an impermeable fog but knowing her fate the moment she heard the doctor, in a faint mumble: "We had to do the big one." Simply put, the lump was visibly malignant and the doctor went on to perform a mastectomy while Connie was still under. With anesthesia still coursing through her system, Connie is taken into a semiprivate recovery room with her older sister, Wilma, bedside. That night, her restlessness caught the attention of the entire hospital — as she would writhe and scratch yet still remain completely asleep. On page 17 of Connie's book, she gives an account of what took place in that restless, generally exposed recovery room...
"About 4 o'clock in the morning, Wilma said I spoke out clearly:
'I'm not afraid anymore.' She thought I was awake and came over to talk with me, but I was asleep. When I woke up, I cannot express how I felt. This was the morning that I learned I had had a mastectomy—when I should have been the most depressed. How was I not? I know that I experienced the peace that passes all understanding in my sleep that night."
Connie, then, could say she understood. Thirty years later, from stage, she tells of a lady who came to her bedside just to whisper encouragement and comfort this patient, whom she had never met, with understanding. Connie recalls stopping her mid-word with, "How long has it been?" For that particular woman, it had been five years since going into remission. Connie chronicles that, with this lady's visit (whom we would later learn was a volunteer from the American Cancer Society), she finally knew what to pray for:
"Lord, if you could just give me five more years. Five years to treasure every moment and to fulfill my hunger for Your Word. Father, just five more years to see my boys grow."
"I felt a heaviness prior to this mammogram," Connie explains while traveling down the road in August of 2014. "I haven't been getting them as regularly as I should, but I somehow knew before I ever arrived at the doctor's office that day." Her family, in hysterics — still at its freshness, asks how it is she is so level-headed this time. The confirmation phone call she made to her husband contained no tears — what was different? While writing this, I asked Connie if she could answer that:
"I never had that restless fear that kept myself and even Wilma (who, after 35 years, is bedside once more) awake. Not even for a moment. Complete peace."
In a conversation with her daughter-in-law, Kim, she simply states, "I know Him a lot better than I did 35 years ago."
Connie Hopper's book,
The Peace That Passeth Understanding
, is available for purchase at
ShopTheHoppers.com
. All proceeds go to the Hopper Heritage Foundation, which provides scholarships for higher education to young people in Christian business or music studies. The American Cancer Society is also very close to the Hopper family's heart. To donate your time, money or even hair, visit
cancer.org
.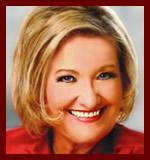 Ann Downing
An African Dream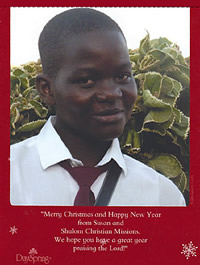 A little over a year ago, Gaye Makrias attended my Middle Tennessee Women's Retreat. I was moved by her sincere love for children in Kenya. She and her husband, John, lead a wonderful ministry out of York, Pennsylvania, Shalom Christian Missions. This ministry operates a school and orphanage in Kenya by the name of New Beginnings.
This isn't a large ministry, and it isn't underwritten by large companies and huge monthly contributions—just donations from those of us who have caught the vision of providing a school and place to live for children left as orphans with no one to care for them.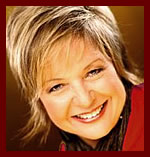 Sheri Easter
Giving All Year Round
Jeff and I love to give. We have been so blessed and count it an honor and a privilege to be able to give back. There is no feeling like giving of yourself … your time AND your money! It's biblical to give and to make that giving sacrificial! You cannot out-give God. Test Him, try Him and prove Him — as you give, the windows of Heaven will open and pour out blessings you can't contain!
I was brought up in a very giving, loving family and from an early age, I volunteered to take goody baskets to local area nursing homes or participate in Christmas caroling for the elderly. One year our family chose to spend the week before Christmas at a mission in Del Rio, Texas, handing out food to children across the border in Mexico. We've supported the Galilean Children's Home in Liberty, Kentucky for over 25 years and have raised money, given money, hugged and loved the children throughout the years.
I have always enjoyed helping others, but when you've experienced similar situations, the passion becomes much more intense. After I had children, I began to give to organizations like Feed the Children and Compassion. After I went through breast cancer, I gave more to organizations that helped ladies who are battling. A few years ago, I started up a breast cancer awareness walk on our Singing at Sea cruise. Now every year, Lily Isaacs, myself and many travelers meet during one of the final days of the cruise. We share our hearts and we raise money for local area cancer charities. It's just another way of giving to let someone know that you care about what they're going through. It's a simple act that says I care!
Currently, our giving is a little closer to home. I love that the scriptures tell us to honor the generations before us, and in 2004, Jeff and I had the opportunity to purchase the Lewis Family Home Place in our little hometown of Lincolnton, Georgia. For 10 years, we did fundraisers and worked to restore the home place. We began having annual concerts there to bring the best in Southern Gospel music to our little town. Our homecoming is held every Mother's Day weekend. In 2015, we will hold our seventh annual concert series with Dailey & Vincent, the Bowlings, Little Roy Lewis & Lizzy Long Show, the Isaacs, the Primitives, Lewis Tradition, Karen Peck & New River, the Browders and the Easter Brothers. All of the proceeds of the concert go to maintain the home place and build up the area to commemorate the Lewis Family's 58-year musical heritage. On display in the home are many artifacts collected over the past six decades and we open up the home during the concert weekend, encouraging people to walk through and enjoy celebrating the family's legacy. You may help with group sponsorships by sending a check to The Lewis Family Home Place, Inc., PO Box 160, Lincolnton, GA 30817.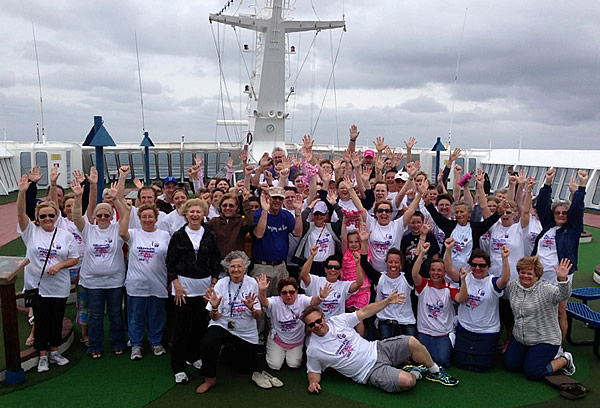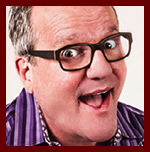 Mark Lowry
The Care and Feeding of Children
When I left the Vocal Band — the second time — I was really just trying to land the plane or maybe even crash the plane! You know, when you're out of gas it's coming down one way or the other. So I was trying to set it down and I got a call about doing concerts and a tour with the Martins — who I love, I always wanted to tour with the Martins — and Jason Crabb is on some of the dates too, which is just an amazing night. And then Feed the Children got involved. And the more I learned about Feed the Children and those types of child sponsorship organizations, the more I was in love with it. I mean, we got sponsorships for 75 kids in the last two days of shows! Which isn't a lot for some people but it's still 75 kids. And I love that. I love that when you give $30 a month, you can change somebody's life! And not just one life, it's a whole family. It doubles the family income overnight.
Early in my career I was trying to succeed. And now, I'm not trying to start a career, I'm trying to end one. And on the way down to the landing pad, which could be in five years, 10 years, who knows?—I want to get as many kids sponsored as possible. I want to get 2014 this year and 2015 sponsored next year through Feed the Children. I sponsor seven kids myself and I'm going to get to meet one of them this January — in Nicaragua!
And I'm learning how to encourage people. Giving to these places is a great thing. Thirty bucks a month — that's five Big Macs or five Starbucks and you've got it paid for!
Also for many years I have been supporting All About Care and that excites me because it is a ministry for children infected and affected by HIV/AIDS. They also have Camp Care and I went to the camp once. The woman who started this, she is like a modern day Mother Teresa. Her name is Cynthia Karraker and I've never met anyone in my life more positive, more energetic, more happy. You know, her husband passed away from AIDS in 1985. And so she was thrown into this — and she's just continued the work since then. And I've been one of her supporters. And I love doing it. Overhead is low; helping people is big. I look for ministries where they don't have huge, fabulous, wonderful buildings because then I know that all of my money is going to that! If I give I want most of that money to get to what I'm giving it to. Feed the Children does that and All About Care does that.
I guess I love to give mostly for selfish reasons. You know, "Give and it shall be given unto you … pressed down, shaken together, running over…" And it's worked so far! If you're gonna be selfish, you might as well do it in a good way. For more info visit
feedthechildren.org
and
allaboutcare.org
.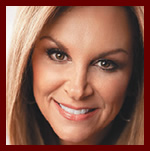 Kelly Nelon Clark
All I Want For Christmas
Our family recently took a trip to Guatemala to visit feeding centers for children. Having never been on a mission trip it was an eye opener for me. I don't believe I have ever witnessed such poverty as I saw there. Children will walk for miles a day for a single meal. Some, after walking, are turned away because there is no food left. We went in homes that consisted of dirt floors and soot that dripped off the ceiling from the wood-burning stoves. The heat and the smoke were overwhelming and I felt like I couldn't breathe and yet, it is daily life for them.
We met one grandmother named Sabrina who invited us in her home. She has a two-room shack and cares for 15 grandchildren. The frail grandmother cares for all those children even with one 6-month old strapped to her back. You can look into her eyes and see the overwhelming burden she carries. It was a heartbreaking sight. We prayed with Sabrina before we left with her grandchildren all around her. I opened my eyes to see all of the children with their little folded hands praying out loud. Sabrina had big tears streaming down her face. On the days and months that followed I could never get Sabrina and those little faces out of my head. Upon returning home we knew there had to be something we could do to help and prayed that God would show us a way.
We spoke with the people of Manna Worldwide about the possibility of opening an orphanage. With their partnership we began construction of our orphanage called "The Nelons' Kids." We will be able to house up to 60 children. For the first time in their lives, they will have everything they will need to be healthy and prosper in life, all with the teaching of the Gospel of Jesus Christ.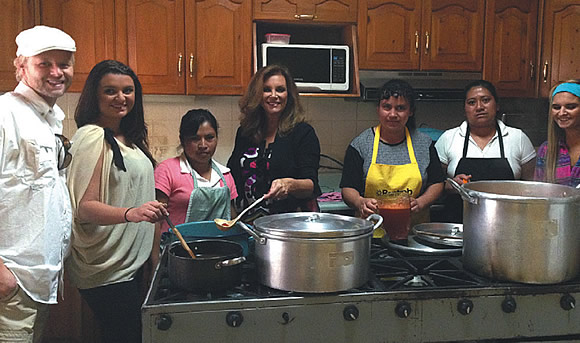 If I could have only one thing for Christmas it would be that every child in the orphanage would be sponsored and have a chance for a better life. What a great way to give this Christmas!
For further information please visit:
mannaworldwide.com/nelons
or
thenelons.com
, or call 817-346-3641.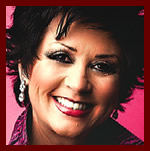 Candy Christmas
Bridging the Gap
Whenever I think of the work that we do at The Bridge, I'm reminded of this story: There once was a king who every day, in all his wealth and glory, would walk through the main street of his kingdom. One day, a poor commoner crossed the king's path and begged one gold coin from his ruler, to which the king willingly obliged, and sent the man on his way. The next day as the king passed though the kingdom, the same beggar along with his friend crossed the king's path. The beggars asked one gold coin each from the king who willing obliged and sent the beggars on their way. The same occurrence continued day by day as each commoner brought a friend and the king gave coins to everyone who asked it of him. Finally, as a crowd gathered in the street to solicit gold coins from the king, an advisor stepped forward and demanded that the king stop giving to these commoners before the fortune of the kingdom was lost. The king replied to his advisor, "Yes, but how do I know which one is Jesus?"
Jesus says to His disciples in Matthew 25:40, "Truly I tell you, whatever you did for one of the least of these brothers and sisters of mine, you did for me."
This Christmas season, The Bridge will hold our annual event "The Bridge to Christmas" and give gifts to every single one of our homeless friends. Each year we are able to give away sleeping bags, groceries, toiletry items, children's toys, coats and so much more!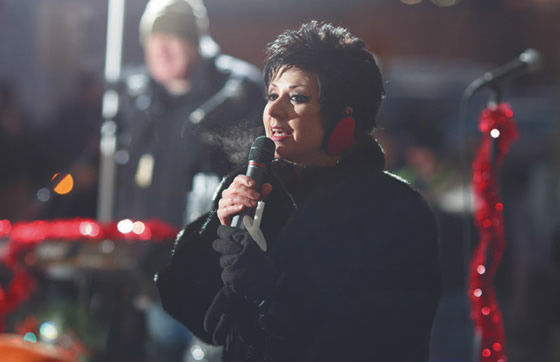 For more information or to donate to The Bridge to Christmas program, go to
bridgeministry.org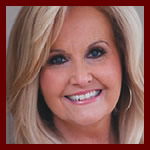 Karen Peck
The Sweet Sound of Grace
KPNR has had the privilege of being a supporter of the Ebenezer Children's Home in Wilkesboro, North Carolina for several years. One year we had the honor of going to the home and meeting some of the children. There were several houses on the property. The house parents were precious. They teach the kids to do special things such as showing the girls how to make homemade jelly and canning green beans. Many of the children can paint and draw beautiful pictures. However, the most memorable event of the day was the chapel service. They had the teenagers perform songs and drama for us. Susan, Jeff and I were so moved by their talents and their sweet spirits. But in the back of our minds were the thoughts of how a mom or dad would not want their own child. How could they abuse those little angels? The sadness in some of their eyes was overwhelming. Yet they were excited to show us their special gifts and their love for Jesus. Just when we thought the program was over, they said they had one more special song for us. They began to bring out an 18-year-old boy with a crippling disease who was in a wheelchair. The director leaned over and told us that the boy had been severely abused as a child. He was placed into foster care and the foster parents abused him. Through the grace of God he was sent to Ebenezer. He was a highly intelligent, straight-A student, and was about to attend the state college on a scholarship. Sadly, doctors said he had only a few more years to live. Probably wouldn't make it to 30. When the music started, his shaking voice from the breathing machine began to sing "Amazing Grace." When he got to the part of "my chains are gone, I've been set free, My God my Savior has ransomed me/And like a flood His mercy rains/Unending love, amazing grace," we couldn't breathe. Our hearts were broken, but to see the grace of Jesus on this brave precious boy's face was astounding. We literally wept. We walked into the Ebenezer Children's Home in hopes of being an inspiration to them, but instead they were an inspiration to us. We carried away something that day that will forever remain in our hearts and minds.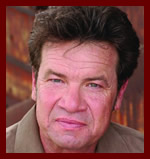 Russ Taff
Love Heals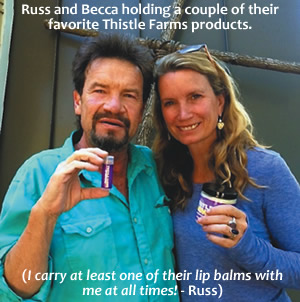 I met Rev. Becca Stevens almost 20 years ago, when she and her husband moved in across the street from Tori and me. In 1997 Becca founded the Magdalene program, a residential program for women who have survived lives of prostitution, trafficking, addiction and life on the streets, and we have been involved from the beginning. Watching this ministry grow from one small house that offered safety and community to those first five women into the successful global program it is now has been one of the most rewarding experiences of my life. Magdalene has many houses now, in the U.S. and other countries as well. They've also started a business enterprise called Thistle Farms where the residents and graduates get work experience by making a whole line of healing bath and body products. The latest adventure is the Thistle Stop Cafe, which is this great little tea house over in west Nashville. Becca is an amazing visionary, pastor and force for good in the world, and Tori and I are proud to call her our friend.
To learn more about all the Magdalene ministries, check out
thistlefarms.org
and
thistlestopcafe.org