In the past year, our world has been touched by many events. From tragedies like tornadoes and tsunamis to the splendor of the royal wedding, we have seen many highs and lows. Let's take a look at some of the noteworthy events from the past 12 months in the lives of Homecoming Friends.
Two musical couples were blessed to have milestone anniversaries in 2011. First,
Jeff and Sheri Easter
celebrated 25 years of music and marriage, releasing their
Silver Anniversary
album in honor of the occasion.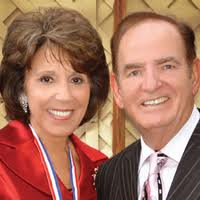 Then,
Claude and Connie Hopper
(pictured left) reached the 50-year milestone in April, celebrating their golden anniversary! To sweeten things even more, they were presented with the Harmony Honor from the Southern Gospel Music Guild.
We saw some new beginnings as well, with newlyweds
Courtney Collingsworth Metz
and
Michael Metz
tying the knot in a beautiful Victorian-themed June wedding. And of course,
Sonya Isaacs, husband Jimmy Yeary and the Isaacs family
were excited to welcome baby Ayden in July.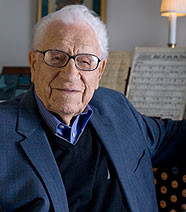 Homecoming Friends received their share of awards and honors during the year, which is no great surprise among this talented bunch. Last February, George Beverly Shea (pictured right), who will turn 103 (!) this coming February, was honored with a Lifetime Achievement Award in conjunction with the 2011 Grammy Awards.
In April,
Bill and Gloria
were honored to receive the Evangeline Booth Lifetime Achievement Award in Gospel Music, presented by the Salvation Army. Another April achiever was
Jason Crabb
; during April's 2011 Dove Awards, Jason was thrilled to be awarded Song of the Year for "Sometimes I Cry," written by Gerald Crabb. This marks the first time since 1976 that a primarily Southern Gospel artist has won in this category...great job! The
Gaither Vocal Band
did not come away from the night empty-handed either, with
Greatly Blessed
being selected as Southern Gospel Album of the Year AND with "Better Day" garnering the Southern Gospel Recorded Song of the Year award.
The
Oak Ridge Boys
were excited to become members of the Grand Ole Opry in July 2011, and
Larry Gatlin and the Gatlin Brothers
were honored in September, receiving the ACM's Cliffie Stone Pioneer Award during a ceremony held at Nashville's Ryman Auditorium. Also in September, the
Statler Brothers
received the 2011 James D. Vaughan Impact Award during a special ceremony at Dollywood at the Southern Gospel Music Association's annual Hall of Fame Induction Ceremony and Singing News Fan Awards.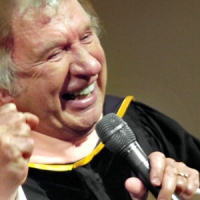 Bill Gaither
's many musical achievements were recognized in October, when Indiana's Taylor University presented him with an honorary Doctor of Music degree. After receiving the degree, he participated in a question and answer session with students and shared stories about his journey in the music industry. After all these years, Bill undoubtedly has a few stories to tell!
Also taking place in October, the musical genius of
Gordon Mote
was honored when he received the 2011 Academy of Country Music's Piano/Keyboard Player of the Year Award. Way to go, Gordon!
Finally, in December,
Gaither Music
was very pleased to learn that the company was the #1 music video label on Billboard's year-end chart for 2011. Being named Billboard's top music video label in the United States was certainly a great honor!
Of course, there were far too many musical performances and other happenings to recount here, but we'll touch on just a few. The
Gaither Vocal Band
performed 12 dates overseas starting in February, beginning in Cape Town, South Africa and culminating in Maringa, Brazil. The last leg of the trip was the group's very first venture into South America, if you can believe it! Michael English's aversion to flying notwithstanding, the trip was a great experience for the group and all of their friends abroad.
Karen Peck & New River
celebrated their 20th anniversary as a group, and Karen can currently be seen in
Joyful Noise,
a new movie featuring Dolly Parton and Queen Latifah.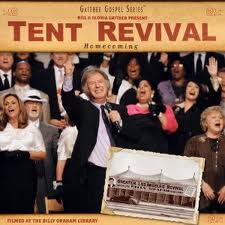 In May, the Homecoming Friends celebrated the spirit and music of the revivals from the 1950s and 1960s, when they taped
Tent Revival Homecoming,
released on DVD in September 2011. The nostalgic event took place on the grounds of the magnificent Billy Graham Library and featured more than 140 southern gospel artists. Worshiping on sawdust floors with a simple canopy overhead, the group felt a sweet closeness with God and each other as they sang time-honored songs of faith.
Another momentous occasion in May was
"A Lifetime Tribute to the Songs of Bill and Gloria"
at the Schermerhorn Symphony Center in Nashville. Joining the Nashville Choir were a variety of performers such as Michael W. Smith, Sheila Walsh, Sandi Patty, the Gaither Vocal Band, Russ Taff, Steve Green, Larnelle Harris and the Isaacs, performing some of the best-loved songs that the Gaithers have written and performed for more than 50 years. The event was a wall-to-wall sellout, and proceeds benefited the Gospel Music Trust Fund and Hope for Nashville.
In June,
Gloria Gaither
hosted her first Songwriting Intensive, which was attended by 58 aspiring songwriters who gathered in Alexandria, Ind., to delve deeper into the craft of songwriting. Led by master songwriter Gloria, the workshop also featured other instructors, such as Buddy Greene, Reba Rambo-McGuire and Dony McGuire, Bill Gaither and Andrew Peterson. If you are an aspiring songwriter, keep your eyes and ears open for information on future events.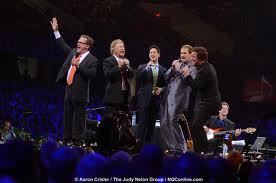 With performances that brought audience members to their feet, the
Gaither Vocal Band
appeared in a reunion concert at the National Quartet Convention in September, with members past and present performing hits such as "Let Freedom Ring," "Mary Did You Know" and "No Other Name."
Noteworthy in October was the release of
Billy Graham
's first major book in more than five years:
Nearing Home: Life, Faith and Finishing Well
(Thomas Nelson). Graham, now in his 90s, maintains his lifelong passion to share the gospel and encourage others, despite the challenges of getting older. Graham also came in fourth on the list of "Most Admired Men" according the 2011 USA Today/Gallup poll. He has finished in the list's top 10 more than any other person, at 55 times!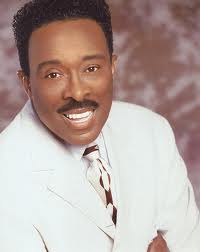 Of course, 2011 had its share of sadness as well, with the passing of many southern gospel greats. Homecoming Friend and legendary performer Jessy Dixon left us in September, leaving a hole in the hearts of friends and family. Following is a list of some other well-loved figures within the gospel music industry who passed away in 2011:
• Don Butler, long-time executive director and founding member of the Gospel Music Association, Feb. 3
• Virgle Ashburn, grandfather of Ronnie and Michael Booth, April 27
• Mary Louise Sechrist Easter, mother of Jeff Easter, August 7
• Howard Hayes, patriarch of the Hayes Family, September 6
• Bert Gooch, father of Rickey Gooch and father-in-law of Karen Peck Gooch, December 25
It's sad to see these loved ones go, and it's a little bittersweet to say goodbye to this past year as well. We do hope that it was a good year for our readers, and we look forward to 2012. We will continue in our efforts to inspire, encourage and inform you, and we are excited to see what this new year may bring for all of us. Please feel free to comment below about what 2011 meant for you or what you are looking forward to in 2012...we'd love to hear!