In her 30-plus years of performing and ministering, God has often used Lynda Randle to forge connections — between white and black, inner-city and suburban culture, traditional and contemporary gospel music. Her newest album,
'Til the Storm Passes By
, continues this pattern with a musical mélange of flavors, mixing Southern Gospel, blues, Motown and more. Randle's soulful alto is the glue binding it all together, reassuring listeners that yes, she has made it through the storms and yes, they will too.
You might be a wayfaring stranger if…
you wander into a Nashville recording studio to meet a Southern Gospel artist, only to be lured by a buttery-smooth Wes Montgomery guitar lick introducing a mile-wide Norah Jones piano chord floating on top of a Grandma's-oven Ron Carter bass line. Ooooo, so yummy. You forget where and who you are and drift in a trance through the doorway marked Studio A.
Inside, it's Ben Isaacs playing back a lush groove for Lynda Randle to sing "Wayfaring Stranger." Whoa — worlds collide. "Yeah," the hatless producer deadpans, "I call it Gaither- Meets-Motown." You look over at Lynda to make sure it's not a prank—only to see her laughing and clapping at your confusion: "Seriously, Barry Jennings (Gaither Music label president) and Bill Gaither have both heard it and they love it!" You're still a little embarrassed, but the folks toiling away here over a hot mixing console are pleased to know that their aim is true.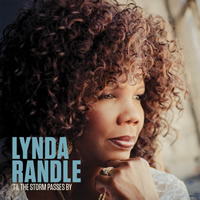 Lynda admits that this CD heads in a different musical direction. "Creatively, this has been so—oooo—I was so scared when we started! I mean, this is coming out on the Gaither Gospel Series!" She reminds you it's been 13 years since she joined the Homecoming family, but that this year marks her initial steps toward a solo career. So Ben Isaacs didn't have to push too hard to convince Lynda to add a little down-home flavor to her newest confection: "I knew I needed to work with somebody who could tell me 'OK, you're here in Southern Gospel music, you sing these traditional Southern Gospel songs. Now you can sing them the way you feel them — and people will get it.'"
Even more than the Memphis-size Steinway, the growling upright bass, and that silky 1963 Gibson L5 electric guitar, it is the gentle whirring of a Hammond B3 organ — think Booker T. Jones — that best defines the musical landscape of
'Til The Storm Passes By
. But rather than conjuring up a swaying choir, hand fans and tambourines, this collection feels more like stayin' late after prayer meetin.' It is personal, intimate, reflective...and deeply emotional. This is the blessed assurance after the shoutin's done.
To be sure, the track list could be from Ben Speer's iPod: "I Have Decided To Follow Jesus," "Just A Closer Walk With Thee," "Nothing But The Blood," and "Wayfaring Stranger"— in addition to the title song. So two-thirds of the set is tried-and-true Southern Gospel. But the interpretations and Lynda's performances will take you to a place you've not been before with these songs.
The final four include two surprise selections ("He Lifts Me With His Strong Arms," "What A Difference You've Made In My Life") and two Randle originals —"Strength" and "He Is There." The overall effect of these 12 recordings can only be described as quietly confident. Lynda has slogged through enough muddy valleys, thrilled on enough shining mountaintops to know that sometimes you just need to be still. Let come what may — she's in the hollow of His hand.

"I HAVE DECIDED TO FOLLOW JESUS"
Nobody alive today fought in, or witnessed, America's Civil War. But after listening to Ben's dobro-fueled martial arrangement and Lynda's broad, mournful vocal, you will feel as if you lived through Bull Run. "We've all heard this hymn everywhere but I told Ben I want to hear the cross, the dark, the sacrifice, the pain…it's a commitment, not a game. When you decide to follow Christ, it is a cross."
"STRENGTH"
Deep kettle drums pound a relentless beat, acoustic guitars paint the shoulders along the road, while the organ drives Lynda's determined mid-register singing: I will go in the strength of the Lord "I tend to deal with fear. One day I was walking around the house reciting to myself Psalm 71:16 that says 'I will go in the strength of the Lord,' and this whole song just came together."
"HE LIFTS ME (WITH HIS STRONG ARMS)"
After listening to this rootsy, bluesy slice of Americana Pie, you will not believe it was written in 2002, instead of 1882. "Buddy Greene sent this song to me a few years ago. It's sorta bluegrass — except now it's blackgrass! And the Isaacs back me up on the recording.".
"WHAT A DIFFERENCE YOU'VE MADE IN MY LIFE"
"Many years ago I came to Nashville to compete on a TV show called 'You Can Be A Star.' I won the first round and made it to the TV finals. During that series I sang this song, because I wanted people to know that when Christ comes, He makes a difference."
"'TIL THE STORM PASSES BY"
It's hard to arrange a hymn so as to not give away the end right from the beginning: We hear the opening chords and instantly know the whole story — which can be comforting. But because the musical idiom of hymns is embedded in our genes, its power to surprise has been diminished. So hats off to Ben and Lynda for taking enough care in unfolding this famous message in such a way that makes us wonder what she'll sing in the next line.
"WAYFARING STRANGER"
You can type this song title into your iTunes search bar and sample the first 50 versions; you'll hear pretty, and you'll hear raw — plus whining and pining and a lot of strange sounds. But you'll hear nothing like Lynda Randle. She sings it slower than you've heard—and lower than the sweetest chariot — and closer to the microphone. You're not hearing Lynda sing, you're hearing the Wayfaring Stranger sum up her life for you. The recording is so wistful, so evocative, so visual. It will stay with you for a long, long time.
Click for more articles featuring Gaither Homecoming artist Lynda Randle.