"You know my mom passed last September (2013). We got to go over to her — well, it wasn't a nursing home, I call it her resort — but we sang over there a lot. And many of the people over there could hardly remember their names, but they would know these songs!" Lynda Randle refers to the 12 tracks on her second-of-three
Ageless Hymns
CDs, this one entitled "Songs of Peace". "It's just basic piano and voice, no extra instrumentation, like when we were over there together just singing from the hymnal." Favorites include "Jesus is All the World to Me," "God Will Take Care of You," "Just As I Am" and "My Jesus, I Love Thee."
Sonically, this one couldn't be more different from Lynda's 2012 album
'Til the Storm Passes By
. That Ben Isaacs-produced opus had a big, broad sound from more than a dozen gospel and R&B instrumentalists. It was recorded during a time Lynda's aging mom was shuttling around Kansas City between the Randle residence and her apartment, then to the resort, and finally to her own homecoming. With that storm behind her now, Lynda says this release is more targeted. "I really wanna give back to the generation that taught me these hymns. These songs are now their solace, their peace, their joy, their hope … I just feel a wonderful indebtedness to them."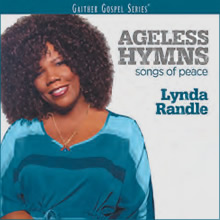 If the new CD offers a calm after the storm, the Randles' life does not. She and husband Michael just planted a new start-up church in downtown K.C.: Mosaic Bible Fellowship began services in March 2014. She's doing her best to cut back on touring to just two weekends per month next year, allowing deeper participation in life at Mosaic. Lynda does manage to route her travel through Nashville every so often to visit oldest daughter Patience, who works at Revolution Pictures. This is not to mention still raising a high-school senior, daughter Joy, back home in the Show Me state. "And, of course, I'm mentoring teenage girls. I had four or five that I worked with this past summer. We did cooking, reading, went to plays, talked real-life stuff." Anything else? "Yes. I'm writing two books.
The Cab Driver's Daughter
is an illustrated children's book about my folks and my upbringing in D.C. And then another one called
Momma's Shoes
, a compilation of stories about mothers, grandmothers, women of influence. And of course, I still have all those kids' songs I wrote years ago..."
Yep. Down Kansas City way they make hay while the sun shines. Visit
LyndaRandle.com
.