It has been an exciting year for Madison and Shannon Easter.
They released their debut project,
Dreams
, in March 2013, an EP which made it to #81 on the iTunes country music chart on its release date! If that were not enough, in October, Madison won his first
Dove Award
as a producer on the Country Album of the Year,
Eyes Wide Open
, an album recorded by his parents, Jeff & Sheri Easter.
Like Jeff & Sheri, Madison and Shannon have a natural musical blend. Though they have known each other for many years before their marriage in December 2010 and have both been involved in music throughout their lives, the two did not sit down to write a song together until April 2012 ("Our Last Mile," from
Dreams)
. Something clearly clicked, and the result has been tunes like
Dreams'
hauntingly wistful and lovely stand-out single,
"Letting Go."
Now the couple introduces their first Christmas EP,
Under the Mistletoe
, releasing November 5, 2013. Listeners will enjoy fresh arrangements of Christmas favorites, as well as two brand-new originals by Madison and Shannon. Here, they share with us a little more about making
Under the Mistletoe.
HOMECOMING MAGAZINE:
What inspired you to do a Christmas project?
MADISON:
Shannon and I are the kind of people who set up a Christmas tree on November 1, if we can. We
love
Christmas and everything about it.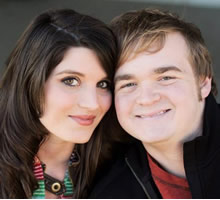 So, recording a Christmas-themed project was never really a question of "Will we or won't we?" It was "When will we?"
SHANNON:
When you love Christmas and music as much as we do, it only makes sense to put the two together. I graduated college back in May, so I'm used to my schedule picking up again early fall. With my schedule being more open, the timing couldn't have been better.
HOMECOMING:
How would you characterize the musical style of this project?
MADISON:
Well, I started out by saying that I had gotten bored with all the Christmas albums I'd heard over the past few years. The "big band" trend was everywhere! Initially, I was wanting to stay away from that and keep it more like us. Simple. Acoustic. But as the record started coming together, I knew the big band elements would somehow have to make their way in. But instead of going BIG with it, I decided to keep those songs stripped down. Those two are "Let It Snow" and "Have Yourself a Merry Little Christmas." For both of those songs, I said I wanted a "3 to 4 piece band just playing live" vibe to it, and the guys just nailed it.
On our last project,
Dreams
(available on iTunes), I played every instrument. Guitars, keys, banjo, dobro, mandolin, all the way down to learning penny whistle. For this record, I wanted to bring in some other guys. On keys, I used Blaine Johnson (Jason Crabb), bass was Ben Isaacs (The Isaacs), on drums was our drummer Landan Smith, and KC Martin (Palmetto State Quartet) played the saxophone. I even got Dad to come in and do some harmonica for me. So, I had an amazing group of guys helping me this time around.
SHANNON:
We're fairly eclectic in our taste, and I think this album reflects that. Just to share some of our thought process with you while we were creating this EP, Madison told Jeff that he wanted an "Isn't She Lovely" feel on the harmonica solo in "Let It Snow." The writing of "This Christmas" was inspired by Celine Dion's song, "Another Year Has Gone By," and Madison used some Roy Orbison guitar tones on that one. We have three tracks that encompass the jazzier feel of Christmas, one that keeps the acoustic feel that we started with on
Dreams
, and another that has more pop influence. Even still, I feel like it all falls within the "pop/country" genre.
HOMECOMING:
Are there any tracks you particularly enjoy, or any one that has special meaning to the two of you?
MADISON:
I really love them all, but "The Greatest Gift of All" is really special. That's the song I grew up my entire life hearing my parents sing to each other at Christmas. We had an instrumental arrangement of it played at our wedding. This was our tribute to them.
SHANNON:
"Greatest Gift" is without a doubt the most special for us for the reasons that Madison mentioned. "Under the Mistletoe" is also special to me because we created what is now one of my favorite memories together writing that one.
HOMECOMING:
What was the most memorable or fun part of the recording process?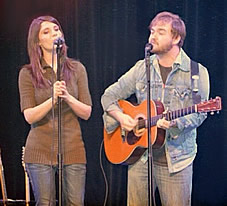 MADISON:
For me, it wasn't so much the recording that made the memory as much as it was the writing of the two original songs, "This Christmas" and "Under the Mistletoe." Shannon and I were driving to Nashville one night (about a six-hour drive from our driveway), and I borrowed our drummer's little parlor guitar. We had decided that day that we wanted to make a Christmas EP and that we'd need some original songs. So, here we are driving down the interstate (Shannon driving while I played guitar), writing songs, with no shortage of coffee or honey buns. It was just the two of us in a car with the A/C on full blast, because it was summertime, and we were really needing to have that Christmas feeling. It made a great memory for me.
SHANNON:
I love the entire process. It was a little bittersweet to sing the last note. We were grateful to have met all of our deadlines in order to meet our release date, but sad to have the process end. Writing "Under the Mistletoe" stands out most to me though, because we had just decided to record this project that day, so it was all spontaneous.
HOMECOMING:
What are some Christmas albums that you love to get out each year?
MADISON:
Celine Dion -
These Are the Special Times
. It's not Christmas until I've heard this record. When I was growing up, this album played through our entire house while my mom decorated and baked for Christmas. That's really my only definitive Christmas album.
SHANNON:
Celine Dion is my absolutely favorite singer, so
These Are the Special Times
is also my favorite. I also love Hanson's
Snowed In
because of the childhood nostalgia I have associated with it. I still listen to that one every year, too!
HOMECOMING:
Thanks so much, and here is a preview of
Under the Mistletoe
for our readers. The project is available Nov. 5 on iTunes, or you can order a physical copy through the couple's Etsy store,
MadisonAndShannon.
Click here for more articles featuring Madison and Shannon Easter.