LIAM'S AND MIA'S FAVORITE CHICKEN SOUP, made by MAMAW GLORIA

There is just nothing that will settle a nervous stomach and infuse energy into a depleted body like a steaming bowl of homemade chicken soup. When we've been on the road and up late too many nights in a row or when the grandchildren are tired and scrappy, this delicious quickie is a prescription for peace and quiet all around!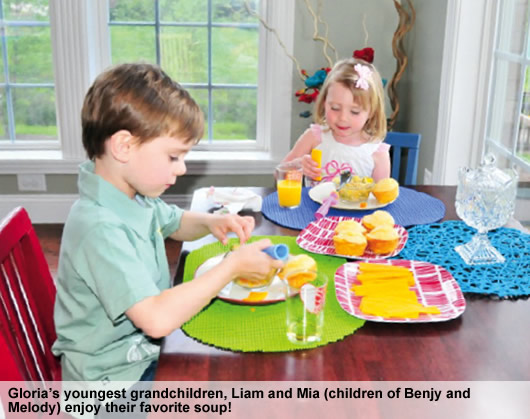 Quick & Easy Homemade Chicken Soup
Ingredients
• 2 1-quart cartons organic chicken broth
• 2 12.5 ounce cans white meat chicken
• 1 bag frozen chopped onions (or 1 large sweet onion, chopped)
• 1 rounded tablespoon Wyler's instant chicken bouillon granules
• 1 large bag frozen mixed vegetables (I use the soup vegetable mix)
• 3 or 4 handfuls packaged Amish noodles, broken
• Seasoned salt and seasoned pepper to taste

(Canned roast beef, beef broth and beef bouillon granules may be substituted for chicken to make beef vegetable noodle soup)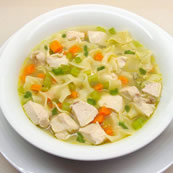 Directions
Into a large soup pot pour broth, onions, frozen vegetables, canned chicken (crumbled and undrained). Heat on high until just ready to boil, then turn heat to medium and cook until vegetables begin to get tender. Add bouillon granules, seasoned pepper and noodles. Simmer until noodles are tender. Add seasoned salt, if needed, to taste. Serve with buttered hot cornbread (I use Krusteaz Natural Honey Cornbread Mix fixed to package instructions) and some calming music.
This meal is heaven to the tired body and peace to the house!
Enjoy!