Fans of velvety-smooth big-band ballads and timeless melodies, get ready to melt — and not just because it's still warm outside. Homecoming favorite and Gaither Vocal Band member Mark Lowry's new album,
Unforgettable Classics
, is likely to have a sentimental, perhaps even swooning effect on many a listener. Seriously. It's that buttery (in a non-fattening way, Mark might add).
For a man who grew up listening to 8-track tapes of Sinatra, Como, Cole and other masters of melody, making a record of standards—in this case, mostly love songs—was a pinchme- I'm-dreaming experience. "This was just a bucket-list project that I wanted to do, and it has turned out better than I ever dreamed," Mark says.
His voice truly shines throughout this record's 12 songs, from "It Had To Be You" and "Smile" to "I'll Be Seeing You," "They Can't Take That Away From Me" and "Fly Me to the Moon." On five tunes, Mark asked friends to join him. "What a Wonderful World" features Michael English's vocals and Buddy Greene's harmonica, "Unforgettable" highlights Charlotte Ritchie, "Nevertheless" includes the Booth Brothers and Bill Gaither, "Glow Worm" spotlights the Martins and "Our Love is Here to Stay" soars thanks to Joyce Martin Sanders. ("Phenomenal," Mark gushes. "It was like, 'Step back: Mama's at the microphone!'")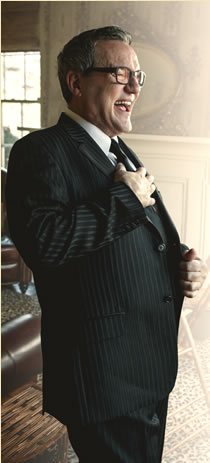 Mark is quick to credit not only those friends, but also producer Kevin Williams —"he did a fantastic job of finding the sweet spot in my voice"—and the "amazing" instrumentalists: David Huntsinger (keyboard), Greg Ritchie (drums/brushes) and Jim Ferguson (bass).
Why these classics? "I've always loved Tony Bennett and Frank Sinatra and Perry Como," Mark says. "Of course, I love Michael Bublé and Harry Connick Jr., the most recent guys doing this stuff. But when I was 4, I would walk about the house with my Andy Williams records. Nat King Cole is my favorite; my mother was always playing him."
The biggest challenge was winnowing options. "The 'American Songbook' is so rich. Good night, we've easily got enough for Volume II," Mark says. "We narrowed this down to 12 I couldn't live without."
The final selections "all have not only great lyrics, but great melodies. 'Stardust' is one of the greatest melodies ever." If Mark has a favorite, it's "The Very Thought of You" or "What a Wonderful World." "It always makes my heart smile, because it changes our perspective: get your eyes off the gloom, look up, and see this wonderful world that God has put us in, the life He has given us."
Mark has reason to believe the record will resonate. "When I play around with these songs in concert, people just seem to melt. They remember the songs and what they meant to them. A great song is like an aroma: it brings back a memory of where you were at a particular time.
"My heart is in singing gospel," he adds, "but this was fun. The Bible says that where there is love, there is God. Anyone who loves is born of God. I think love songs are great, and you don't have to be in love to sing 'em. But what I really think we're missing today is great melodies like these."
Not on this record, we're not.