The American Society of Composers, Authors and Publishers (ASCAP) will present renowned songwriter-artist and comedian
Mark Lowry
with its prestigious Golden Note Award at the 38th annual ASCAP Christian Music Awards, to be held on Monday, September 26th at Rocketown in downtown Nashville. The invitation-only gala will be hosted by multi-platinum, three-time Grammy-winning contemporary Christian music star Michael W. Smith alongside ASCAP's President and Chairman Paul Williams and Vice President of Nashville Membership Michael Martin.
Mark Lowry is known and loved around the world as a trusted voice in gospel music and beyond. He started making music at age 11 and more than four decades later, his legacy is forever sealed as an innately entertaining communicator who can make audiences laugh, cry, and think.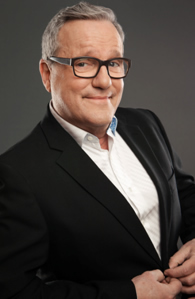 Lowry's lyric to "Mary Did You Know?" resulted in one of the most loved modern Christmas songs of the century. The captivating song, which he co-wrote with Buddy Greene, has been recorded more than 400 times by artists from every genre including: Reba McEntire, the Gaither Vocal Band, Pentatonix, Cee Lo Green, Clay Aiken, Michael English, Kenny Rogers, Wynonna Judd and a long list of others.
Lowry spent more than 20 collective years as the baritone singer for the Grammy-winning Gaither Vocal Band, and has served as the comedic sidekick for Bill Gaither through live concert tours and the bestselling Gaither Homecoming video and television series. A deep thinker and student of theology with an outrageous sense of humor, Lowry's life work includes a long list of recordings that reflect a wide range of influences. His profound gift for storytelling through music keeps audiences of all ages on the edge of their seats.
The ASCAP Golden Note Award is presented to songwriters, composers, and artists who have achieved extraordinary career milestones. Past recipients include Bob McDill, Don Williams, Mary Mary, JD Souther, Reba McEntire, Michael W. Smith and more.
Source: ascap.com