We'd like to welcome a new baby to the Homecoming family!
Matthew Holt
, piano player for the Gaither Homecoming tour, and his wife Lindsey are excited to introduce their brand new baby boy,

Huely "Carver" Holt
.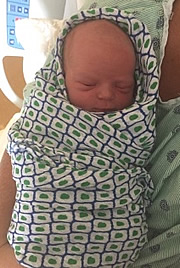 Sweet little Carver was born on July 21, weighing in at 8 pounds and measuring 19 ½ inches long. We hear that siblings Fletcher and Ridley are thrilled about their baby brother!
Lindsey shared on Facebook, "Blessed again beyond what I deserve. This morning at 2:52 a.m., God gave our family another baby to love and call our son."