At the National Quartet Convention in 2012, Bill Gaither answered a question that people had been pondering: Who on earth was going to take Gordon Mote's vacant spot as piano player for the Gaither Vocal Band? The answer was a young man from McKenzie, Tenn., named Matthew Holt. Matthew, 27, has been married for six years to Lindsey, and they have two children: son Fletcher (5) and daughter Ridley (2). He is also the fulltime Associate Director of Bethel University's Renaissance Program, a unique program for students interested in the performing arts.
Matthew's love affair with the piano began when he was about his daughter's age. "My parents were big Southern Gospel fans, and they took me to a Kingsmen Quartet concert — I was 2 at the time. Anthony Burger was playing piano for them, and my parents said I wouldn't take my eyes off of him." Shortly after that, Matthew's parents bought him a miniature Casio keyboard, and they were shocked one Sunday afternoon to hear him playing the song "Sweet Hour of Prayer." "Apparently I had heard it at church, then went home and played it. I was 3 years old then." Although Matthew still plays primarily by ear, he did take lessons for a while as a child and learned to read music.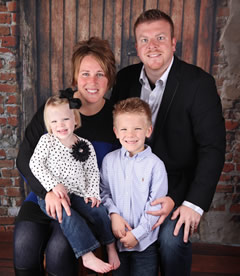 Southern Gospel has always been his favorite kind of music, and when a door of opportunity swung open for him to join the Perrys at the age of 19, he walked right through it. He's very grateful for the four years that he spent with them. "They could have chosen anyone, and they took a chance on a kid. Of course, it's all God-ordained; I understand that."
That opportunity led to even more open doors; Matthew became good friends with the Perrys' lead singer, Joseph Habedank, with whom he owns HabeHolt Music; the two have over 150 cuts in gospel music so far. Matthew was also able to build relationships with artists such as Gene McDonald, who remembered him when Bill Gaither began the search for a new pianist.
"Gene called me in March, told me Gordon was leaving, and asked if I'd be interested in auditioning for the spot. I said yes, and Kevin Williams got on the phone and asked me to send in a demo."
Matthew didn't know if he would ever even get to play for Bill, but he worked hard to learn every Vocal Band song he could — around 75 songs. But after all that preparation, he was thrown a curve ball. Matthew was invited to come see the Vocal Band's performance in Nashville and maybe do a bit of playing for Bill. "I got to Nashville, and they were rehearsing a couple of tunes off of the new record, Pure and Simple. Bill threw me in there and had me play. I had learned all of this material, and I ended up playing songs I'd never heard before in my life!"
Of course, Bill's intent was not to torture Matthew; he needed to see firsthand Matthew's versatility and poise, since a GVB piano player has to be very flexible. "You have to do that on the Homecoming tour," Matthew explains, "playing for artists that you don't work with all the time." He passed that test and was invited to Indiana in June, to sit with Bill and Kevin and play songs he had actually learned. Then he was asked to play for the Vocal Band during the Gaither Cruise in July ... then the August dates … then September. However, he was still not given an "of cial" answer. He emphasizes that Bill was very honest with him the entire time, telling him that there were still other people he had promised to hear. "It was nerve-wracking at times," says Matthew, but he was also "at peace with whichever direction Bill decided to go, because he'd been nothing but kind, gracious, supportive and encouraging."
Finally, Matthew was offered the job, shortly before NQC, and then Bill announced it publicly at the convention. This young man's dream had come true, and he does not take it for granted. He is quick to give tribute to those who paved the way. "I definitely want to pay respect to Anthony and Gordon, understanding that the shoes they left for me to fill were basically unfillable. I consider them to be two of the all-time greatest, ever." He is also enthusiastic about his new colleagues, saying, "To be able to play with Kevin Williams and Greg Ritchie every night is a blessing; they're two of the best musicians I've ever known. They've been very encouraging to me, as have the members of the Vocal Band. To put a cap on everything, there's no better place to be, as a young musician, than under the leadership of Bill Gaither. I'm hoping that I can just soak it all in; that I keep my eyes, ears and heart open to learn along the way. Because there's nobody who's done it better than Bill; he's the man!"

Click here to see other articles featuring the Gaither Vocal Band.