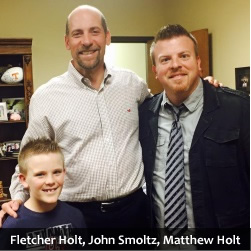 If you've been to a Gaither Homecoming event in the last few years, you've likely seen
Matthew Holt
's fingers flying over the piano keys, as he accompanies the Gaither Vocal Band or when he performs the popular Mosie Lister tune, "Goodbye World, Goodbye."
Recently, Holt got to meet one of his lifelong heroes, a man also known for his talented hands — former Atlanta Braves pitcher
John Smoltz
. Inducted into the National Baseball Hall of Fame in 2015, Smoltz is currently the only player in big league history with at least 200 career wins and at least 150 saves. Since retiring as a player, Smoltz works as a color commentator and analyst on television, but he also travels with former Braves chaplain Walt Wiley, speaking at churches and different events.
Matthew met John at Chapel Hill Baptist Church in Milan, Tennessee, on March 12, where John was speaking and Matthew performed as a guest piano soloist. Here's what Matthew had to say about the evening:
"Unbelievable experience. Of course, I'm a huge Atlanta Braves fan and have been my entire life. And now that I have kids, my kids are Braves fans. We try to catch at least a couple of Braves games every year in Atlanta, and my 8-year-old, Fletcher, especially — he's in love with baseball.
"[At the church] they treated me like royalty and actually brought dinner to me and Fletcher in the VIP room. So Smoltz comes in and sits down, and I got the chance to sit at the table with my little boy and with him for about an hour. We just talked about stuff … nothing important, just life and baseball and piano … come to find out John Smoltz plays piano and accordion. So we had more in common than I thought we did.
"He did a great job speaking, too. He was accompanied by Walt Wiley, who used to be the chaplain for the Atlanta Braves, and he was actually the guy who led Smoltz to the Lord over 20 years ago. He travels around with John, and the way that they do the presentation is kind of like an interview. They're both on the platform, and Walt asks John questions. So that was cool, and I got to meet him, too.
"One of the things John said was that in the world of baseball, it's interesting how we look at success and failure. A batter that has a .300 batting average is considered to be an amazing hitter. However, if you step back and think about that, it means that the other 70 percent of the time, he's not hitting the ball. And yet, we celebrate that 30 percent of success.
"And it hit me … I thought, you know what? I need to start doing that more often. It's so easy for me, in my home life and with students at the university who have problems, to get so caught up in that 70 percent, when you feel like you're failing every day and could be doing better, being more effective, and impacting people more positively.
"It's so easy to stay in that 70 percent and muddle around in that. Instead, I'm going to choose to be more positive and celebrate that .300 batting average more often. It was just a cool thought — I'd never thought about it that way. And of course, being a baseball fan, it spoke to me.
"And John was very vocal about his faith. One of the questions that they asked him was how he dealt with being around a bunch of guys in the locker room, some of whom have potty mouths and may be a little more coarse and rough around the edges. He said, 'You know, I had two options. I could have pushed it down their throat, or I could just be who I was.'
"And he brought up a saying that I've heard my whole life: Live out loud; you might be the only Bible that people read. So he said, 'That's what I tried to do. I didn't push it down their throat. When guys would go over the line, I would graciously, very humbly ask them not to say those things, but I was just John Smoltz. Because I understand what grace is, I didn't deserve that any more than anyone else in that locker room.'
"So as far as spiritually, that stuck out to me the most … very humble approach. And just the down-to-earth exchange that I had with him … that was really cool, and he signed some balls for us. It was fun to experience it with my son, for his eyes to light up when he got to meet a hero of mine. It was a really cool moment."