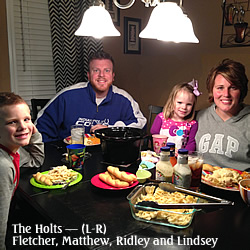 MATTHEW HOLT's Zesty Italian Chicken

With two kids and an extremely hectic schedule, sometimes "supper" at our house gets put on the back burner. However, Lindsey has found several different recipes that are super easy to make in a pinch, and that taste great — including this one! So next time, instead of settling for a sandwich and chips, try this recipe. Our kids love it!
Zesty Italian Chicken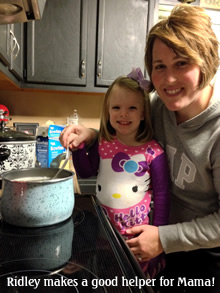 Ingredients
• 3 chicken breasts, diced
• 1 cup milk
• 8 ounces cream cheese
• 2 packets zesty Italian seasoning/dressing
• 2 cans cream of chicken soup


Directions
Combine all ingredients in a crock pot and cook on
high for at least two hours or until chicken is cooked.
We eat this served over white rice or pasta, and
garlic bread makes a delicious accompaniment!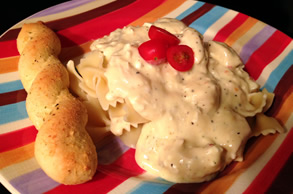 Enjoy!