Last February, the Homecoming tour came through Sacramento, and during that concert, I noticed a man and his wife who looked very familiar. Anyone who knows me knows I am an avid basketball fan, and the gentleman I saw looked an awful lot like the coach of the Sacramento Suns, Paul Westphall. Later I was delighted to learn that the familiar face I saw was, in fact, Coach Westphall. I was even more delighted the following week when I learned that he contacted our office to inquire about attending the Alaskan Cruise.
Jokingly, I told the Inspiration Cruises staff to warn him. If he went to Alaska with us, he needed to come prepared to be bombarded by questions about basketball and sports. I had been saving up questions for decades that I planned on asking whenever I had the chance!
Several months later, the morning we were leaving the hotel to board the Alaskan Cruise ship, I saw Paul and his wife in the lobby. I was so glad they came! They also brought with them a delightful couple, and we found them all to be wonderful people. We talked endlessly about coaching, leadership, and of course basketball and other sports, and Paul was interested in talking about music, too. We found that our jobs, while in entirely different fields, have a number of similarities. One day during the cruise, I talked Paul into going up to the basketball court at the top of the ship to shoot around with a few of the artists and me. That was a lot of fun. Gordon Mote joined us and Paul was a bit surprised when Gordon made a few baskets (with help of his son, who tapped the basketball goal post so his ears could help guide his shots). Paul was equally surprised to learn how knowledgeable Gordon is about basketball, as well as football and baseball. The two of them could have talked sports for days on end.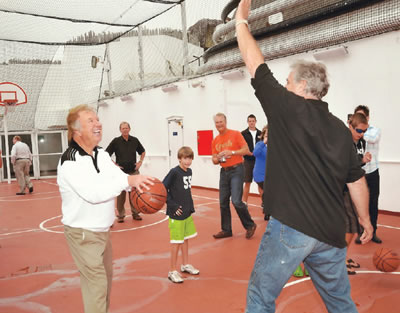 The more time Gloria and I spent with Paul and his wife and their wonderful friends, the more our conversations moved beyond just basketball, sports and music. We enjoyed talking about philosophy, politics and theology. It was truly a joy for us to realize just how much we share in common with these new friends. It was also refreshing to learn that this basketball and coaching hero, who has quite an impressive legacy in the NBA, cares about so much more than his sport.
Gloria and I wrote "Family of God" decades ago, but we are still so glad to be part of the Family after all these years. We are grateful for our interesting new friends as well as all our dear old friends who share our love for the Father and who love having great conversations about Him and about so many other great topics.
I now find myself watching the Sacramento Kings with more interest than ever, knowing that this wonderful team is led by someone I know to be a remarkable human being and a person who is living out his faith in some very profound ways. I remain loyal to our Indiana Pacers, of course, but it is wonderful to have a new appreciation for the game and one of its influencers.