As we continue to celebrate Homecoming Magazine's 10-year anniversary, we're taking a look back at some of our favorite articles from a decade ago. Enjoy this anniversary presentation of "Meet the Parents," first published in the May/June issue of 2003!
When a "star" is born, standing somewhere in the wings are parents who have made significant investments and exerted a strong influence. We wondered what kinds of determination — and discipline — were needed to raise these special children. With these questions in mind, Homecoming Magazine visited with the progenitors of three prominent Homecoming stage personalities to talk about what it's like to be Mom and Dad to someone like Bill Gaither — or Buddy Greene — or Mark Lowry. Meet the parents!
BILL GAITHER'S DAD
George Gaither has an easy smile — the kind that makes you think he knows something you're not going to get him to tell you. He's short in stature, about as high as Bill's armpit. Early on, George already had an idea that his boys probably wouldn't follow their daddy's career path. George worked 40 hours a week in a factory and did a good bit of farming on the side. Bill and brother Danny had to get up early every morning to get the cows milked before breakfast — something they didn't particularly look forward to. A hint of what hundreds of future audiences would see in these brothers was already emerging.
"When Bill was just a little kid, we got him a car that had pedals and lights," George says, "but he rarely played with it. He'd rather get a carrot to use for a microphone to emcee a race or sing along with the radio. When he was 6 and Danny was 4, there was a little store down the alley from where we lived. Bill would take Danny down there and swap him singing a song for two pieces of candy. So his promoting started early."
The boys were full of themselves even then, and it was often Mom's job to keep up with them. It wasn't always easy. George recalls that his wife, Lela, often found herself refereeing fights between the two boys. Once she told them if they kept fighting, she was going to send them away. At the next skirmish, she packed their clothes and presented them with their suitcases. They promised never to fight again. George laughed. "From then on, they went down to the barn to fight!"
When Bill graduated from high school, he traveled a bit with two or three different quartets but eventually decided to give up the road and go to college. His dad took him to Taylor University, where he registered and Dad paid the tuition. A few days later, Earl Weatherford came by to see Bill, looking for a piano player for his group. Suddenly, Bill wasn't so certain he wanted to go to school. But when he talked it over with Dad, George strongly suggested that "he had better make sure he went long enough to use up that tuition I'd paid for." So he did.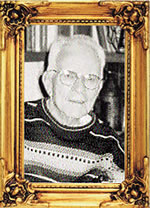 George (pictured left) admits he couldn't have predicted anything like the Homecoming events, but he remembers when Bill promoted his first real concert at the schoolhouse: "He was about 16. Jake Hess, the Speers and others would be there. I really wondered if he could do it; but he went all over putting up flyers, and he sold the place out. It surprised a lot of people."
George retired 30 years ago from General Motors. The Gaither Trio was in full swing by then, and he remembers that Bill came over and said, "Dad, you might as well come go with us"—and he's been going ever since!
George's read on the video successes is typical father: "When the video idea came along, Bill wasn't sure he could do it. It was a growing experience, and it changed him— gave him new confidence. He didn't always like that stage stuff when the trio first started. But he's in charge now. It makes me proud to watch him read his audience. At those big Homecoming concerts, he knows how to put together all that music and those combinations of people just right to make it happen. Yeah, I'm a proud papa."
BUDDY GREENE'S MOM
Contrary to popular belief, Buddy Greene was not born with a silver harmonica in his mouth. He came out of the same gnarly south Georgia roots that spawned the fabled characters of Flannery O'Connor and Ferrell Sams novels. His daddy had a successful heating and plumbing business in Macon; but his mama says that his innate curiosity, adventuresome spirit and artistic nature are hers.
Edna Greene recalls an easy kinship and communication with her son when he was small. "We used to go to the park with tablets and crayons and draw squirrels together. Buddy asked a million questions. He was a good conversationalist." She didn't guess that he had the breadth of musical talent that later emerged, but she remembers his first vocal performance at his big sister Sandra's piano recital.
"Later," says Mom, "Sandra got a ukulele, and Buddy coaxed her to show him some chords. He'd go down to the drugstore and play and sing. Then when he was a teenager, we brought him bongo drums from a trip to Nassau. That was the beginning of Buddy's first band, The Flying Beatles: one set of bongos and three ukes whose players were also singers. Of course," she interjected, "Buddy was the cutest Beatle!"
Buddy grew up and got a guitar. Thus the birth of a second band, Buddy's Buddies — all five of them. Lee and Edna Greene trucked the buddies around from school to school, gig to gig, until the boys got old enough to drive. Then came the hard years. All the adventure and curiosity bursting out of that growing boy got caught up with the culture of the '60s, and Buddy wanted to experience it all. Mama sprang into action. With a giggle she admits, "I've been in every bar in Macon, Georgia. I wanted Buddy to never know where and when I might show up and check on him!" In those days, a wild-at-heart teenage boy needed a mama to keep tabs on him.
Edna Greene prayed for her son in those years, wishing for the day he would see through the shallowness of the '60s lifestyle and sing the old sacred songs. She could hardly have anticipated how bountifully her prayers would be answered. While Mama was trembling in her prayer closet, the Holy Spirit was out trekking around with Buddy and his buddies. Mama, now in her 70s — still adventuresome and going strong (and playing a wicked game of golf) — is counting her blessings!
MARK LOWRY'S MOM
While the Greenes were gallivanting about Georgia with four "Beatles," out on the Texas plains another mom and dad were occasionally venturing from their normal roles as Houston lawyer and educator to explore performance opportunities with their young son.
As a grade-schooler, Mark Lowry was already singing at churches, schools, musical theatre productions and political rallies. He could belt out "The Star Spangled Banner" like no other 10-year-old. The New York director for whom he played the part of the lisping Winthrop in "The Music Man" said, "Every night is opening night for that boy!" What did two sedate parents like Charles and Bev Lowry do with an emerging soloist-actor-comedian? They just wanted him to sing for Jesus.
Bev Lowry reminisces about the beginnings of her now-well-seasoned artist son: "As a baby he was calm and sweet. But when he started to walk, he started running! The second day of first grade, his grandmother called to see how he liked it. Mark said, 'Oh Nanny, I knew it would get hard, and it did!'"
Months later when Bev was lying in bed, praying and crying a little, feeling helpless about the reports from Mark's teachers, older sibling Mike crawled into the bed beside her. "Don't worry, Mama," he said comfortingly. "Mark's not any different than any of the other boys. He just gets caught."
Little did Bev Lowry guess that all these years later, Mark would be paid handsomely for making trouble! Bev laughs as she realizes that some of the church people most critical of Mark's early behavior are now his biggest fans. They are the ones who laugh most heartily when they watch Mark sassing his boss!
"At school, he would do anything — even take punishment — if he could get the class to laugh," explains the mom who remembers being at the point of total frustration, no solution in sight.
In retrospect, Bev and Charles Lowry are thankful for a God who confounds us all by turning frustration into victory, weakness into strength ... and for what they learned as the proud parents of a hyperactive blessing!
~~~~~~~~~~~~~~~~~~~~~~~~~~~~~~~~~~~~~~~~~~~~~~~~~~~~~~~~~~~~~~~~~~~~~~~~~~~~~~
What My Parents Did Right
Homecoming
artists & friends talk about their parents...
GLORIA GAITHER
"My parents certainly taught me by being. They surrounded me with the gospel and nestled me in their love for it. I often happened in on my father as he sat alone with the Bible in his hands, tears streaming down his cheeks at the beauty of some revelation. My parents were verbal about their relationship with God, with each other, with us children and with others. "I love you" was heard daily, not only when we were having family hugs but also when we were having family worship. Prayer was a natural response to problems and crises as well as to good news and celebrations."
~~~~~~~~~~~~~~~~~~~~~~~~~~~~~~~~~~~~~~~~~~~~~~~~~~~~~~~~~~~~~~~~~~~~~~~~~~~~~~
STEVE GREEN
"Always choosing appropriate words, [my father] seasoned every conversation with insight and wisdom. I remember that as children my siblings and I sometimes sensed relationship problems among the missionaries where we lived, noticed injustices and felt the tension of living in a foreign culture ... yet I don't remember ever hearing a hint of criticism or seeing a sign of condescension from my parents. I'm not suggesting that they were perfect. Certainly they would remember failures in these areas. But as the years pass, I have increasingly appreciated their example of James 3:2: 'We all stumble in many ways. If anyone is never at fault in what he says, he is a perfect man, able to keep his whole body in check' (NIV)."
~~~~~~~~~~~~~~~~~~~~~~~~~~~~~~~~~~~~~~~~~~~~~~~~~~~~~~~~~~~~~~~~~~~~~~~~~~~~~~
LARNELLE HARRIS
"Although they were always busy making ends meet and dealing with the things that grownups have to deal with, Mom and Dad often took time to be involved in my little world."
~~~~~~~~~~~~~~~~~~~~~~~~~~~~~~~~~~~~~~~~~~~~~~~~~~~~~~~~~~~~~~~~~~~~~~~~~~~~~~
KAY ARTHUR
"Although I didn't come to know the Lord Jesus Christ until I was 29 years old and at a very confused point in my life, I've never doubted God's love. I've also never doubted my parents' love for me — even though I messed up my relationship with them before I was saved (and even afterward!). And although I knew they were not always pleased with my behavior or my response to them, I've always known that they loved me unconditionally and that they believed in me."
~~~~~~~~~~~~~~~~~~~~~~~~~~~~~~~~~~~~~~~~~~~~~~~~~~~~~~~~~~~~~~~~~~~~~~~~~~~~~~
S. TRUETT CATHY
"I am grateful to my parents — especially my mother — for teaching me to always do the best I can and for instilling in me the importance of keeping Sunday, the Lord's day, holy. Working hard is important; but I saw growing up that honoring God, especially on His day, must be the top priority. I carried this teaching into my own business, the Chick-fil-A chain of restaurants."
~~~~~~~~~~~~~~~~~~~~~~~~~~~~~~~~~~~~~~~~~~~~~~~~~~~~~~~~~~~~~~~~~~~~~~~~~~~~~~
CHARLES W. COLSON
"Though rugged and athletic, Dad was a gentle man who always spoke softly. I would listen, enraptured, as he described his law school classes or told me of his own boyhood experiences. Then he would invariably ask me — always in a loving, never demanding, way — questions about my school or friends. And if he sensed I might be struggling with something, he made it clear that I could come to him anytime to discuss anything.
"'Just one thing,' he would always add. 'There is nothing more important than telling the truth. Always tell the truth.'
"Those words, and my dad's faithful example over the years, stayed with me through adulthood and through the White House-magnitude struggles I never could have imagined as a child."
~~~~~~~~~~~~~~~~~~~~~~~~~~~~~~~~~~~~~~~~~~~~~~~~~~~~~~~~~~~~~~~~~~~~~~~~~~~~~~
JERRY FALWELL
"Dad loved Mom and his five children. He provided handsomely for us, and he set a great example with his commitment to honesty ... the work ethic and personal competitiveness. Anything I know about leading people, raising money, setting goals and persevering, I owe to Dad. It brings me great joy to know that a Presbyterian minister and a Christian layman led my father to Christ on his deathbed in 1948."
Excerpts from What My Parents Did Right (Gloria Gaither, Howard Publishing)