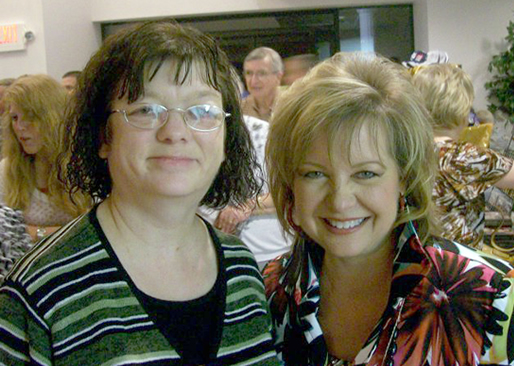 It made my year to finally get to meet Sheri Easter at Liberty Parkway Church of God in Albany, Georgia! I have been a fan since I married 25 years ago, but I had never seen the Easters in person until June, 2010. Their music touches my heart, and my favorite song is "Praise Him." When I am down and hurting, I sing and listen to her sing that song. The one about sending her mama a note is also very touching.
I sit with two elderly patients at Magnolia Manor in Americus, Georgia. They love all the Gaither videos, and I am so blessed to be in a Christian environment where we can listen to and praise the Lord every day. The picture shows the first time I met Sheri, and she was so sweet and warm to me. She has even messaged me personally on Facebook! Jeff was walking back down the hall the night of the concert, and I was so starstruck, I couldn't speak! We also saw the Perrys, the Dove Brothers and Wilma Smith — it was an awesome night!
— Dawn Ferguson
Ellaville, Georgia

Click for more about Homecoming artist Sheri Easter!